Despite Facebook's penchant for assimilating new features to stay on top of the social media game, the company has always shied away from adding one of users' most requested features: an antithetical alternative to its ubiquitous Like button. But now, an update to the site's messenger app gives users the option to dislike what their friends have to say in private.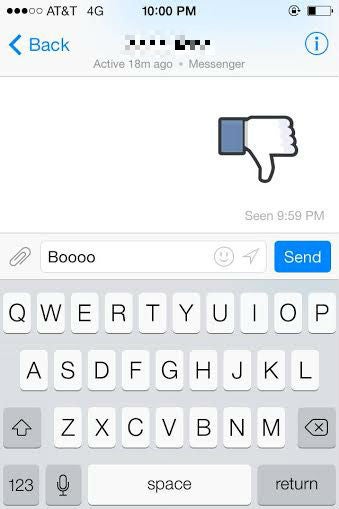 The Dislike sticker—a blue thumb's down—is available as a free add-on in the app's Sticker Store. A Like sticker was already available in messenger, but Dislike (along with a slew of other stickers) were created during a recent Facebook hackathon.
Despite Dislike's inclusion in messenger, Facebook engineers have resisted the call from some to add the same feature to the site at-large. During a Reddit AMA in April, Facebook engineer Bob Baldwin said the social network aims to keep interactions more positive.
"Like is the lightest-weight way to express positive sentiment," Baldwin said. "I don't think adding a light-weight way to express negative sentiment would be that valuable. I know there are times when it'd make sense, like when a friend is having a rough day, or got into a car accident like my sister yesterday (she's OK!). For these times, a nice comment from a friend goes a long way."
Still, the company has sought ways for users to simply express more nuanced emotions besides merely liking a status. It was reported recently that Facebook engineers have been mulling over whether to add a sympathize button to sadder posts where the Like button can seem emotionally tone deaf.
H/T BGR | Illustration by Fernando Alfonso III