Ever wish you could quickly and easily delete all those Facebook posts from your past? Have a job interview coming up and want to make all your personal pictures disappear?
Well, now Facebook is offering a way to do that.
Facebook has introduced a new feature called "Manage Activity" designed to help you sift through old content and—if you want—delete old Facebook posts.
But what exactly is Manage Activity and how does it work?
What is Manage Activity?
Manage Activity finally allows you to archive or delete content—including pictures and posts—in a bulk action. Previously, you'd have to delete posts and photos individually.
The feature, which makes controlling your digital footprint significantly easier, is currently available on the company's mobile app and for those using Facebook Lite, a separate app.
The feature will be available for desktop users at a future date, the company said.
So where can you find Manage Activity and how do you use it? After making sure your phone is running the latest version of the Facebook app, accessing the new function is just a few clicks away.
How to delete old Facebook posts with Manage Activity
To access Manage Activity, first select your profile photo from the home screen. Once you have been taken to your profile, click on the three horizontal dots below your profile picture to access your profile settings. From there, select your Activity Log.
Next, simply select the Manage Activity option at the top of the screen.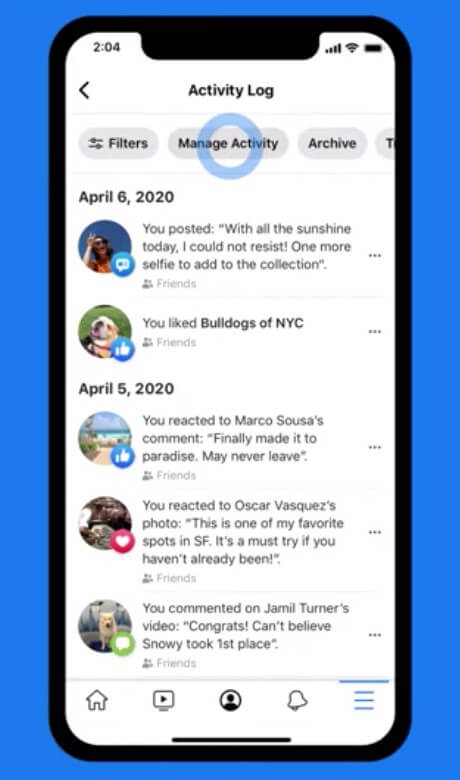 A small menu should pop up at the bottom of the screen.
Click on the "Your Posts" option in order to see a list of your photos, videos, and more.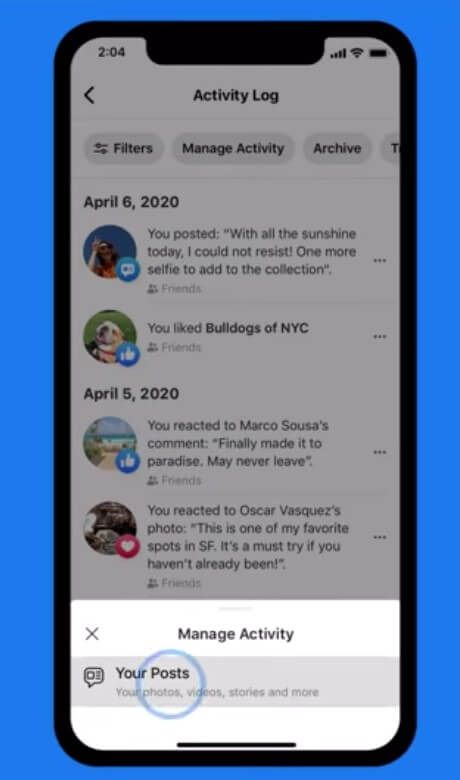 A list should now appear containing posts you made from the latest to oldest. Each post will have a checkbox next to them to allow you to quickly select all the content you wish to remove or archive.
But what if you have years worth of Facebook content? Do you have to endlessly scroll to access older data?
Manage Activity addresses this issue by letting you filter your posts. To do so, select the "Filters" option near the top-left of the screen.
You should then be presented with three options: category, date, and people. There may be more filter options coming in the future, according to the Washington Post.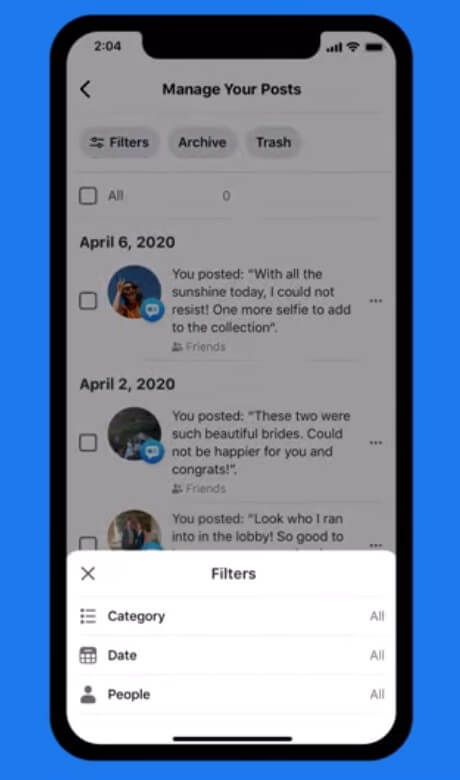 The three options allow you to filter old content based on that criteria.
By selecting category, you can view anything from just photos and videos, or posts made to Facebook from third-party apps.
As expected, selecting the date option grabs content based on a start date and end date provided by the user.
The people selection will give you the option to search from your friends list before being presented with content linked to them. For example, if you tagged your friend in a post about a concert you attended, such posts will show up.
Once you've decided which posts you want to get rid of, Facebook's new tool gives you two options: the ability to archive them (if you want to look at the posts again) or to delete them.
You can find all the posts you've you've chosen to store away by selecting the "Archive" button.
Similarly, the trash option at the top of the menu will show you which posts you recently deleted.
Facebook will keep posts in the trash for 30 days before being deleted. You'll be able to access the trash and restore or clear out all your posts within that time frame.
The new tool may be a little late for people who have been yearning to clean up their Facebook profile, but it is certainly easier than deleting things one by one.
READ MORE: