Last week, a really strange advertisement appeared in my Facebook News Feed.
The ad was a sponsored post that linked back to Facebook's official brand page. It listed the names of a couple of my friends who had ?liked" Facebook's page and showed me an advertisement clearly designed to create a positive association in my mind between Facebook, old friends, and my post-adolescent fantasies of being a rock star.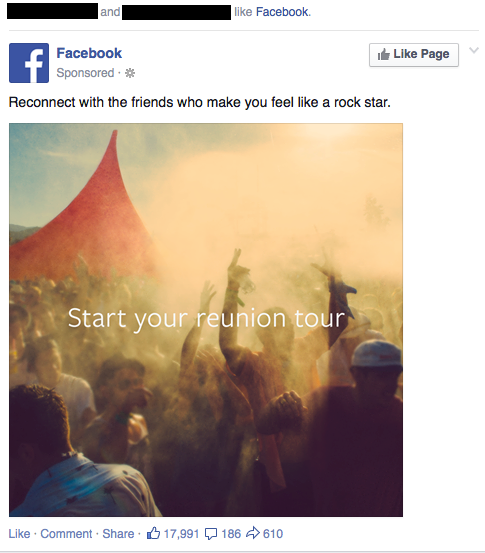 Looking through Facebook's brand page, it turns out this ad isn't unique. In fact, it's part of a larger campaign that includes other ads, like this one: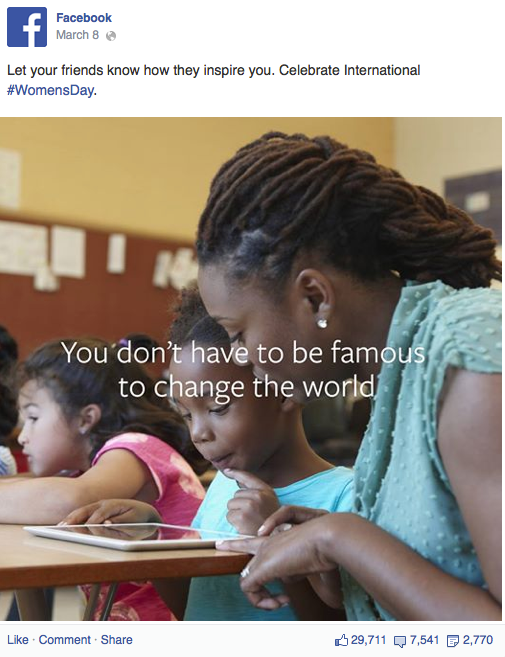 The ads immediately seemed odd for a few reasons.
First, if the goal of the ad was to get people to use Facebook, this strategy seems like an odd way to do it. Since the ad pops up on users' News Feed, everyone who sees the ad is necessarily already using the service. Second, seeing any sort of direct advertisement for a social network is a rare occurrence. Social networking sites typically rely on word-of-mouth and being featured in news stories as the primary methods of increasing adoption. Third, Facebook has only so many opportunities to display ads on my News Feed before I get annoyed and decrease my usage. By showing me an ad for itself, the company is likely forfeiting a bit of revenue.
So what's going on here?
According to a Facebook spokesperson, this particular set of ads is gradually being rolled out in select markets as an extension of the company's Facebook Stories campaign, where Facebook users share their personal experiences about the site having helped them do things like find love or start a small business.
The ads were created by the advertising agency Wieden + Kennedy, the same people behind the ?Chairs are like Facebook" TV spot from 2012. Much like that instantly infamous advertisement, this new series of ads adopts a tone of Instagram-filtered instant nostalgia.
Vinny Squillace, marketing director at New York-based marketing firm MRY, explains that to understand what Facebook is trying to accomplish with these ads is to understand the business situation the social network currently finds itself. ?Facebook is in almost every household in America," Squillace explained. ?Acquiring new customers is no longer their chief focus."
Mark Zuckerberg may dream of building a fleet of aerial drones to bring the joys of Facebook to Internet-deprived locales around the globe, but the domestic consumer market for Facebook is already about as saturated as it's going to get. If Facebook wants to make more money off of U.S. consumers, convincing the few remaining people who don't have it to sign up likely isn't going to bring about a particularly high return on investment.
Instead, the goal here is to get people who are already on Facebook to incease their engagement. In essence, it's a stealth education campaign disguised as something primarily aimed at engendering a positive association with Facebook's brand.
Squillace points to a pair of ads in the series as examples of how Facebook is subtly attempting to convince us to use its messaging feature: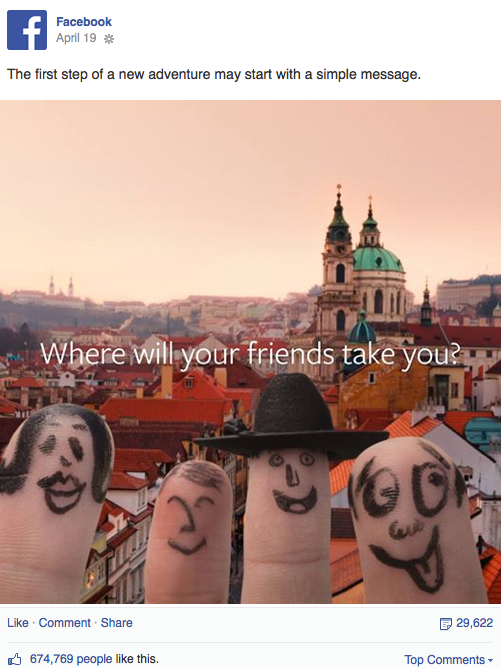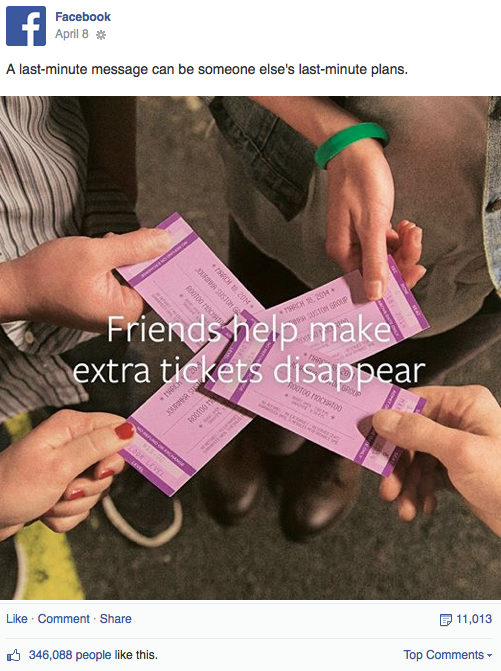 The point of these ads is to remind current users they can do more with the site than do stuff that will make spouses file for divorce or realize they don't actually care about their high school acquaintances. Both of those ads remind users they can use Facebook to accomplish tasks they may normally do though text messages or email.
?This is clearly an attempt to educate users about the various features of Facebook," added Dr. Anitesh Barua, a professor of marketing at the University of Texas McCombs School of Business. ?Most people who use Facebook may not be aware of the full set of capabilities or features. Of course, Facebook would hope that such education will lead to higher levels of engagement."
Getting us to think of Facebook as more than just a place to stalk former romantic partners and watch retirees get into ill-informed political flame wars is a crucial to the company's new strategy. Facebook desperately wants to break up its monolithic mobile experience into a constellation of integrated single-use applications—such as Paper for News Feeds, Messenger for sending messages, Camera for taking pictures, and Poke for ripping off Snapchat.
If these ads entice current Facebook users to rethink of Facebook as a hub of services, then they'll be a success. The more people who use it, the more their contacts might also get on board—creating a network effect where Facebook's new app's become a gateway to more users and more importantly, more use. 
The problem with this strategy, said Squillace, is that creating this type of momentum by fiat is tricky.
?A brand seems self-serving when it advertises itself," he explained, noting that organic recommendations from people someone actually knows tend to go much farther than ones pushed out by a company trying to sell something. ?If Facebook wants to move from acquisition to advocacy, it might have to go another way."
Photo by geralt/pixabay