Sen. Elizabeth Warren (D-Mass.), a 2020 Democratic presidential hopeful, mocked a tone-deaf tweet sent out by Chase Bank on Monday where it attempted to joke about people not being able to save money.
The bank sent out a tweet on Monday with an imagined conversation between "you" and your "bank account." In the tweet, the bank account chastises people for buying coffee, going out for food, and using ride-hailing apps. The tweet stopped just short of falling into the avocado toast cliche.
"You: why is my balance so low.
Bank account: make coffee at home.
Bank account: eat the food that's already in the fridge.
Bank account: you don't need a cab, it's only three blocks.
You: I guess we'll never know.
Bank account: seriously? #MondayMotivation," Chase wrote.
The tweet was later deleted amid widespread criticism and the brand joked that it hoped "to get better at #MondayMotivation tweets."
But, of course, the tweet lived on in screenshots and Warren got hold of one and shot back at the bank, citing the enormous bailout it received in the wake of the 2008 financial crisis.
"[email protected]: why aren't customers saving money? Taxpayers: we lost our jobs/homes/savings but gave you a $25b bailout Workers: employers don't pay living wages Economists: rising costs + stagnant wages = 0 savings Chase: guess we'll never know Everyone: seriously? #MoneyMotivation," she wrote.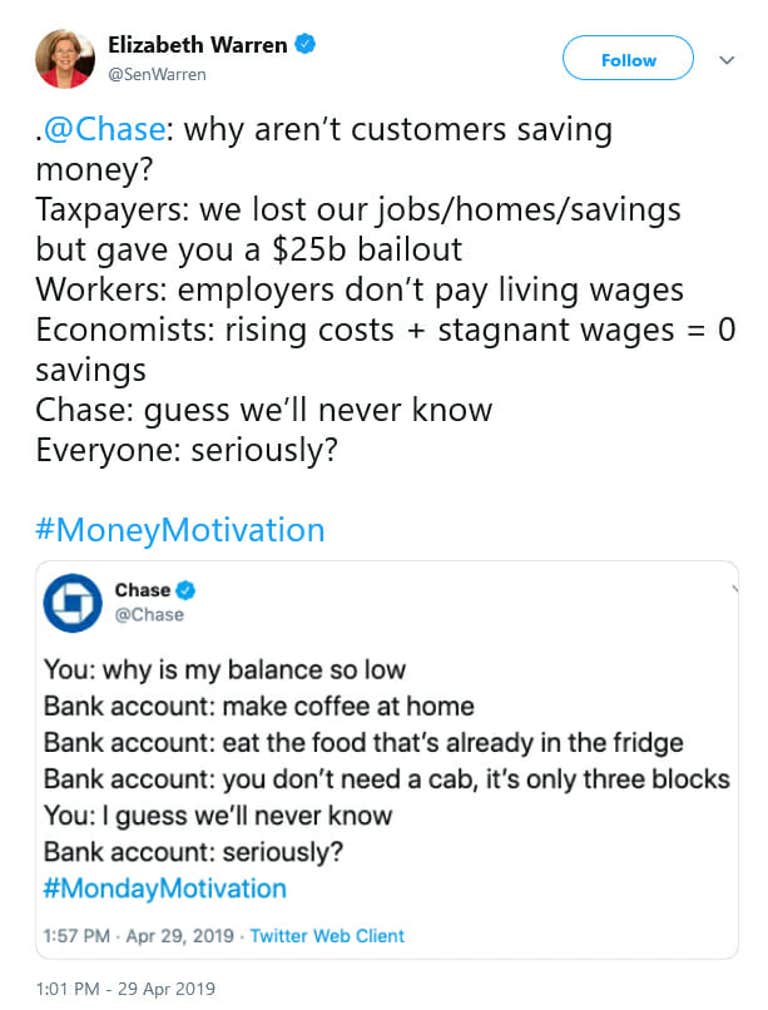 Rep. Katie Porter (D-Calif.), whose exchange with JPMorgan Chase CEO Jamie Dimon caught the attention of the internet a few weeks ago, also criticized the tweet, suggesting that the bank should "try paying your workers more," adding: "Families aren't spending frivolously; they're trying to pay rent."
READ MORE: