In just four months, the Dogecoin community has accomplished something that's taken Bitcoin enthusiasts five years to do: become a bona fide media sweetheart.
The cryptocurrency, based on a meme featuring a cute Shiba Inu, has come a long way since its launch in late November 2013. What has truly separated Dogecoin from Bitcoin, though, is the community's sniper-like focus on doing good.
Since Jan. 20, the Dogecoin community has donated $30,000 worth of coins to ship the Jamaican bobsled team to Sochi for the Winter Olympics. It raised $4,500 for Shiva Keshavan, an Indian luge contender, $30,000 for clean water in Kenya, and $55,000 to sponsor a NASCAR racer. 
While thousands of Dogecoin owners donated to all these campaigns, nearly 50 percent of the funds were provided by a small group of mostly anonymous philanthropists. (The one notable public donor was Alex Green, the founder of the cryptocurrency wallet service Moolah.io.)
One of these mystery donors is known as DogeFreedom. In the past two months, he's donated about $28,000, split between the bobsled team ($15,000) and NASCAR racer Josh Wise ($13,000). We spoke with him.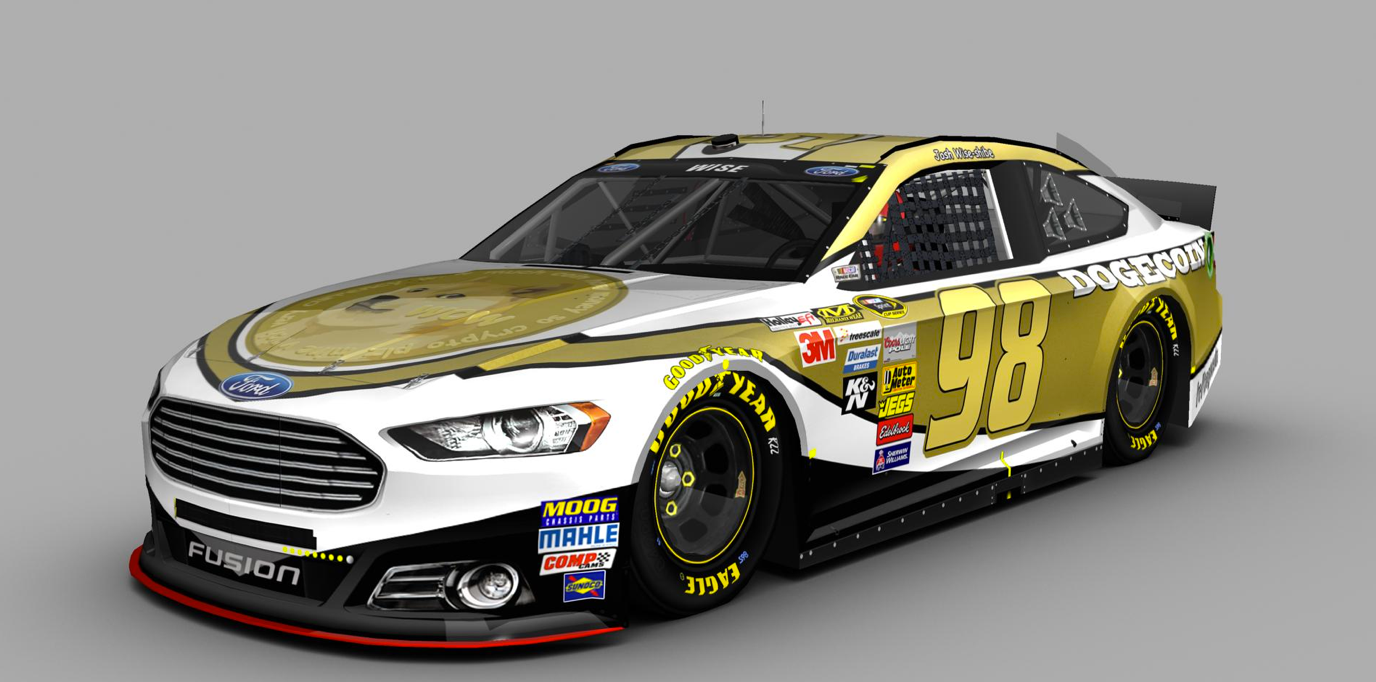 Illustration via Doge4NASCAR
"I like to support talented individuals who don't give up their dreams and work very hard to achieve their goals," DogeFreedom told me in an interview, adding that he collected the coins through investing with the correct timing in Bitcoin, Litecoin, and then Dogecoin. "Both the Jamaican bobsled team and Wise (the NASCAR competitor) share these characteristics. And second, the Dogecoin community is so kind and passionate that it makes it the perfect platform to help others through crowdfunding. Especially the 'underdog' athletes relate a lot to Dogecoin, as most other cryptocurrencies have made fun of us because of our light-hearted character."
Dogecoin burst on to the cryptocurrency scene in early December with the sounds of a thunderclap and kazoo. As one of the first, if not the only, open-sourced, peer-to-peer cryptocurrency based on a meme, Dogecoin immediately set itself apart from Bitcoin with two things: humor and its generous users. 
On Dec. 17, about 10 days after Dogecoin was launched, users from 4chan's random imageboard /b/ started gifting each other 10,000 coins at once for fun.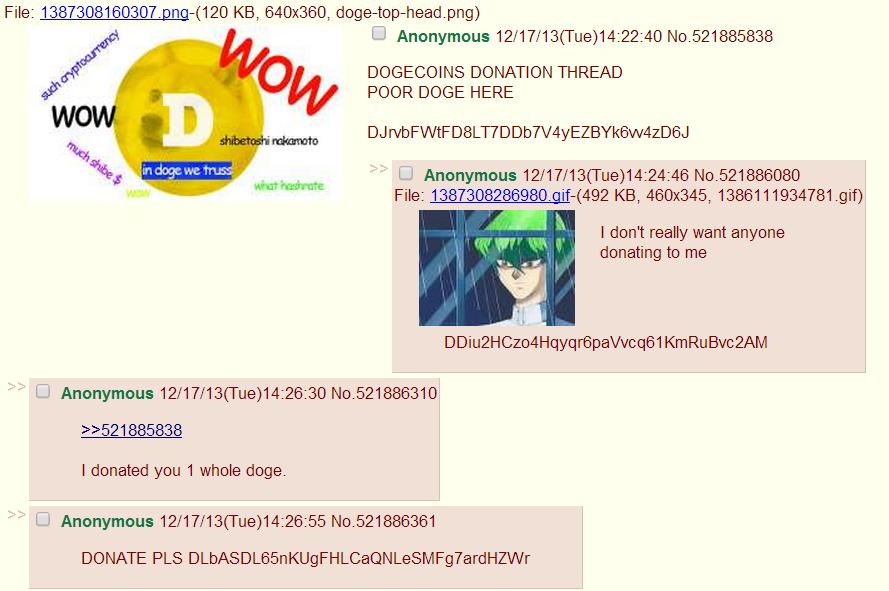 At the time, there were 7 billion dogecoins in the market, with one coin valued at $ 0.00025. Today, there are 65 billion dogecoins up for grabs. One coin is worth $.00052—a 108 percent increase in value. 
Herein lies the humor of Dogecoin: It's worth practically nothing. It's what you do with it that counts. With one coin worth less than a toenail clipping, Dogecoin has created a safe and welcoming atmosphere for people to experiment. 
"Dogecoin is a very important achievement: It has made cryptocurrencies 'friendly' to the public," DogeFreedom said. "In general, Bitcoin and the other cryptocurrencies before dogecoin appealed more to the tech savvy crowd. Sometimes you could even find that the users of Bitcoin were proud of the difficulty to grasp the concept of cryptocurrencies by the general public. The r/Bitcoin subreddit is full of comments that exemplify my statements above. Bitcoin is 'too serious' for many people."
Reddit's r/Dogecoin was launched on Dec. 8. It's now the second largest cryptocurrency community, growing faster than even Bitcoin or Litecoin. Dogecoin is also outpacing Litecoin in terms of daily transactions. 
The Dogecoin Foundation is a nonprofit organization that has helped organize the fundraising campaigns for the Jamaican bobsled team, Keshavan, and Doge4Water, a project to build wells for clean water in the Tana River area of Eastern Kenya. This particular project was funded largely in part to a 14 million dogecoin donation from @savethemhood.
@tipdoge tip @Doge4water 14000000 may we all drink water. let the wealthy fill your cup. #savethemhood

— Hood (@savethemhood) March 16, 2014
All of these Dogecoin accomplishments have resulted in a steady stream of press: FOX News, Forbes, and the New York Times. 
DogeFreedom is currently working with a group of developers to change the Dogecoin protocol in order to make it the "most innovative, secure, and inclusive cryptocurrency in the space." News of the project will be released on r/DogecoinX very soon.
"I see [Dogecoin] becoming the second largest cryptocurrency by market cap," DogeFreedom said. "I cannot talk about the price because it cryptocurrencies are quite volatile, but I am sure Dogecoin could become the second-most-important cryptocurrency after Bitcoin."
Illustration by Fernando Alfonso III