Less than two weeks after the Parkland shooting, an online campaign against the National Rifle Association is beginning to pay dividends for opponents of the gun lobbying group.
With the #boycottNRA hashtag trending No. 1 on Twitter for several hours on Friday, the online pressure has forced multiple major companies to back away from the ultra-powerful NRA.
Perhaps the biggest news came Saturday morning when Delta said it would end the discount that the airline had given to NRA members.
Delta is reaching out to the NRA to let them know we will be ending their contract for discounted rates through our group travel program. We will be requesting that the NRA remove our information from their website.

— Delta (@Delta) February 24, 2018
Delta follows the lead of other big companies who have cut ties to the controversial nonprofit organization.
We have notified the NRA that we are ending the NRA's rental car discount program with Hertz.

— Hertz (@Hertz) February 23, 2018
We value all our customers but have decided to end our discount program with the NRA.

— MetLife (@MetLife) February 23, 2018
Thank you for contacting us! All three of our brands ended the discount for NRA members. This change will be effective March 26. Thank you again for reaching out. Kind regards, Michael

— EnterpriseRentACar (@enterprisecares) February 23, 2018
Customer feedback has caused us to review our relationship with the NRA. As a result, First National Bank of Omaha will not renew its contract with the National Rifle Association to issue the NRA Visa Card.

— First National Bank of Omaha (@fnbo) February 22, 2018
Wyndham hotels also made it clear where it stands.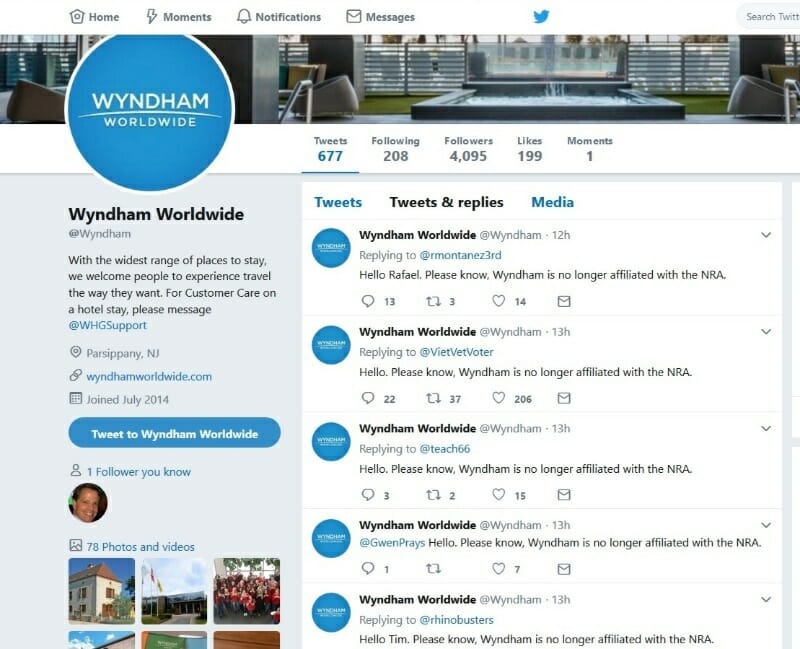 After 17 people were massacred in the Parkland, Florida, the NRA has been aggressive in its responses. In a speech this week to CPAC, NRA CEO Wayne LaPierre said Democrats wanted to get rid of the Second Amendment and said, "If they seize power… our American freedoms could be lost and our country will be changed forever."
He also said the "breathless national media" was "eager to smear the NRA in the midst of genuine grief," and spokesperson Dana Loesch said the media loves mass shootings, claiming, "You guys love it. I'm not saying you love the tragedy. But I am saying that you love the ratings. Crying white mothers are ratings gold."
Unsurprisingly, NRA supporters were dismayed by the companies' decisions.
School shootings will not stop because delta pulled their discount from NRA, this is the stupidity of liberals and why the problem will continue, address the real problem that is created in Hollywood and violent video games used as babysitters by lazy parents

— deplorable me (@allaboutme4545) February 24, 2018
Did you end your discount for Planned Parenthood?

— Stuart Henning (@badgerfan82) February 24, 2018
https://twitter.com/steph93065/status/967143674785153024
Thank you for letting us know, I cancelled every rental car arrangement/contract I have and my business has with you. I will use another company. Thanks for being up front. A boycott works both ways.

— Brent (@BrentNH) February 23, 2018
Celebrities have also beseeched Amazon to drop the NRA's TV service from its platform, as NRA opponents created the #StopNRAmazon hashtag. Thus far, Amazon has not responded.
Update 11:21am CT: On Saturday morning, United also made the decision to cut ties with the NRA.
United is notifying the NRA that we will no longer offer a discounted rate to their annual meeting and we are asking that the NRA remove our information from their website.

— United Airlines (@united) February 24, 2018