On Friday, Cleveland's Major League Baseball team made a long-awaited announcement: They are changing their nickname from the Indians to the Guardians. Conservatives, naturally, are having a hissy fit.
Cleveland is among the teams that've come under fire for having racist names and imagery. Many are named after Native Americans. Last year, Washington, D.C.'s National Football League team dropped the name "Redskins" after years of pressure.
The Cleveland team's new name is a nod to the Guardians of Traffic, iconic statues on a bridge near the team's ballpark. Many of those who took issue with the old name felt they'd knocked it out of the park.
Meanwhile, people on the right still aren't having it.
Noted baseball fan (seriously) Ben Shapiro was among those waxing poetic about Louis Sockalexis, who played in Cleveland and is widely credited as being the first Native American professional baseball player.
While many believe the team was named to honor Sockalexis, his biographer claims they were actually initially nicknamed the "Indians" to mock them for having him on the team.
Sockalexis reportedly also routinely endured racist abuse from fans and newspapers alike when he played there. And some in Sockalexis' tribe, the Penobscot, have advocated for changing the name.
So Shapiro—who notably referred to Sockalexis as a Native American, rather than an Indian—is way off base.
But Shapiro wasn't the only one who was upset. Rich Lowry, the editor of the National Review, tweeted: "And just like that, the Indians adopted the dumbest, most pointless name in major professional sports."
Lowry's take was a swing and a miss.
"There are two teams named after socks," replied @ShawnHils.
Much of the right-wing social media commentary about the newly-minted Cleveland Guardians—which also unveiled new logos on Friday—seemed to focus on how "woke" the decision was to change the name. Conservatives have used "woke" or "wokeness" as a way to criticize the left.
"Should've been named 'Cleveland Steamers' for the woke dump the leaders just took on the chest of baseball," commented one Telegram user.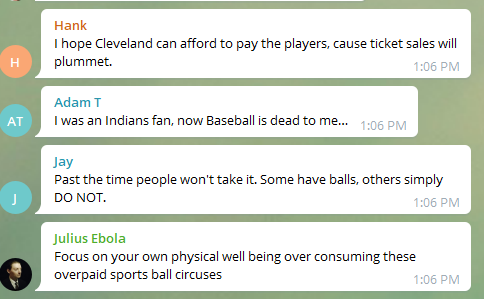 The team will take the field as the Cleveland Guardians in 2022.
---
Read more about viral politics