It's report card time for members of Congress. 
A coalition of prominent privacy advocates and media organizations have scored elected officials based on their level of support for National Security Agency (NSA) surveillance. The groups published the grades Friday in a format resembling an elementary school report card on the website StandAgainstSpying.org.
The results: 241 of the 533 senators and representatives received "A" grades, 188 flunked, 77 got "?" grades for "for taking no measurable action." The rest fell somewhere in the middle.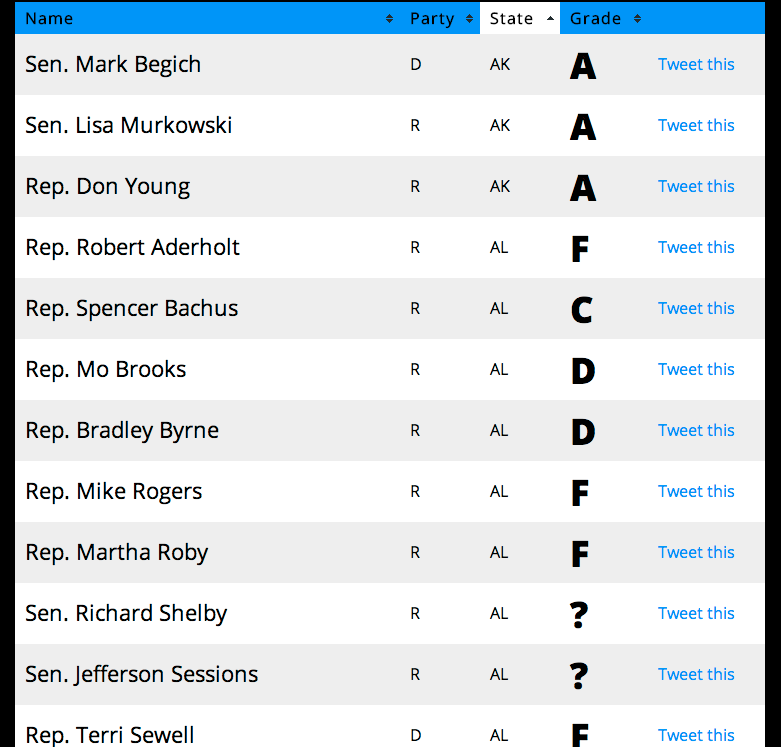 The exact methodology for formulating the grades is explained in detail on the new website. Essentially, the grades are based on the extent to which members of Congress have supported what the groups consider to be pro-privacy legislation, such as the USA Freedom Act, and anti-privacy legislation, namely the FISA Transparency and Modernization Act.
Three groups—the Electronic Frontier Foundation (EFF), the Sunlight Foundation, and Greenpeace—led the effort, which included 22 organizations in total.
"We must hold members of Congress accountable by making clear to the public who in Congress is standing up for surveillance reform," EFF Activism Director Rainey Reitman said in a statement. 
In attempt to bring attention to the scorecard, the members coalition flew a blimp over the NSA's Utah data center. The words "NSA Illegal Spying Below" were printed on the blimp.
It's true. EFF and @Greenpeace flew a 135 ft. airship over the NSA data center in Utah. https://t.co/7HQuXZDjpk pic.twitter.com/jtouh3YNmd

— EFF (@EFF) June 27, 2014
Privacy has been a hot-button issue for the past year, since former NSA contractor Edward Snowden leaked documents to a group of journalists, exposing the agency's vast surveillance capabilities.
Coincidentally, the NSA released its first-ever transparency report on Friday, revealing the amount of times it used its various legal channels to justify surveillance.
Photo by AK Rockefeller/Flickr (CC BY-SA 2.0)