It turns out rapper Cardi B may be inadvertently responsible for causing the term #DontBelieveArmenia to trend on Twitter this week.
After the hashtag suddenly appeared for U.S. users in the social media service's trending section, questions were raised over how exactly the term originated.
Some suggested that the hashtag could be linked to a foreign influence operation, aimed at creating anti-Armenian animus.
"I still don't understand at all what value trending topics is supposed to bring to Twitter, and it's very obviously the low hanging fruit to eliminate if the company wanted to stem propaganda and influence operations on the site," reporter Kevin Collier wrote.
Analysis of the trending topic reveals countless photographs of deceased children alongside messages concerning the conflict between Armenia and Azerbaijan.
The two countries have repeatedly clashed as of late in the disputed region of Nagorno Karabakh, raising concerns among the international community over what could escalate into an all-out war.
But a significant portion of the #DontBelieveArmenia tweets also include references to Cardi B. The reason appears to stem from a recent Instagram story in which the rapper promoted a fundraiser for the country to her more than 76 million followers.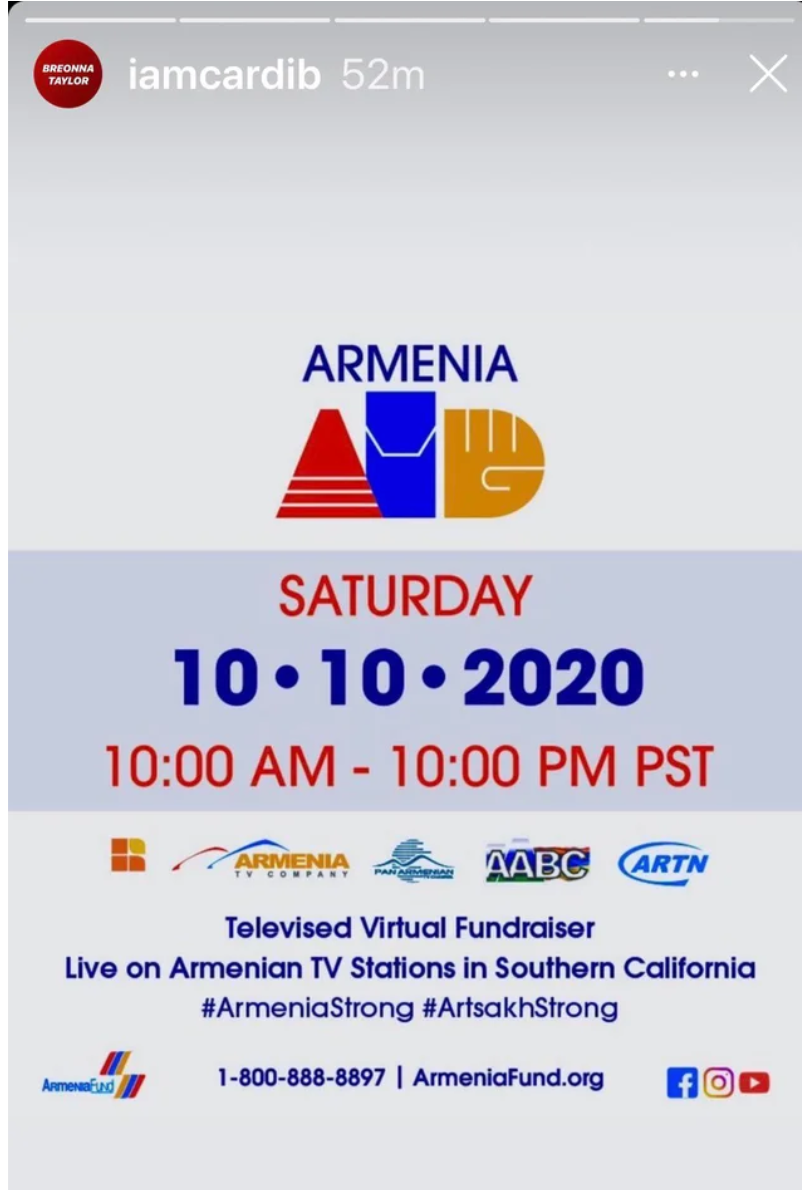 Nearly all of the tweets that mention Cardi B and include the hashtag are identical, using the exact same phrasing to denounce the rapper.
"Hey, @iamcardib delete your story about supporting armenia," the tweets say. "First search on internet, then share!"
The Daily Dot reached out to Twitter to inquire whether the hashtag had trended authentically or if inauthentic behavior had been detected but did not receive a reply.
While the origins of the tweet phrasing are still unclear, at least some users appeared to be engaging in "copypasta." The tactic, which is often used in a joking manner, involves a large number of users sharing the exact same text.
The influx of tweets appeared to eventually catch the attention of Cardi B herself, who responded to criticisms of her support for Armenia in a series of tweets on Tuesday.
"I'm so sorry," Cardi B said. "We did not do our research."
In a voice recording attached to the tweet, the rapper explained how she had shared news of the fundraiser at the behest of an Armenian consultant who was helping her sell a property.
"He was very in distress because he's saying there's a lot of terrible genocides going on in his country," Cardi B said.
The rapper added that she had woken up to countless tweets from Azerbaijani users who were outraged over her apparent support for Armenia.
"My wish is that both the countries would just be at peace," she said.
Cardi B also responded directly to one user who accused her of supporting terrorism.
"Stfu I don't support terrorism. I literally posted it for my friend with out doing no research on what's going on," the rapper said. "I'm sorry about that. I don't like war. I don't like conflicts between two countries period cause I hate innocent people being affected by it."
Cardi B is not the only celebrity to weigh in on the overseas conflict in recent days. Other rappers including Xzibit and The Game have also used their platforms to express support for Armenia, although their endorsements do not appear to have produced the same coordinated response as Cardi B's did.
---
Read more of the Daily Dot's tech and politics coverage