The creators of the original six-second, looping-video app Vine have resurrected the platform under a new name: Byte. Unlike its predecessor, Byte has direct competition in its niche market with TikTok. Both are popular with young adults and children, which can raise some concerns with parents and educators. Here's what you need to know about how the platforms measure up.
Byte vs. TikTok
What is the difference between Byte and TikTok?
Both Byte and TikTok retain rights to the content created on their platforms and the likeness of users, but TikTok recognizes the limitations of retaining rights to likenesses of minors on the platform based on its "ability to provide an image, voice and likeness" due to age restrictions.
TikTok will allow users under the age of 13 to create accounts, but Byte will not.
Byte doesn't have any in-app purchases, while TikTok allows users 18 and over to send virtual "gifts," which can be purchased in the app by buying "coins," to other users.  Depending on whether a user gives an accurate age while creating their account, they may have access to this feature at any time.
TikTok reserves the right to share user data with third parties per its privacy policy, which is a gray area when it comes to Byte.
Monetizing content created on TikTok is technically forbidden by its terms of service, but users are creating content that is sponsored by third parties. Byte makes no mention of monetization or sponsorship in its terms of service.
TikTok has a passcode-protected restricted mode which filters content deemed unsuitable for young audiences, but Byte does not.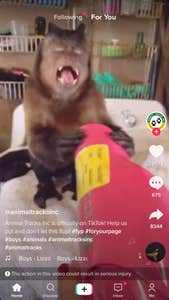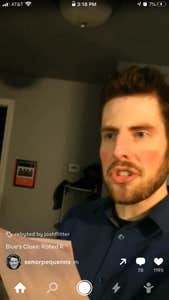 Structurally, TikTok and Byte are pretty much the same.
TikTok and Byte are both based on a swipe-to-view home screen that acts as a discover page for new content. The only difference in the two home pages is a separate stream for content from creators you've subscribed to, and another for content determined to be of interest by TikTok's algorithms, where Byte only has the one stream.
They have strikingly similar-looking content menus, but the categories presented are different. Where TikTok's videos are organized by trending tags, Byte keeps things genre-oriented, in categories such as comedy, food, sports, and beauty.
TikTok has been around long enough to gain investment from advertisers, and it shows. Upon opening the app, users are made to watch around 10 seconds of an ad video before they are allowed to move on to other content, or even just their inbox. Byte hasn't quite taken that route. It still features sponsored content, like its current partnership with Nike, but that content is less prominent.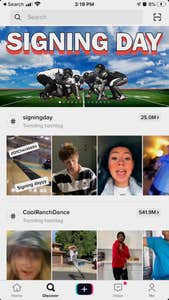 Who are TikTok and Byte for?
At first glance, the apps are essentially identical: Video-sharing apps lending to infinite, mindless scrolling. However, when you break down the terms of service and approaches to data privacy, it becomes clear that TikTok is intended for the generation that didn't grow up with Vine— the audience is anticipated to be younger, which is why it's made provisions such as its "Younger Users" experience.
"Younger Users" on TikTok are defined as those under the age of 13. These users can't send and receive messages from other users, and their profile as well as liked or saved TikToks won't be visible to other users. The information retained by TikTok concerning these users is also substantially less than users over the age of 13, consisting of only their username, birthday, and password.
Byte makes no provisions for younger audiences. Users under the age of 13 simply cannot make an account without lying about their age, rendering them in violation of the terms of service.
Ultimately, the delineation in expected audience and therefore child-friendliness of Byte and TikTok are pretty clear based on the provisions each app makes—or doesn't—for younger users.
However, the content of Byte and TikTok is as varied as the creators who make it. For adults managing the accounts of younger users, TikTok utilizes a passcode-protected restricted mode to filter content that may unsuitable for younger audiences. Byte has no such feature—yet.
READ MORE: