In the age of Citizens United, American companies are entitled to flood our elections process with billions of dollars in political contributions. As a result, a fraction of almost everything you buy ends up in a politician's coffers. 
Now, a new app, fueled by research into corporate political donations, promises to reveal a few things about products that you can't learn at the register. 
Using the BuyPartisan app, currently available in the iTunes store, you can scan the barcodes of your favorite grocery products and reveal their hidden political agendas. 
Finally, consumers can get answer to questions, like: "What would Reagan eat?" or "Is this macaroni trying to take away my right to bear arms?"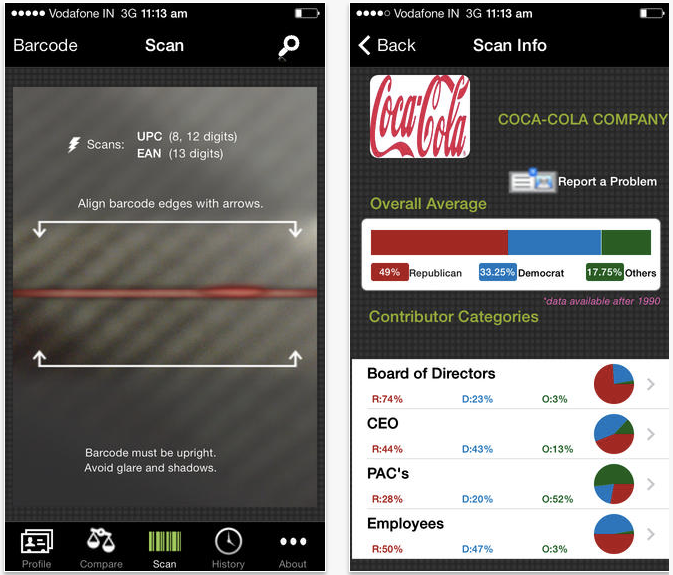 With its red-and-blue graphs, BuyPartisan breaks down political contributions by party into multiple categories: Board of Directors, CEO, Political Action Committees (PACs), and Employees. (All donations going to something other than Republicans or Democrats are lumped together into a green miscellaneous category.) 

Users of the BuyPartisan app may be surprised to learn that companies often double down, paying equal contributions to politicians on both sides of the aisle. Just remember, according to the U.S. Supreme Court, the millions of dollars these companies spend on lobbying is to exercise free speech, not to buy influence or power.  
Photo via Chris Yarzab/Flickr (CC BY 2.0)