Raising fuel costs is an unpopular decision at the best of times, but power company British Gas somehow managed to make things even worse Thursday.
Following an announcement that it was raising prices by 9.2 percent, British Gas inexplicably decided to tackle customer complaints head-on with a Twitter Q&A. To no one's surprise but the company's, it didn't go well for them at all.
Not only is mid-October a bad time to announce a hike in fuel prices, but the news came during a period when British citizens are already facing brutal cuts in government spending. For example, cuts to welfare payments that helped the elderly and vulnerable to pay for electricity and housing. 
Our Customer Services Director Bert Pijls will be taking part in a Q&A about our price rise at 1-2pm. Tweet your questions using #AskBG!

— British Gas (@BritishGas) October 17, 2013
Using the hashtag #AskBG, British Gas was hoping to clarify the situation by answering customer questions. Instead, they got an unending torrent of angry tweets from people who couldn't understand why prices had suddenly been raised by three times the rate of inflation. 
.@BritishGas #AskBG What is the best temperature to thaw an elderly relative at and what seasoning would you use with one?

— TechnicallyRon (@TechnicallyRon) October 17, 2013
British Gas social media team arrive for Twitter Q&A #AskBG pic.twitter.com/46mAXsXqLx

— Stephen Hull (@hullstephen) October 17, 2013
.@BritishGas #AskBG What is the best temperature to thaw an elderly relative at and what seasoning would you use with one?

— TechnicallyRon (@TechnicallyRon) October 17, 2013
#AskBG would it be ok to burn the corpses of your board of directors when I can't afford heating?

— Matt Kelly (@Matt_Dot_Com) October 17, 2013
If you thought tweets like this were bad, take a look at the official responses from the British Gas Twitter account. In the face of thousands of messages from angry customers poking fun at British Gas in its role as a  modern-day Dickensian villain, @BritishGas stuck to the party line, attempting to weed out genuine questions from the sea of mockery.
It even retweeted a message asking, "How will you feel when pensioners die from choosing to eat instead of heat???" replying with a helpline number for customers who are struggling to pay the bills. Here's a tip: if someone tweets something that associates your brand with dying grandparents, don't publicize it to your 23,000 followers.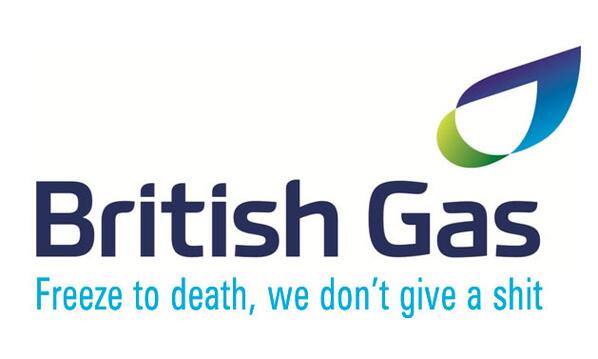 Illustration via rationalactors/Tumblr
The British Gas social media fiasco spread so fast that there's already an online game, the Unofficial British Gas Bill Simulator, which includes quiz questions like, "Which would you prefer? Death from hunger, or death from cold?" 
British Gas has reacted quickly after the #AskBG Twitter debacle https://t.co/hzenzEn7cj

— simon read (@simonnread) October 17, 2013
The smartest thing they've done so far is to start advertising for a new social media manager. If you're thinking of applying, the good news is that most of the required qualifications basically boil down to "must understand how to use social media." The bad news is that you'll have to work in a London suburb called Staines. And that you'll be the social media manager for British Gas, a role that now comes with some baggage. 
The #AskBG hashtag is still going strong, but @BritishGas signed off for the evening with this blandly unapologetic message: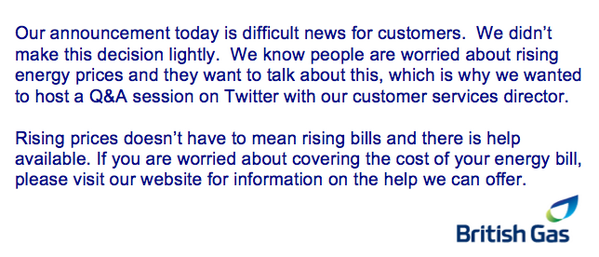 So far, there's only been one reply: "That is a laughably flimsy response to the sheer weight of anger vented towards you from a small sample of your customer base."
Yes, hiring a new social media manager probably is a good idea. Although it's unlikely to make the customers any happier about the price hike. 
Photo via Zecharia Judy/Flickr