Mt. Gox, once the world's leading Bitcoin exchange, had just imploded.
About 850,000 bitcoins valued at about $473 million were lost, throwing a dark cloud of disillusionment over the entire cryptocurrency community. 
Five people caught up in the drama were on the board of Tiferes Yisroel, an Orthodox synagogue in Baltimore. On Wednesday, these religious leaders stopped accepting dues, donations, and other forms of payment in the form of Bitcoin after reading the news about Mt. Gox. (Luckily, none of the synagogue's coins were tied up with the Japan-based market.)
In nine months, Tiferes Yisroel had collected 1.98 bitcoins, which converts to about $1,253.
At the time, Tiferes Yisroel wasn't just the only synagogue in the states to embrace the cryptocurrency—it was likely the only religious institution to use Bitcoin, period. 
One of the 200 members of Tiferes Yisroel told me he was saddened by the decision to abandon Bitcoin. Tzadik Vanderhoof, 48, had volunteered his time to help bring the synagogue into the 21st century.
In 2004, Vanderhoof, a software engineer, created the synagogue's website featuring news updates and photo albums of recent events. One of the first things Vanderhoof placed on the site was a link to a PayPal account he set up in Tiferes Yisroel's name. Concerned board members worried it would discourage people from donating.
Now, nearly a decade later, about 40 percent of all the synagogue's income and dues come through PayPal. The one major drawback of the e-commerce site, though, is that it takes a percentage of every donation. That's where Bitcoin came in.
Vanderhoof saw Bitcoin as a way around fees and ultimately the future of e-commerce.
"It seemed like, all in all, no downside to trying it," Vanderhoof said. "We're not putting any investment in, we don't have to pay anything to get started. Bitcoin is mirroring Paypal in many ways. It's a new method of payment, it's something that there's resistance to and there may be some drawbacks to, and starting off, there's hardly anyone using it."
Near the end of May, Vanderhoof set up a Bitcoin wallet for Tiferes Yisroel. On May 31, the synagogue received its first donation. In celebration, Vanderhoof posted on Reddit's r/Bitcoin to see what the community thought:
The synagogue also posted this announcement in its newsletter: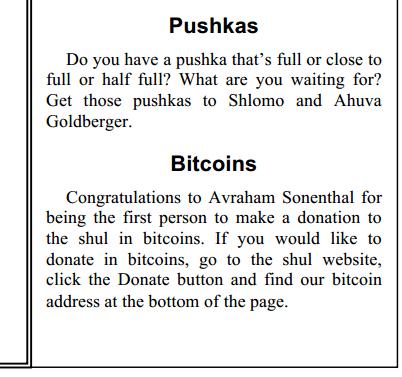 As other donations slowly began to trickle in, skepticism rose among Tiferes Yisroel's board members. Vanderhoof discovered some members were emailing others with links to negative articles on Bitcoin. On Friday, one Bitcoin story put the members over the top.
In a press conference in Tokyo, where Gox is based, Mt. Gox CEO Mark Karpeles declared bankruptcy and admitted that he was "truly sorry to have caused inconvenience." The announcement was the final nail in the coffin for Mt. Gox, which had been experiencing crippling infrastructure issues for months. 
Vanderhoof doesn't fault the synagogue board for suspending its Bitcoin wallet. He's been told that he should revisit the cryptocurrency when a new board is voted in. And hopefully by then, Bitcoin has rid itself of Mt. Gox's stench.
"The message that Mt. Gox sends is that you need to really study what the business organization did wrong," Vanderhoof said. "From a customer's point of view, they need to do research to find out what a company is doing wrong, and make sure others aren't doing it and to demand of them that they're not."
Photo via Jason Reed