Analysis
This month, Barstool Sports has been rocked by a fresh wave of allegations of racism over resurfaced videos.
The 2016 videos show founder Dave Portnoy using the N-word and he and staffers likening Colin Kaepernick to a terrorist because of his skin tone. "I'd like to actually follow those bloodlines then and see if there is any [Osama] bin Laden in him because it's like he looks like a bin Laden," said one, adding "That's not racist."
Portnoy later released a non-apology that managed to make exactly no one happy.
Rather than the events being a blow to the misogynistic website, the controversy seems to have helped Portnoy score a major journalistic coup: a sit-down with the president.
Yesterday, Portnoy interviewed President Donald Trump at the White House. Because of course he did.
To be fair, given that both have been repeatedly accused of racism, sexism, and bigotry in general, they probably had a lot to talk about.
"Hey, remember when you called Mexicans rapists? Classic." Portnoy may have laughed. "I was a huge fan of that Muslim ban, too."
"Thanks," Trump might've responded, "Oh, and by the way, I can't get enough of your jokes about rape. And the sexploitation on Barstool Sports is truly exceptional."
Or something like that.
Barstool Sports' sycophants were understandably thrilled by the turn of events. So was Trump world.
"Two legends!" tweeted Eric Trump.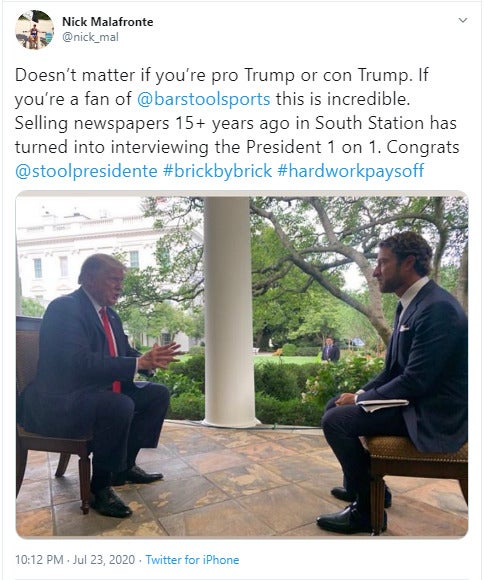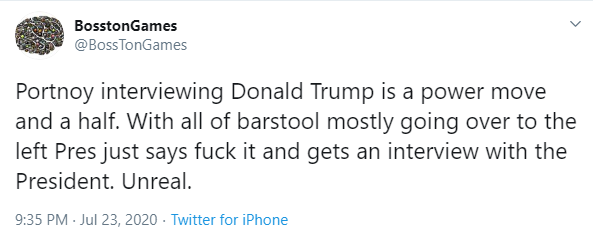 Far less pleased were the multitudes who take issue with Trump and/or the outlet whose work includes content like "Bar Refaeli convicted, sentenced for tax evasion in Israel but is still good looking so don't worry."
Interestingly, some thought that interviewing Trump would actually hurt Barstool Sports' reputation.
"As if I needed another reason to dislike @barstoolsports," said @NWMCMillen.
"Yea. Depending on the talk during this interview this might be it for me. I love Barstool, but I fucking hate Trump more. We'll see," added @SamSteinke1.
Although some were disgusted, others brought jokes.
"It's going to be a tense affair as both Trump and Portnoy struggle to not say the N-word during the interview," commented @jdtechie.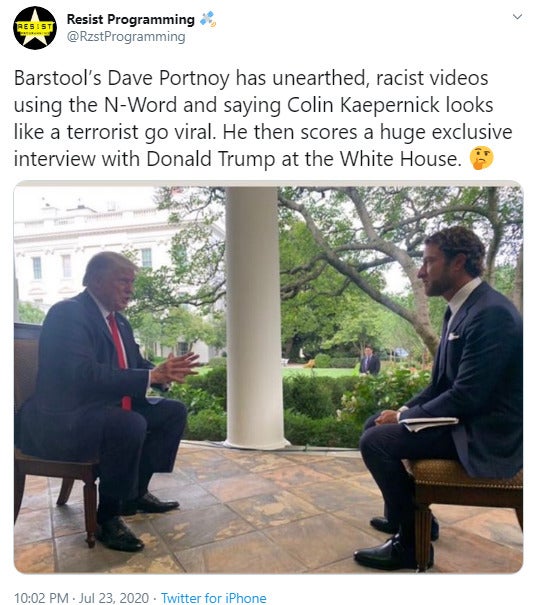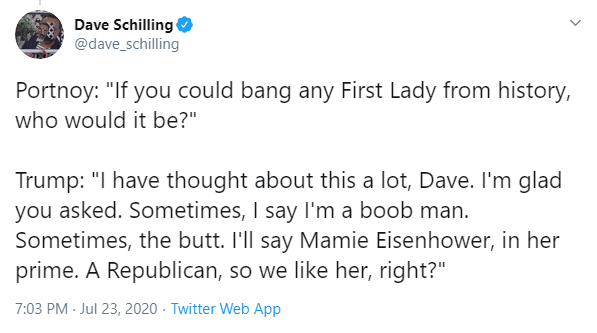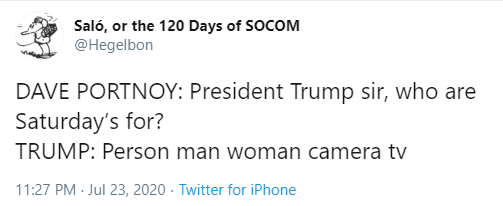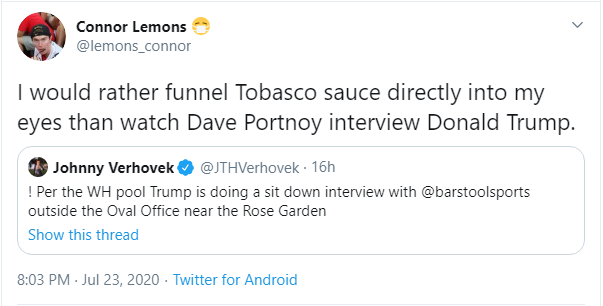 Many Barstool Sports' fans saw the outrage coming.
"Libs will lose their minds over this," tweeted one.
READ MORE: