Ashton Kutcher, renowned actor, tech bro, and first husband/second child of Mila Kunis is currently doing a dumb thing on Twitter by supporting Uber (in which he invests) digging into the lives of "shady journalist [sic]." But even that wasn't enough to distract our eagle eyes from the fact that he just got completely owned by a tiny boutique hotel in Toronto.
Earlier today, The Drake Hotel sent out an innocuous tweet inviting guests to come test out a new mattress, citing Ashton Kutcher and Lakers' point guard Steve Nash as fans of the product.

The mattress in question is a product created by new mattress startup Casper, which operates on the Warby Parker model of cutting out the middle man to offer high-quality foam mattresses at an affordable price (Casper mattresses retail between $500 and $950). An interesting product, though Kutcher was less than happy about his name being used to shill a sleep aid—and sent back this slightly snarky, though perhaps not entirely unwarranted, admonition to the Toronto boutique hotel.
@thedrakehotel please don't use my name to advert your product.

— ashton kutcher (@aplusk) November 19, 2014
In response, The Drake hotel reminded Kutcher that the product he didn't want his name associated with was one that he actually knew well—and had invested in just three months ago.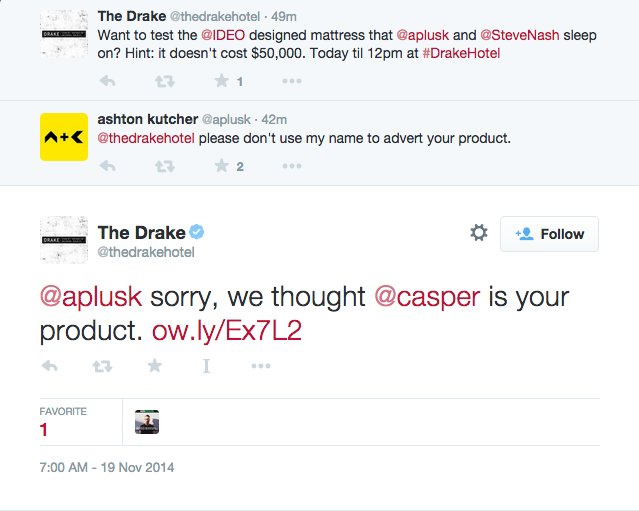 In the linked article, it's reported, Kutcher's venture capital firm A-Grade Investments was part of a $13.1 million round of Series A funding raised by Casper this summer. The Casper team is currently in Toronto, hosting their Canadian launch party at The Drake. (The hotelier has since deleted their tweets, though Kutcher has let his remain online.)
While it stands to reason that as an investor, Kutcher doesn't keep a running calendar of the various marketing efforts of his multiple investments, he should at least be slightly aware that IDEO, the vaunted design firm that The Drake mentioned in their original tweet, is where Casper's lead designer Jeff Chapin hailed from. Barring even that, you'd think when someone tweets at a celebrity about mattresses, a celebrity might stop and think, "Hey, I recently invested millions of dollars in a mattress company, maybe this is related."
Then again, Ashton Kutcher is very busy right now fighting for ethics in ride-sharing journalism. There are only so many hours in a day to eat crow.
Photo via TechCrunch/Flickr (CC BY 2.0)