This is the year of ephemeral and anonymous messaging. Or maybe that was last year? It's hard to tell anymore. Apps that let you broadcast your innermost thoughts, like Secret and Whisper, and apps that let you send "disappearing" missives like Snapchat, are a painfully hot ticket right now, and have been for some time.
The backlash has already begun: They're not really private, they facilitate cyberbullying, there's frankly just too many of them. All valid points, and yet Snapchat was offered a staggering $3 billion to be bought out by Facebook, Whisper was valued at around $200 million, and Secret around $50 million. So clearly there is a hook to sharing secrets, in whatever form.
If you still can't get enough of apps that offer a twist on boring old SMS, there are some more creative ways to get your fix.
But please try to remember: Your online secrets aren't always safe, no matter what app you use.
 
1) PhonoPaper
This super-cool app lets you convert a sound, like your voice or a piece of music, into a black-and-white series of squiggly lines that are actually encoded sine waves. If you print that image out and scan it using the PhonoPaper app, you or anyone else with the app can hear a replay of the coded message. The developer also provides blank pages that you can print out and use to draw your own sound patterns.
Here's how it sounded when an Animal New York writer tried it out:
The sound quality isn't great—it's got a lot of muffle and reverb, like a poltergeist speaking through a television set—and some messages are rendered completely unintelligible in the encoding process, so don't bet on PhonoPaper to send super-sensitive communiqués. The app is really just for fun, and maybe for creating some far-out experimental trance music.
Price: Free
 
2) Confide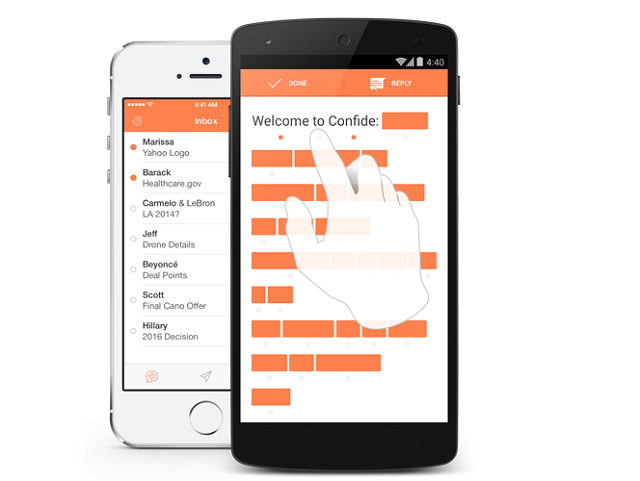 Billed as "Snapchat for the corner office," Confide lets you send self-destructing encrypted email and text messages that are reportedly screenshot-proof. The app was designed by a former AOL exec and the CEO of location-services company Yext so that professionals could have sensitive work-related conversations that wouldn't leave a pixel trail.
Messages sent through Confide arrive covered by colorful bars, like a censored document, over which you have to swipe in order to see the words. As soon as your fingers leave the screen, the letters are quickly covered again. Swiping only reveals one line of the message at a time, making it even more difficult to screenshot. And once you close the message, it's gone forever.
Price: Free
 
3) Rumr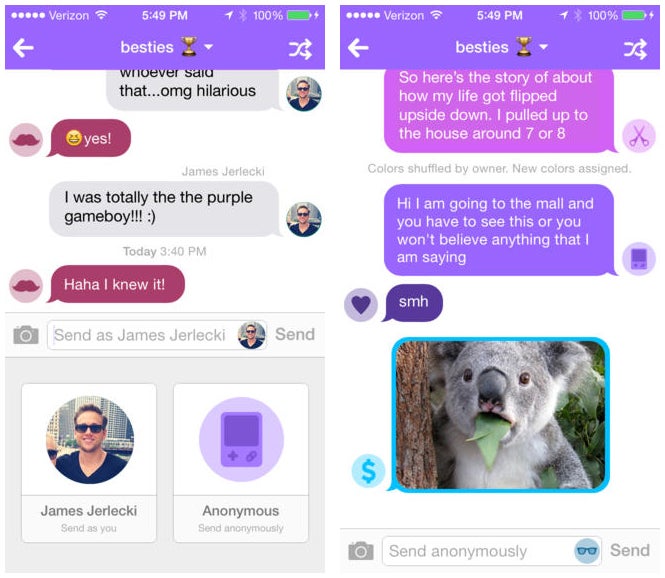 Rumr's colorful interface introduces a twist to the painfully popular anonymous messaging app. With Rumr, a user can choose to initiate a group message with her friends and phone contacts, either anonymously or using her real identity.  Each person in a chat is assigned a color, rather than a username or avatar, and just when you think you've figured out who everybody is, the colors can switch. It's as much a guessing game as as it is a messaging app.
Available for: iOS, Android
Price: Free
 
4) Telegram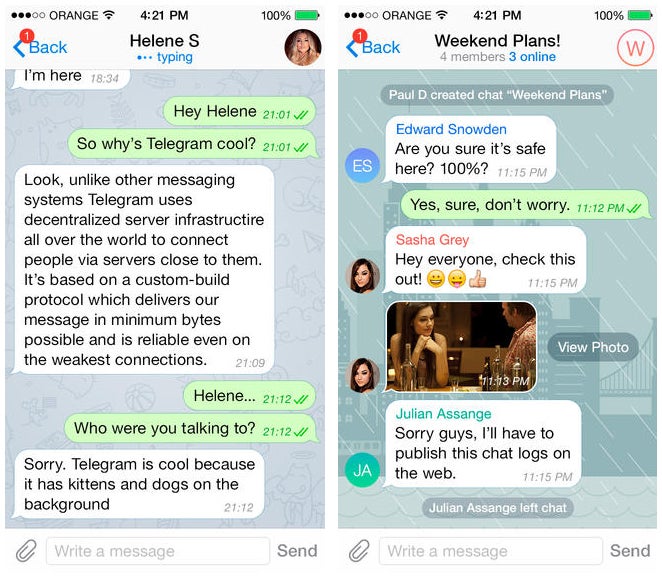 Telegram downloads shot through the roof this past February when WhatsApp suffered a four-hour outage, not long after it was acquired by Facebook. The app was built by Pavel and Nikolai Durov, the brothers behind Russia's largest social network, and it appears to have become an encrypted messaging frontrunner because of its speed and security.
In addition to sending messages as quickly as iMessage or WhatsApp, with all of the same features, Telegram's messages are encrypted using an open source MTProto protocol. Messages also come equipped with Snapchat-like self-destruct timers, as well as a "Secret Chat" feature, which uses end-to-end encryption so that no trace of the chat remains in the company's servers.
Price: Free
 
5) Frankly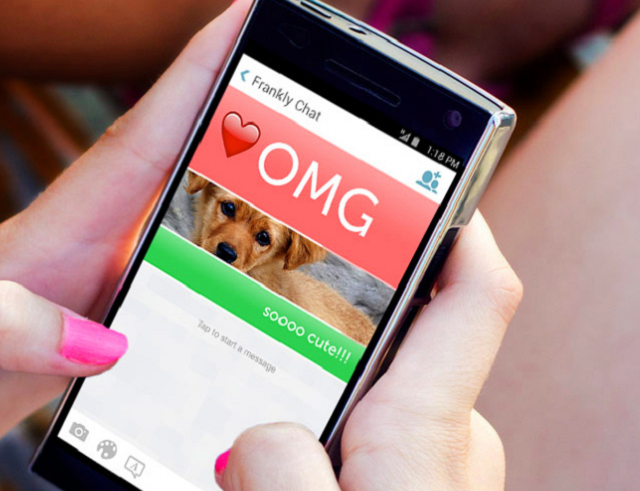 Another Snapchat-like messenger, Frankly lets you send text messages that disappear into an illegible blur after 10 seconds. An update in December of last year introduced a slew of editing tools, including customizable text size, background color, images and emoticons. And unlike Snapchat, Frankly actually seems to be somewhat screenshot-proof, because the sender's name never appears on the same screen as the message.
Available for: iOS, Android
Price: Free
 
6) Truth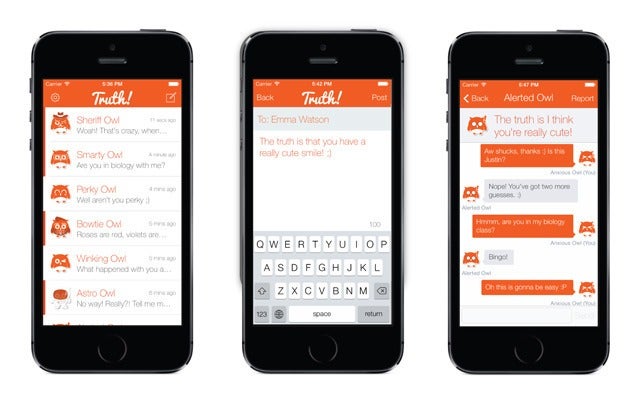 Truth lets you send anonymous messages to your friends, accompanied by a playful avatar of an owl instead of a profile photo or username. If the recipient has already downloaded the app, the message will show up in an in-app inbox. If not, a text message will prompt them to download the app to hear their "truth."
This one-way anonymity does open the door to cyberbullying, but the founders insist that so far the app has received very few messages flagged as abusive. And because you can only message users already in your contacts list, the hope is that you'll only have fun (and flirty) things to say.
Available for: iOS
Price: Free
 
7) Peek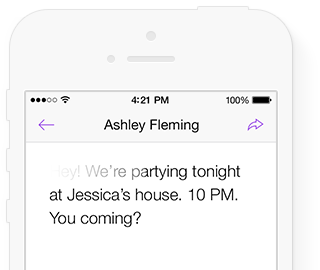 Peek, formerly called Skim, adds a little urgency to the disappearing-message game. Like a Snapchat for text messages, Peek lets you send text messages that self-destruct quite literally before your eyes. As soon as the message is opened, the words begin to fade away. After a few seconds, there's no trace of it in front of you, or in your phone.
A five-star review on the App Store proclaims that Peek is "Great for cheating!," which we don't condone. Plus, TechCrunch points out that it's still quite easy to screenshot a message in Peek, so sext cautiously.
Available for: iOS
Price: Free
 
8) BlackSMS
BlackSMS allows you to send encrypted, password-protected messages that show up as little black blobs in iMessage. The process for encrypting and decrypting a message is a little unwieldy, but it seems to work: First, you create a message within the BlackSMS app, and choose a password that the other user
will need to know in order to see the message. The app will then generate the message (or photo) as a black blob, which you copy and paste into iMessage. The recipient will have to copy the image, paste it back into BlackSMS, and unlock the message using the correct password in order to see it.
Available for: iOS
Price: $0.99
 
9) Cipher Sender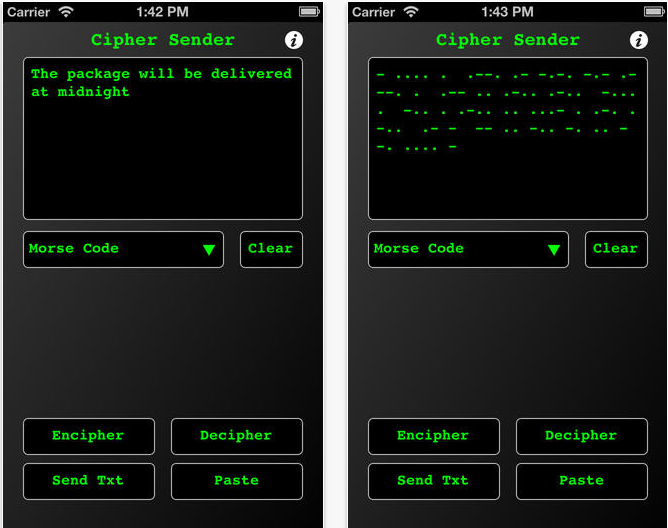 If you're sending an extra-sensitive message, or you just want to pretend you're in an early '90s spy movie, you'll want to download Cipher Sender. The app looks like something out of Hackers and lets you send coded text messages—supported encryption formats include Morse Code, Caesar Shift Cipher, Rail Fence Cipher, Rot13, and Letter-Number Code.
Available for: iOS, Android
Price: Free
 
10) Send.Morse
Send.Morse lets you send encoded messages as you learn Morse Code (and relive your Boy Scout days). Not only does the app translate text messages into Morse Code, it'll also transmit the message as flashes of light—meaning the only way for anyone to decrypt it is to know a little Morse Code themselves. Unless they have an iPhone, in which case they can simply use the app to translate the flashes of light back into text.
Available for: iOS
Price: $0.99
Image via PhonoPaper/App Store