Facebook is putting a disclaimer on one of the most viral political ads of the pandemic.
The ad, from the Lincoln Project, criticized President Donald Trump for a lack of support of small businesses during the coronavirus.
Politifact rated claims featured in the Facebook ad as false for saying that Congress' CARES Act isn't supportive of small businesses, as well as placing blame for this solely on President Trump.
The ad in question is a one-minute video describing the effects of coronavirus, which the Lincoln Project characterizes as a "disease Donald Trump ignored."
Politifact, an independent fact-checking organization from the Poynter Institute, reported that not only was it inaccurate to say Trump only "bailed out" Wall Street, the CARES Act was also backed by Democrats. Singling him out as the only person responsible for the act is incorrect, they said.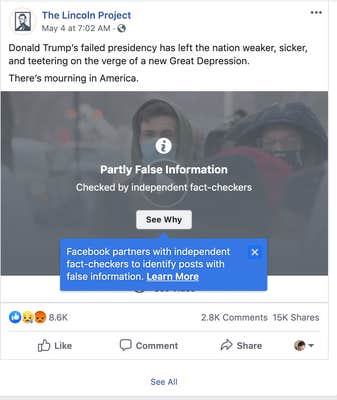 The CARES Act was passed in response to the pandemic and included stimulus payments to citizens as well as loans to small businesses. It has been criticized for being unfairly tilted toward Wall Street.
The Hill reports that Facebook has labeled the ad as including "partly false" information due to reports from "independent fact-checkers." Politifact was not directly mentioned.
The Lincoln Project is a political action committee founded in 2019 to combat "Trumpism" and encourage voters to choose other candidates at the polls who will "support the constitution." Founders include White House advisor Kellyanne Conway's husband George Conway and political strategist Rick Wilson.
In a statement to the Daily Dot, Lincoln Project disagreed with Facebook's assessment.
"The Lincoln Project stands firmly behind the truth portrayed in 'Mourning In America'." 
READ MORE:
H/T The Hill