Considered inconceivable or at best a fringe position a little more than a decade ago, federal legalization of marijuana is becoming increasingly likely if the Democrats recapture the White House in the 2020 election. At least, that's the way most of the top 2020 Democratic candidates are making it seem on the campaign trail.
In 2013, polling found for the first time that a majority of Americans favored marijuana legalization. Support has only become broader in the years since. In 2018, a Gallup poll found two-thirds of Americans support legalization, marking the third year in a row positive sentiment increased. It was also the second straight year Gallup found a slim majority of Republicans also support legalization. Per the Pew Research Center, 75 percent of independents who lean Democratic want to see weed legalized.
So, including marijuana legalization as a plank for any 2020 Democratic presidential platform would appear to be a no-brainer. Here's where the Democratic 2020 candidates stand on the issue.
2020 Candidates: Where Democrats stand on weed
Cory Booker 
On the last day of February, Booker reintroduced legislation to legalize marijuana and expunge the criminal records of those who were charged for possession.
The bill would also allow those currently serving time to petition for re-sentencing, and would make them eligible for job training once released. He first tried to introduce a version of the bill, along with Rep. Barbara Lee, in 2017.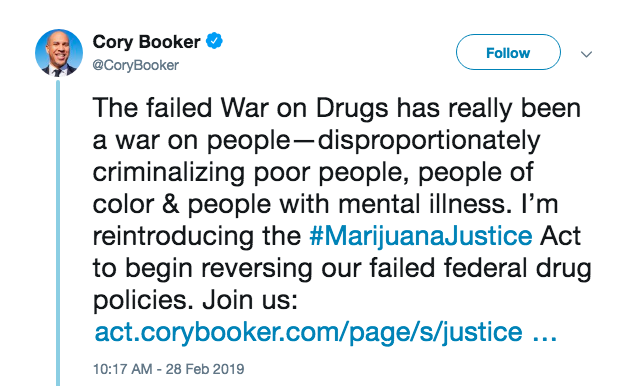 In 2015, Booker introduced the first Senate bill that would have downgraded marijuana from Schedule I to Schedule II designation, which, while less severe than Schedule I, would still have marijuana aligned with cocaine and fentanyl. The year before, in 2014, Booker added an amendment to a spending bill that would have blocked the Justice Department and DEA from undermining the new state laws legalizing recreational and medical marijuana.
Kirsten Gillibrand 
As with several issues, the positions of the junior senator from New York have evolved since her more conservative days as a representative in the House from upstate New York. Whereas Gillibrand once voted against protecting New York medical marijuana laws from federal interference, she is now a reliable advocate for marijuana legalization, expressing support for and co-sponsoring Cory Booker's Marijuana Justice Act—as do several other 2020 Democratic candidates.
The Marijuana Justice Act takes steps to fix stark inequalities in our criminal justice system and protects patients who need medication. It's a commonsense bill – and I'm proud to join @CoryBooker as a cosponsor. Americans have spoken and demanded change. It's time to act. pic.twitter.com/1VfFbEipYJ

— Kirsten Gillibrand (@SenGillibrand) March 3, 2018
And in early June Sen. Kirsten Gillibrand (D-N.Y.) announced her proposal to legalize marijuana.
In the proposal, she said legalization would be a "top priority" for her administration. In addition to legalizing marijuana, she called for taxing recreational use and investing money toward researching medical use.
Gillibrand also said criminal records for non-violent marijuana convictions should be expunged and that she wanted to promote women and minority-owned marijuana businesses.
Bernie Sanders 
Among the 2020 Democratic candidates, Sanders was the first to openly advocate for marijuana legalization. Creating a path to legalization was a part of his 2016 presidential campaign that other prominent Democrats have since copied.
In 2015, he filed the first Senate bill intended to remove marijuana from the list of Schedule 1 controlled substances. His track record for supporting drug reform efforts goes back to his days as mayor of Burlington, Vermont in the 1980s. He boasted in a 2015 Reddit "Ask Me Anything" session, "When I was mayor of Burlington, in a city with a large population, I can tell you very few people were arrested for smoking marijuana. Our police had more important things to do."
Sanders said in a 2015 interview with Katie Couric that he has smoked marijuana twice in his life, but claims he did not feel any effects. "I coughed a lot, he said." It's not my thing, but it is the thing of a whole lot of people," he said. "And if you want to make the argument that maybe marijuana is less harmful to health than tobacco, I think you'd probably be making a correct argument. Some may disagree, but I think it's probably true."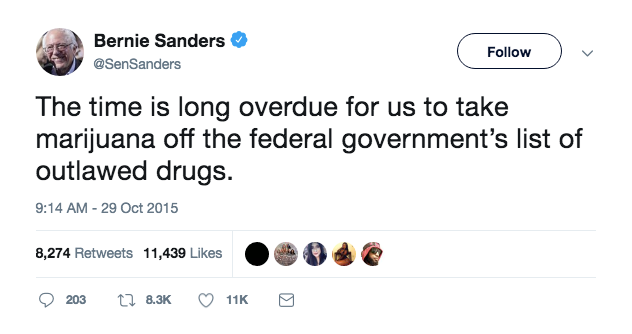 Amy Klobuchar 
Less than two weeks after launching her 2020 presidential campaign in mid-February, the senior senator from Minnesota released a statement expressing support for marijuana legalization in response to the Washington Post's question about the issue, on which Klobuchar had been previously noncommittal. "I support the legalization of marijuana and believe that states should have the right to determine the best approach to marijuana within their borders," reads the statement, putting Klobuchar in the company of other Democratic 2020 candidates. 
Elizabeth Warren 
In June of 2018, Warren, the senior senator from Massachusetts, co-sponsored a bill, along with Sen. Cory Gardner, a Colorado Republican, to ensure state protection to enforce marijuana laws as they see fit, with no interference from the federal government.
This came in response to a statement made by then-attorney general Jeff Sessions that he would grant federal prosecutors leeway to enforce federal marijuana policy, even in states that had legalized it for recreational use.
Warren was one of several 2020 candidates to co-sponsor Booker's Marijuana Justice Act, and she signed onto a marijuana rescheduling bill introduced by New York Senator Chuck Schumer (D-N.Y.) She's made several statements online about reforming marijuana policy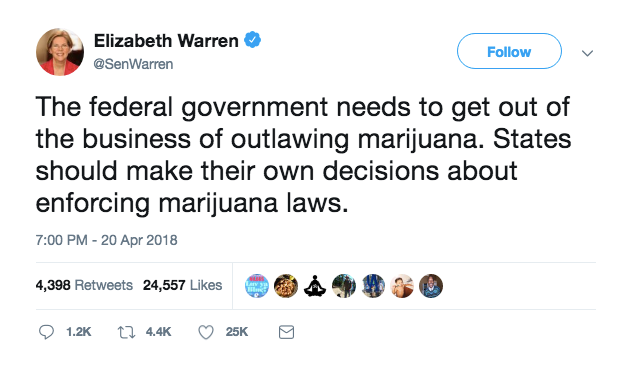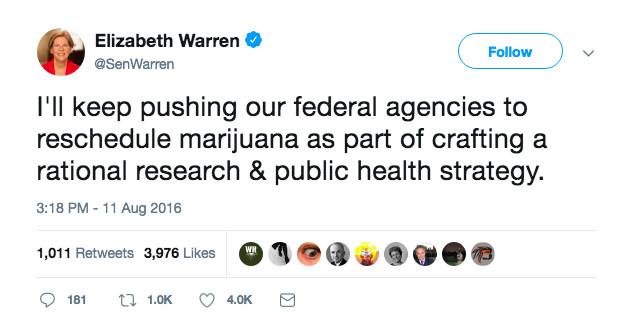 Kamala Harris 
Though her record as California attorney general shows opposition to efforts to legalize marijuana, Harris now says she supports removing the federal ban. In 2010, as a San Francisco district attorney running for statewide office, she dubbed "flawed public policy" a prospective bill to legalize marijuana throughout California. According to the Washington Free Beacon, at least 1,560 people were sent to prison in California for marijuana-related offenses between 2011 and 2016, when Harris served as attorney general.
During a February interview with The Breakfast Club, the senator said she smoked weed while in college, though she raised eyebrows claiming she did so while listening to musicians who weren't yet active while she was in school during the mid-'80s.
Harris says she supports full legalization of marijuana, though she stresses the need for further research on how it affects developing minds. She was yet another one of the 2020 candidates to co-sponsor Booker's Marijuana Justice Act.
"But I am absolutely in favor of legalizing marijuana. We've got to do it," she said in the interview. "We have incarcerated so many, and particularly young men and young men of color, in a way that we have not for the same level of use (among) other young men."
Beto O'Rourke
During his failed 2018 campaign to oust Ted Cruz from one of Texas' Senate seats, O'Rourke expressed support for marijuana legalization in an op-ed for the Houston Chronicle. "We should end the federal prohibition on marijuana and expunge the records of those who were locked away for possessing it," he wrote. "Ensuring that they can get work, finish their education, contribute to their full potential and to the greatness of this country."
In the run-up to his campaign launch, O'Rourke sent an email to supporters reaffirming his support for legalized marijuana. "First, we need to end the failed war on drugs that has long been a war on people, waged on some people over other people," he wrote. "Who is going to be the last man — more likely than not a Black man — to languish behind bars for possessing or using marijuana when it is legal in some form in more than half of the states in this country?"
He's been at it for a decade before becoming one of the 2020 presidential candidates. In 2009, as an El Paso city representative, O'Rourke introduced a resolution that would have the City Council press Congress on the need to rethink the legalization of drugs, in particular marijuana.
Sherrod Brown
The Ohio senator has yet to indicate whether he intends to run for president. If he does, he would trail his fellow 2020 Democratic candidates in terms of public support for marijuana legalization. He decided against co-sponsoring Booker's Marijuana Justice Act.
In 2015, Brown expressed misgivings about efforts to legalize marijuana in Ohio, citing what he claimed were "far too many unanswered questions about its effects." He said of particular concern was the danger of children ingesting food laced with THC.
Joe Biden
For someone with possible designs on the Democratic nomination, Biden sure opposes a lot of things in favor with its younger supporters.
As vice president, in 2014, he advocated for smarter enforcement for existing marijuana laws, saying "convicting people for smoking marijuana is a waste of our resources." He distanced that stance from legalization, however, which he insisted the administration did not support. Whether that stance has evolved in the five years since is anyone's guess, since he hasn't said so publicly.