Here's one notable feature of Pinterest's redesign: the ability to find your Twitter pals who are also pinning.
As noted by Andréa Lopez, an independent marketer who keeps close tabs on Pinterest, to be able to find your Twitter friends without having to be super-annoying and ask them individually for a link to their profile, you'll need to update to the new-look Pinterest. You can do that from the banner that should appear at the top of your Pinterest home page. 
The new Pinterest is pretty, with bigger pins and a couple of swish discovery tools like seeing other pins from people who pinned a certain item.
The Twitter friend finder is perhaps the most useful discovery tool of the lot (maybe save for the Facebook friend finder, which is still around), since it's more about people than things. As Lopez notes, it means "not having to rebuild your community from scratch," which is great, because that can be very time-consuming and bothersome.
Lopez told the Daily Dot that when you signed up for a Pinterest account, you were asked if you want to follow your Twitter friends (Indeed, signing up for an account using Twitter now gives the option to "follow recommended friends"). However, that was your only real option for doing so until now.
Pinterest does occasionally send emails when your Twitter contacts join. "Every once in a while, a lil box would appear in the upper left-hand corner showing three twitter randos you could follow," Lopez said, and even then there was no indication that these people were from Twitter. 
The updated tool is clearer and transparent.
Here's what the find friends page looks like in the current/old version of Pinterest: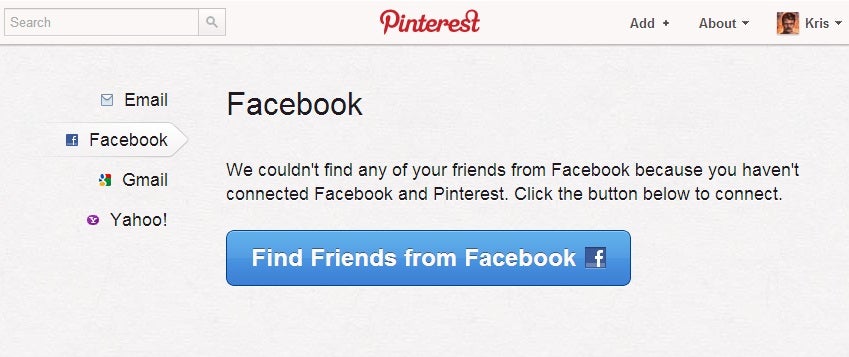 After updating to the new design:

On the flip side, finding your Gmail, Yahoo, and email contacts doesn't seem to be an option anymore. Can't have it all, I guess.
In the last year, Twitter's blocked Instagram and Tumblr from having access to its social graph as it exerts more control over its ecosystem. The social graph is, on one level, the web of connections between users that shows which of your followers/followees have connected to various other services. With that in mind, it remains to be seen whether the Pinterest friend finder will remain.
In December, Pinterest toyed with supporting Twitter Cards (a.k.a. expanded tweets), where you could see a preview of a pin on Twitter without having to click through. That support turned out to just be a test, and it was pulled after a few days.
We've reached out to Pinterest for comment, though it seems like it and Twitter may be besties, pinning and tweeting together at least for now.
Photo via Elizabeth Weil/Pinterest