Tech

Tech

The gadgets, platforms, and software that make your digital life possible. If it bleeps, clicks or blinks, you'll find it here.

Internet Culture

Internet Culture

There's a community for everyone online.

Streaming

Streaming

News, reviews, and guides for the world of online entertainment.
The untold story of Space Invaders
With The Invader, fan Ehud Lavski has created a compelling backstory to the classic video game, Space Invaders. 
After spending the last two years as the lead designer for an Xbox arcade game, Ehud Lavski was fried.
He released the game in June and took a well-deserved vacation. He'd planned to focus on his screenwriting, but while rummaging through his notes, a year-old comic script he had written caught his eye. It was based off one of his favorite video games, Space Invaders.
The story chronicles the life of one pixelated alien invader. From childbirth to his first school crush, it details why the Invader was in space and what he was fighting for.
So with nothing else to do, 38-year-old Lavski turned his script into a elegant 32-panel comic.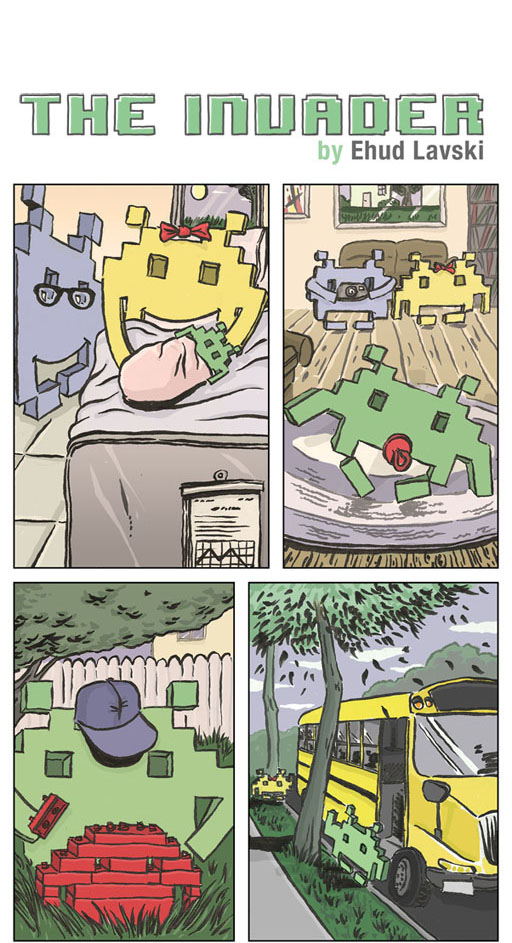 "It's about trying to think about who these characters really are. Why was he in the army? What was his motivation?" Lavski said.
"The way we interact with the world of games is by killing people or killing things. The Invader is one of the most iconic enemies you could find in a video game. I just wanted to look at this character and reimagine that moment of killing one in a game."
Lavski posted the entire comic to his Tumblr on Aug. 7. Since then, it has been shared around the Internet on sites like 9gag and Reddit, where more than 1,100 people helped it reach the front page Sunday evening.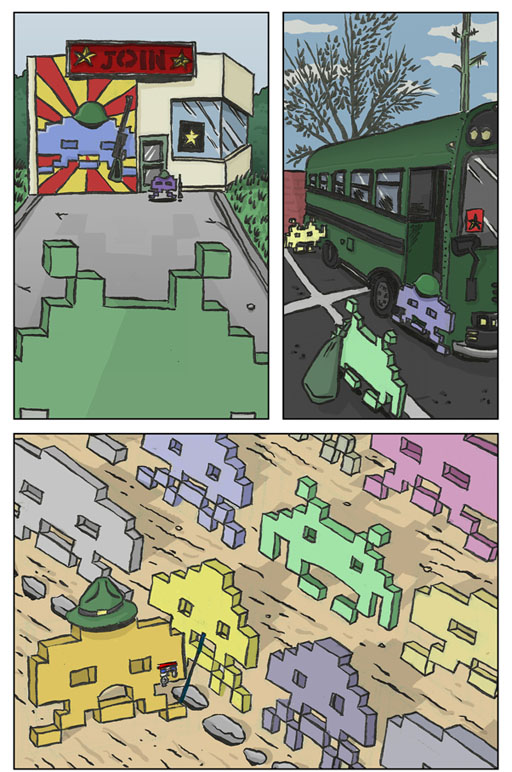 "Well, I've never felt like such an asshole," Glaube commented.
"Well that's depressing," added Japanesekanji.
It's not the first time users have had unexpectedly morose reactions to videogame fan art that gives them an alternate look at the lives of some of their favorite characters. That was the case with two Super Mario inspired illustrations depicting the Italian American hero as legless and grayed and his brother Luigi as a haunted chain smoker.
The secret lives of game characters have even made it mainstream with the upcoming release of Disney's "Wreck-It-Ralph," an animated film that gives classic video game characters like Pac-Man, Q*bert, and Bowser a new lease on life and a new storyline.
"You've seen filmmakers trying to get the vibe of games without actually being gamers themselves. But with Wreck-It-Ralph and things of that nature, it's obvious that these are people who grew up gaming," Lavski said. "Seeing games influence more media is a good thing."
All illustrations by Ehud Lavski
Fernando Alfonso III served as an early Reddit and 4chan reporter and the Daily Dot's first art director until 2016. He's gone on to report at Lexington's Herald-Leader and at the Houston Chronicle.
© The Daily Dot, all rights reserved.
Represented by Complex Media, Inc. for advertising sales.