In Seisaku Katayanagi's gorgeous Mario Bros. fan art, the Italian American hero is legless and grayed. A life full of riding pipes and squashing goombas has sapped the life from the once plucky plumber.
In Garren Haskell's "Luigi Mastermind," Mario's taller and younger brother has suffered a similarly distraught fate. In the haunting portrait, Luigi appears battered and aged, left alone in a darkened room with a cigarette.
Haskell, 32, created the work in 2007, after he received a message from a friend who was woken in the middle of the night by a nightmare.
"Luigi was some kind of crime boss who was running a shoe smuggling racket, and my friend had accidentally uncovered it," Hasell told the Daily Dot.
"This meant that Luigi was now determined to snuff out my friend, permanently. He described hotel shootouts, fugitive-style foot chases, and car chase scenes. I thought it sounded like a really fun story, but what really got my imagination going was the idea of a dark and threatening Luigi, as I've always felt that he was a little bit of a mental case anyways, with his brother Mario always hogging all the love. Luigi's a little broken, mentally speaking."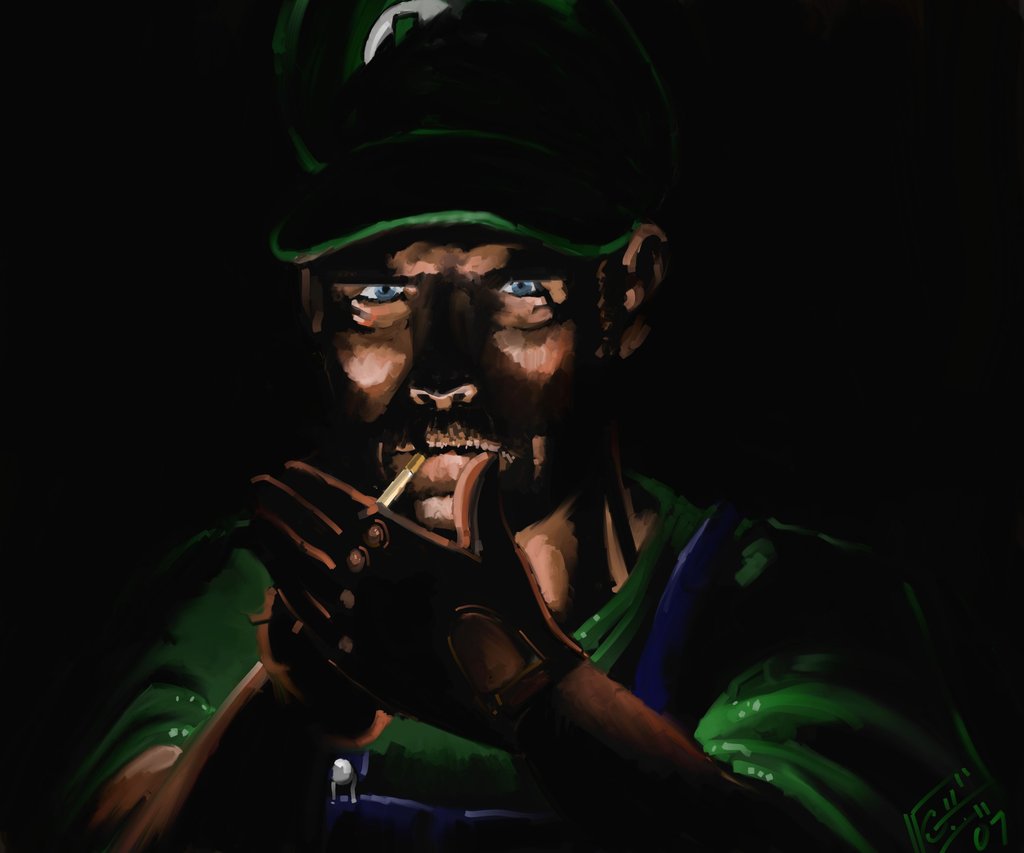 The story had a profound affect on Haskell, an avid gamer, who spent the following 24 hours turning the nightmare into a reality. Haskell created the artwork using a Wacom tablet, Corel Painter X's digital oil paint, and Adobe Photoshop for last-second adjustments.
The most unique feature of the illustration is the lighting, with only a small flame illuminating Luigi's weathered face and piercing eyes.
Haskell posted the illustration on DeviantArt, where he has been an engaged member for three years. It's there where Haskell finds much of his inspiration, especially from other fan art.
"I like doing fan art because ever since I was a kid, if I really loved something—a TV show, a game, a movie—I always felt the need to be a part of it, and the only way I knew how to do that is to draw it.  So my fan art is always kind of a love letter to these things I adore and wish to be a part of.

"And it works, because other people are fans of these things too, and they search out artwork based on them and come across my work and get enjoyment out of it that way.  So in a sense, I do end up becoming a part of the culture of that thing."
Like Katayanagi's "Way of All Flesh / Super Mario" did more nine months ago, Haskell's illustration reached Reddit's front page Monday, where more than 200 people praised his creativity. Redditor RedditNoir was inspired to write his or her own fan fiction.
Haskell admits he was a lousy student because he was "always drawing in my books and not paying attention or taking notes." But seeing his freelance illustration business in Denver, Colo., grow and Reddit positively respond to his five-year-old art has made it all worth it.
"I think the response on Reddit has been incredible," Haskell said. "It's really heartening to see people enjoy something you do, and it justifies the reason I make Illustrations in the first place."
Illustration by Garren Haskell