By definition, any fight involving Conor McGregor must be preceded by fanfare. When a fighter has had the kind of impact on his sport McGregor has (he's responsible for five of the six biggest pay-per-view events in UFC history), every fight he's in is an occasion and a jackpot, and the UFC's marketing team and the collective MMA media are going to find any way they can to make a fuss.
This goes double when the Irishman—who will face MMA legend Donald "Cowboy" Cerrone in UFC 246 on Jan. 18 in a fight you can live stream on ESPN+—hasn't been around for a while. Back in October 2018, after McGregor had taken nearly two years off from MMA to focus on boxing, his return to the Octagon was trumpeted with enthusiasm bordering on mania. As a result of this hype (not to mention McGregor's own take on the promotion in the basement of the Barclay's Center with a dolly and a bus) his fight with lightweight champion Khabib Nurmagomedov became the most-profitable UFC event of all time. Where Conor McGregor goes, so goes money and attention.
And so with open arms and bottomless gratitude, the UFC will welcome McGregor back on Jan. 18 for his first fight in 15 months. No doubt the MMA organization has mourned his absence. Since he's been gone, we've seen other fighters break records, win belts, make money, get attention, create magic, fight proxy battles in the American culture war, and even get themselves declared the "baddest motherfucker in the game." But not one of them made the kind of noise McGregor makes just by walking into a room.
Here's everything you need to know to watch UFC 246 without cable.
UFC 246: Conor McGregor vs. Donald "Cowboy" Cerrone
When: Saturday, Jan. 19, at 10pm ET
Where: T Mobile Arena in Las Vegas
Streaming: ESPN+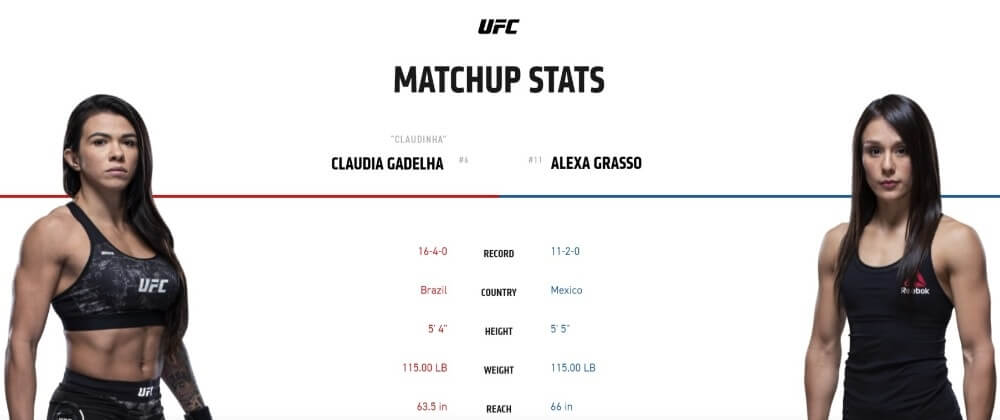 UFC 246 main event: Conor McGregor vs. Donald "Cowboy" Cerrone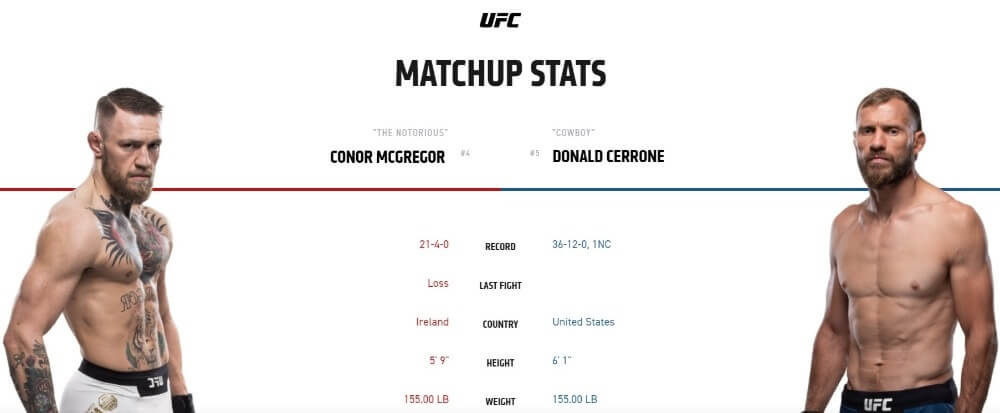 History shows that a rich person with idle hands can be a dangerous thing. Conor McGregor is the richest fighter MMA has ever known so there's little surprise that during the 15 months since he last fought in the UFC, the former two-division champion has pleaded guilty to speeding, gotten arrested for allegedly smashing a man's phone outside the Fontainebleau Hotel in Miami, and been charged with assault for allegedly punching a middle-aged man in the head at a pub in Dublin. At some point, McGregor must have realized he needed to get back into the cage or risk ending up a cautionary tale for the nouveau riche.
McGregor's salvation will come in the form of a UFC legend, whose own particular pathology is the opposite of the one that's plagued McGregor the last half-year. If Cerrone has a problem, it's that he fights too often, that he seems to place no value on the recuperative benefits of time off or to give any credence to the idea that, 13 years and 50 fights into his professional fighting career, the time for retirement may be upon him.
But, if by chance, Cerrone does come around and decide this is his last fight, he couldn't do better than McGregor for a farewell opponent. Cerrone is a born showman and McGregor fights are always the center of the MMA world's attention. They're spectacle as much as sport.
And no matter the result, Cerrone would come out ahead. He'll either get a giant payday and the greatest victory of his life or a giant payday and a loss to tell his kids about. Either way, his legend is secure, and the money will be right (because McGregor makes it rain money, both for himself and for everyone he comes in contact with). Surely the UFC and its owners, Hollywood talent agency WME-IMG (who purchased the promotion in 2016 at the height of McGregor mania and who must suffer paralyzing fits of buyer's remorse whenever he's away), couldn't be happier that McGregor is finally returning. When he isn't around, the MMA's wheels don't turn the way they should, things go quiet, the engines of commerce and marketing get rusty. For the UFC and his opponents, any McGregor performance, no matter the result, is a windfall.
For McGregor, though, the risks are real. When you're the biggest star the sport has ever known, it's always a struggle to maintain your place in the world. There are only so many losses you can take before your myth wears off and you become mortal. Which runs contrary to every story McGregor has been selling us since he appeared in the UFC seven years ago: that he's something other, something better, something transcendent, something mystic. If he stops being those things, who knows what he could become. So far we've only gotten a glimpse of the kind of tabloid self-destructiveness an unfocused McGregor is capable of. God save us if he loses his identity, his purpose, and—most dangerous of all—his value.
Holly Holm vs. Raquel Pennington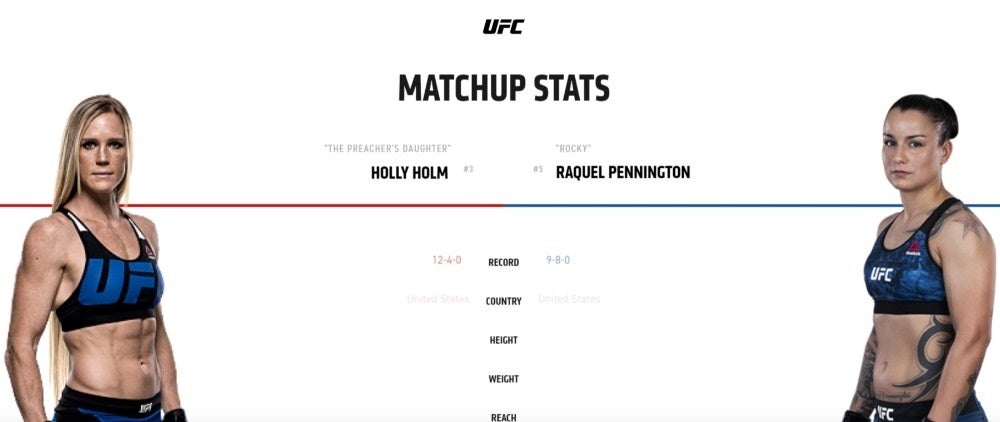 It must be hard for a mixed martial artist to find the will to go on when the greatest fighter in history is the champion of their division. This must be especially true when that mixed martial artist has already lost badly to that champion. Such a scenario no doubt plagues Holly Holm, who fights at both bantamweight and featherweight, two divisions ruled over by Amanda Nunes. Now 38 years old, more than four years removed from her own brief championship moment and coming off a brutal head kick loss to Nunes last July, Holm must sense that her window of opportunity has closed, that as long as Amanda Nunes is champion, her own title hopes are mere fantasy. So where's the motivation then?
The same is true for Holm's UFC 246 opponent, Raquel Pennington, another great fighter who, under different circumstances, could be a champion today. But Pennington also fell to Nunes, in May 2018, and is unlikely to get another shot at her anytime soon. Unlike Holm, though, who was shocked by a single kick to the head early in her fight with Nunes, Pennington suffered an extended beating, which is worse. A fighter can explain away a flash knockout as a fluke, but the humbling that Pennington went through must linger in the mind. It's bad enough having a fighter like Amanda Nunes at the top of your division without her being in your head as well.
Aleksei Oleinik vs. Maurice Greene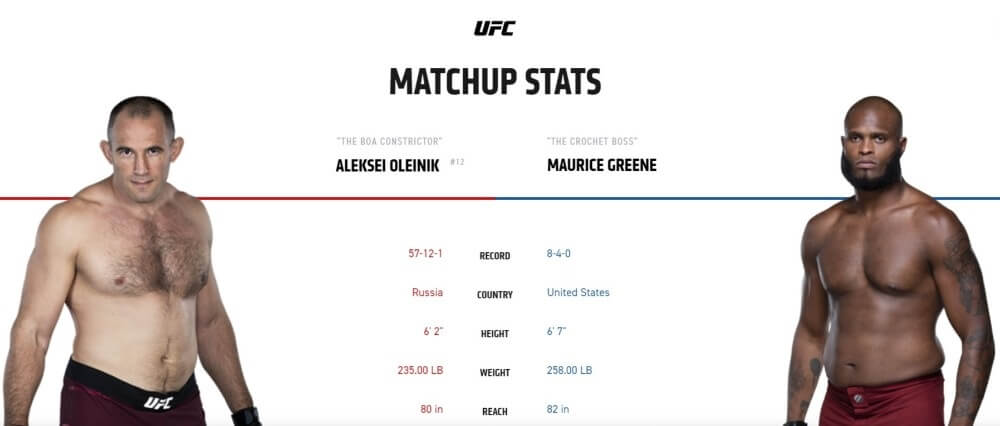 It's hard to comprehend a professional MMA career that spans 71 fights. It's even harder to believe someone would willfully push that number to 72. But Ukrainian heavyweight Aleksei Oleinik has been fighting professionally for 24 long years, so it's no surprise that he would traffic in the irrational and self-destructive. The length of his career not only makes Oleinik some kind of physical and psychological marvel, it always makes him a bridge to every era in MMA history. He goes all the way back to 1996, when MMA was more scandal than sport, when there was almost no money to be made and all kinds of disrespect to suffer, when fights took place in the dark, unspoken corners of the culture.
Compare Oleinik's career with that of his opponent, Maurice Greene. When Oleinik fought his first professional fight (actually his first three fights) at the Ukraine Open No Holds Barred Championship tournament on Nov. 10, 1996, Greene was just 10 years old. When Greene began training in his early 20s, Oleinik was already 50 fights into his career. By the time Greene made his UFC debut in late 2018, Oleinik had been through multiple hiatuses. Oleinik came up in the dark ages. Greene has spent his entire MMA career in the sun.
If he were a normal human being, with normal human frailties and a normal human desire for self-preservation, Oleinik would be looking at this fight with Greene as a swan song, one last hurrah before getting out with his body and his brain (hopefully) intact. Forty-two years old and coming off a knockout loss last July that barely took 10 seconds, Oleinik must sense his increasing vulnerability. A loss to Greene, so young and huge and hungry, would make a reasonable man look at his career and decide the end has arrived at last. But Oleinik is clearly not a reasonable man. His mind works in some other way.
Claudia Gadelha vs. Alexa Grasso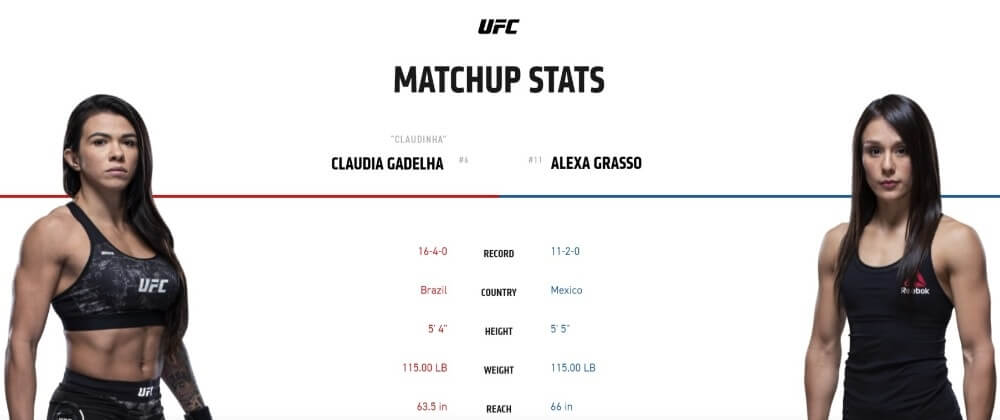 The UFC has a remarkable way of cooling hype. The history of the promotion is full of fighters who dominated in this or that regional league and arrived in the UFC full of promise but who stumbled under the bright lights and disappeared, never to be heard from again. This is what happens to most. But then there are those who are able to make the necessary physical and psychological adjustments and find a
way to thrive after early adversity.
The jury is still out on which path Alexa Grasso will take. When the Mexican strawweight arrived in the UFC in 2016, she was full of all kinds of promise. Just 23 years old, with a perfect 8-0 record, she seemed like a sure thing. But since arriving in the UFC, Grasso has looked lost, alternating wins and losses over her six fights, never quite living up to her early promise. Coming off a loss to Carla Esparza last September, she needs to beat Claudia Gadelha if she hopes to become anything more than another cautionary tale for MMA hopefuls. Unfortunately for Grasso, Gadelha has fallen on her own hard times in recent years and so she'll be extra motivated for this fight as well. Because there's no better motivator for a fighter than the fear of flaming out and fading away. The only question is: Who's more terrified?
Anthony Pettis vs. Carlos Diego Ferreira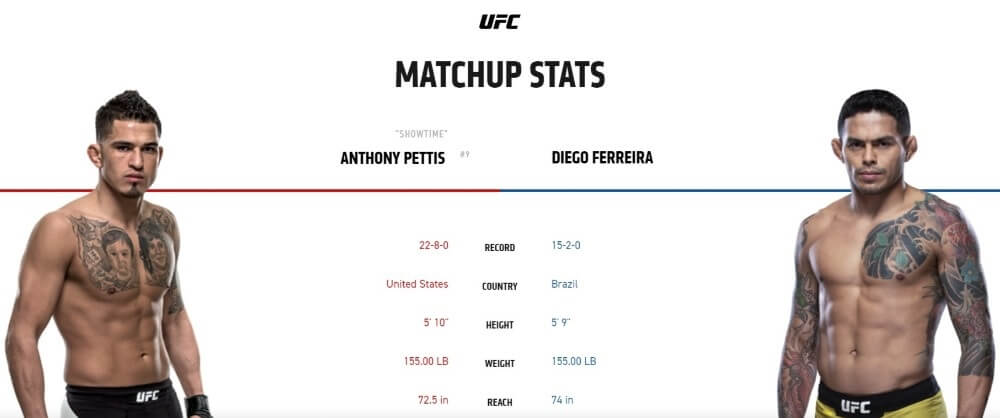 Artistic brilliance can be a double-edged sword in fighting. Once you've exhibited it, fans will always expect you to dazzle them with some new trick, to bring the secrets of a mysterious world to them. Meanwhile, your future opponents are busy coming up with ways to snuff out your magic and exploit it.
Ten years ago, Anthony "Showtime" Pettis was the embodiment of MMA's potential. With one leaping, gravity-defying head kick in 2010, Pettis secured himself a spot in the permanent MMA highlight collection. He exemplified real beauty and humanity in a cruel game. Suddenly, he was the future of the sport and the poster boy for its improvisatory, experimental spirit—the rare mainstream MMA figure.
Flash forward 10 years and Pettis is just another fighter in the UFC, mesmerizing some opponents and wilting before others. Since losing his lightweight belt to Rafael dos Anjos in 2015, Pettis has alternated between not just winning and losing but between dazzling and disappointing, between showing us the possibilities of the human body and resigning himself to its disappointments. One minute, he's submitting a jiu-jitsu master, and the next, he's quitting on his stool between rounds with only a broken finger. He'll knock out a kickboxing wizard with a punch straight out of a video game in one fight and then limp his way to a decision loss in his next. Pettis is incapable of half measures. He's either collapsing under pressure or pushing the limits of his sport.
This toggling back and forth defines every aspect of Pettis' career these days. Just six months after facing Nate Diaz, one of the biggest names in the sport, Pettis is fighting unranked Brazilian lightweight Carlos Diego Ferreira, who could probably walk through his hometown without being recognized. It would seem like Ferreira has everything to gain by fighting Pettis and Pettis has everything to lose. But when you're blessed with the ability to make people believe in something bigger than what they've seen, you find meaning and offer value outside mere wins and losses. If Pettis wins at UFC 246, he could very well show up in the biggest fight of his career next. Even if he loses, that could happen. Such is the life of an artist.
UFC 246 poster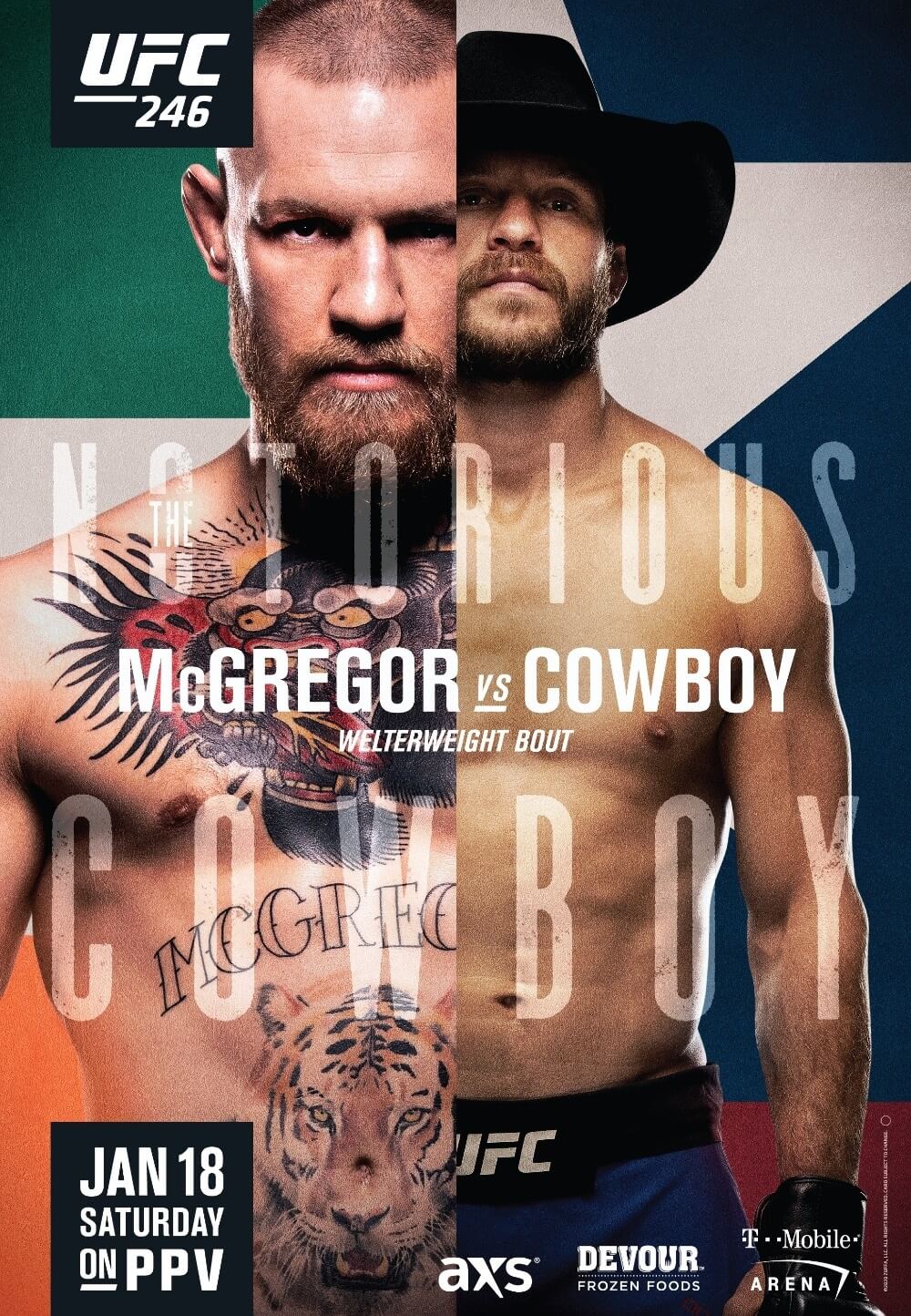 How to watch UFC 246 on ESPN+
Devices:

Chromecast,

Amazon Fire Stick

and

Fire TV

, Apple TV, Android TV, Roku players and TV, Oculus Go, Xbox One, PlayStation 4, Samsung smart TVs, and iOS and Android devices
There's only one legal way you can watch UFC 246 from your home: by streaming it on ESPN+. While the prelims will be split between ESPN and UFC Fight Pass, the main event will exclusively be broadcast on ESPN's subscription streaming service. The good news is that it's incredibly simple to use and works with pretty much every streaming device you might have.
There are two purchase options for UFC 246: You can pay $59.99 for that one PPV or you can get a full year of ESPN+ along with UFC 246 by paying $79.99. For UFC fans, you should really invest in the latter. ESPN+ now hosts a plethora of UFC Fight Nights per year, along with other exclusive content.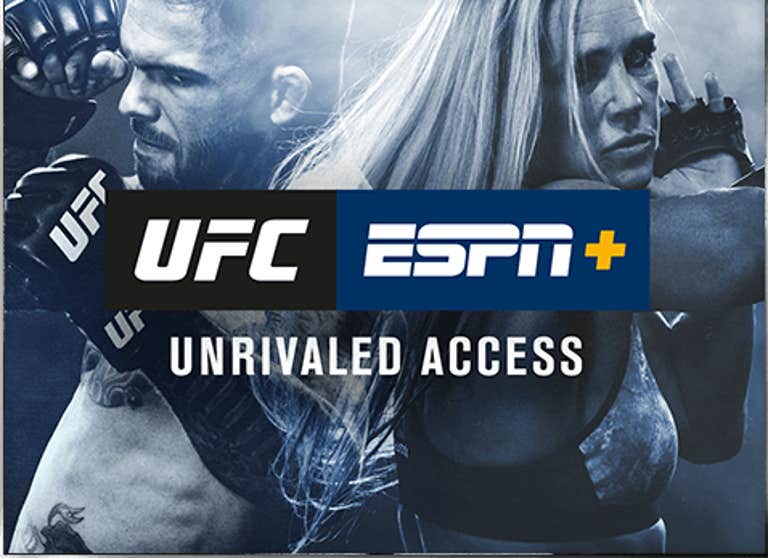 UFC 246 cost:
Need more convincing? ESPN+ also hosts Top Rank Boxing cards, daily MLB games, every out-0f-market MLS game, and tons of college football and basketball. You'll also be able to stream the complete 30 for 30 catalog on demand.
Conor McGregor vs. Donald Cerrone live stream schedule
All times in ET.
Main card | 10pm on ESPN+
Conor McGregor vs. Donald Cerrone
Holly Holm vs Raquel Pennington
Aleksei Oleinik vs. Maurice Greene
Claudia Gadelha vs. Alexa Grasso
Anthony Pettis vs. Diego Ferreira
Prelims | 8pm on ESPN
Roxanne Modafferi vs. Maycee Barber
Andre Fili vs. Sodiq Yusuff
Drew Dober vs. Nasrat Haqparast
Early Prelims | 6:15pm on Fight Pass
Chas Skelly vs. Grant Dawson
Aleksa Camur vs. Justin Ledet
Tim Elliott vs. Askar Askarov
Brian Kelleher vs. Ode Osbourne
Sabina Mazo vs. JJ Aldrich
For a year-round sports fix, sign up here and check the "sports" box to receive our weekly boxing newsletter. You'll hear about all the biggest fights and best knockouts from the Daily Dot's streaming sports guru Josh Katzowitz.