This article contains spoilers for the first two episodes of The Masked Singer.
Remember that Korean singing show where Ryan Reynolds secretly performed "Tomorrow" from Annie in a unicorn mask last year? Called The Masked Singer, that show now has U.S. version, and season 1 premiered on Fox this month. (You can also catch it on Hulu). It's already a hit.
The musical game show involves a dozen celebrities clad in elaborate costumes and full face masks that hide their identity while they sing karaoke before celebrity judges Robin Thicke, Ken Jeong, Jenny McCarthy, and Nicole Scherzinger, with Nick Cannon as host. If you're wondering what makes it special, well, Yahoo has some thoughts:
"This show has ev-er-y-thing: More entertaining blind auditions than The Voice, wilder costumes than RuPaul's Drag Race, bigger 'big reveals' than The Swan, prettier livestock than anything on Animal Planet, more C-list celebrities than a '70s Game Show Network rerun of Match Game PM, and more so-bad-it's-good taste than Eurovision."
Celebrity contestants who will keep the judges and the audience guessing throughout the season range from "Grammy Award winners to legendary athletes, and everything in between," Fox promises. One celebrity is eliminated each week, which is the only time their identity will be revealed.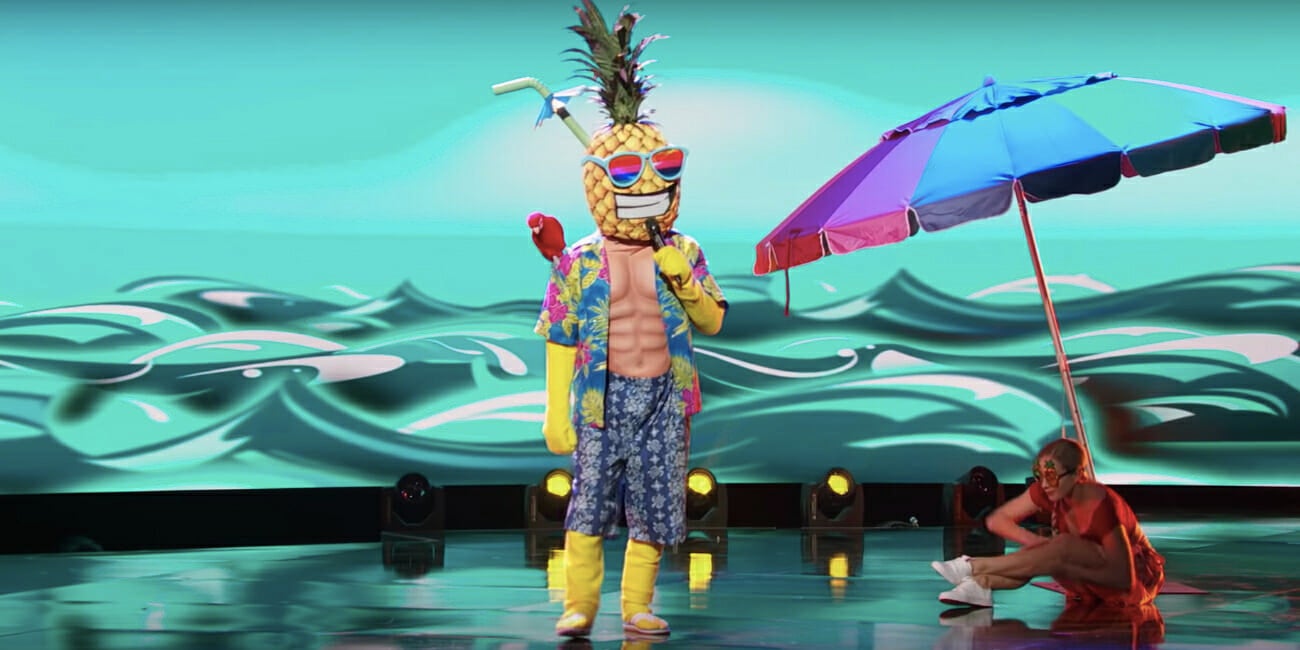 So far, NFL star Antonio Brown was unmasked as the performer behind the hippo costume when he was eliminated in the first episode, while actor Tommy Chong was eliminated and unveiled as the singer behind the pineapple mask in the second episode Wednesday night.
It's unlike any singing competition we've ever seen, and a huge part of the fun is guessing the celebrities behind the ridiculous masks—something the internet has made a game out of, based on clues given on the show. Among those that have hazarded a guess for each of the contestants include Just Jared, Us Weekly, E News, and Yahoo.
It keeps Twitter users on the edge of their seats while simultaneously loving and hating the show (or the judges or themselves for watching it). Sure, users think it's "stupid"—but they're watching.
Just sitting here wasting another Wednesday night watching #TheMaskedSinger . The stupidest show on tv, yet here I sit.

— Lisa Stevenson (@lisamt83) January 10, 2019
Kids are asleep. Wife is out. So I'm alone at home and decided to try the Masked Singer. A guy in a pineapple just sang I will survive and the judges guessed – not as a joke – that it was Barack Obama. And I'm still watching. Life in the off-season comes at you fast.

— Matthew Berry (@MatthewBerryTMR) January 10, 2019
https://twitter.com/JoelleFletcher/status/1083192456047415296
I really don't wanna be so addicted to #TheMaskedSinger but it's horribly amazing pic.twitter.com/tYll9Jpalp

— Jasmin N. Brown (@Jaz_N_B) January 10, 2019
We're here for these users roasting the judges and their guesses. "I really like this show but the judges need to go, they're so annoying," said user @_melissa9822.
I swear if there's a season 2 of this show and they have the same judges, I'm starting a petition… I'm too addicted to actually stop watching #TheMaskedSinger pic.twitter.com/uO86yW5Gil

— Dontwantyoursituation (@michelle9ohwell) January 10, 2019
You could give Jenny McCarthy a clue saying

"I was on top for a while until I fell off"

and she'd be like

"Well you know who was on top? King Kong was on top of the Empire state building and he fell off. So it has to be King Kong" #TheMaskedSinger

— Kanamori is best girl (@DashingSoulJay) January 10, 2019
Me with some of these guesses from the judges #TheMaskedSinger pic.twitter.com/ApyINE3rQf

— cat grant (@catgrant3) January 10, 2019
can't hear
can't speak
can't see
can't make any realistic guesses #TheMaskedSinger pic.twitter.com/g6se23EWKo

— kathleen (@kathleen_hanley) January 10, 2019
*performer walks on stage*
Judge – well they have 2 legs so it must be Betty White #TheMaskedSinger

— Brandon Gooley (@bgooley26) January 10, 2019
These judges say the stupidest guesses. #TheMaskedSinger pic.twitter.com/wZ24Piue3B

— Mona Lisa (@ElisaSalierg87) January 10, 2019
The judge that said Obama, that said Tichard Simmons, and that Beyoncé
#TheMaskedSinger pic.twitter.com/dKTs8CRODf

— Fumy Rita (@FumyRita) January 10, 2019
If I hear them say Beyonce one more time! She's busy! #TheMaskedSinger pic.twitter.com/zImNAzb9yp

— Reagan Williams (@VAReagan7) January 10, 2019
#TheMaskedSinger This show is just going to continue with ridiculous guesses from the judges I see. pic.twitter.com/aWSBREM0P0

— ℓαηι ☁ (@itsasilenttwerk) January 10, 2019
I really like this show but the judges need to go they're so annoying. #TheMaskedSinger pic.twitter.com/HjVmTXWOcL

— Midnight-Mom2013 (@_Taya1129) January 10, 2019
People are "obsessing" over which celebs are behind the masks, sharing iPhone notes with their best guesses.
How obsessive I am over this show.. wow 😂 #TheMaskedSinger pic.twitter.com/Qy6S7nx3h3

— michaela (@holamichaela11) January 10, 2019
Me trying to figure out the singers. #TheMaskedSinger pic.twitter.com/BMwjTLIWJy

— Sevrah James (@sevrahjames) January 10, 2019
https://twitter.com/DoubleMyDolans/status/1083192149888454656
Here are my guesses. #TheMaskedSinger pic.twitter.com/wbgUkWDQOe

— Jessalyn (@Jessaly80752273) January 10, 2019
unicorn – Tori Spelling
Deer – Terry Bradshaw
Monster – t-pain
Peacock – Donny Osmond
Lion – Rumer Willis
Rabbit – JC Chasez
alien – LaToya Jackson
Pineapple – Tommy Chong
Raven – Ricki Lake
poodle -Margaret Cho
bumblebee – Gladys Knight#TheMaskedSinger

— StevieB (@gopher_cureself) January 10, 2019
The show also has Twitter on edge because it's making "elder" artists like Gladys Knight and Tommy Chong trend—but not for the reason people fear:
https://twitter.com/blacktalkradio/status/1083209823393587200
TV: Dont stress, Gladys Knight is ok.

"Gladys Knight" is trending because of my new fave show, #TheMaskedSinger. The American audiences think the masked bee is Ms Knight.

Watch: pic.twitter.com/2irJBp7rxT

— Kgopolo Mphela (@PhilMphela) January 10, 2019
I just saw Gladys Knight trending and I sweatergod I am so relieved it is just cos of this #maskedsinger show. For real, I was about to be DONE with 2019. pic.twitter.com/uTwMwfC691

— Liz Dwyer (@losangelista) January 10, 2019
gladys knight trending just gave me a heart attack

— Natalie Weiner (@natalieweiner) January 10, 2019
"Tommy Chong" is trending because Tommy Chong is on a TV show, not because Tommy Chong is dead or a horrible human being. I was very nervous when I clicked on that.

— Jesse Spector (@jessespector) January 10, 2019
Tommy Chong is trending but not dead. Don't panic.

— Scott Weinberg (@scottEweinberg) January 10, 2019
You may not have the patience to wait and watch each celeb get unmasked weekly, but we can always count on Twitter reactions to be just as or even more entertaining than the viral show. See you next Wednesday.
H/T Yahoo