Ever wonder what it's like to be Jeremy Renner? Now you can find out.
Less than two weeks after the Jeremy Renner app was taken down after trolls invaded it, a web app has been created by Renner's fans to give people who missed out on the first app–or simply miss it–The Jeremy Renner App Experience.
Written and created by Val Bodurtha with artwork by Dan Ackerman, the hypothetical, comedic storyline of the day Renner had to shut down his app is chronicled in a choose-your-own-adventure experience. From the perspective of Renner looking at his phone, users can make decisions as Renner, beginning with whether to have one boiled egg for breakfast or two. (spoiler alert: users will wind up eating two either way.)
"The primary inspiration came from my realization that the market for Jeremy Renner-based apps had just opened up wide. I also saw it as a perfect opportunity to present an answer to the main question in everyone's mind when it came to the original Jeremy Renner app saga, namely, 'What is Jeremy Renner thinking?'" Bodurtha told the Daily Dot.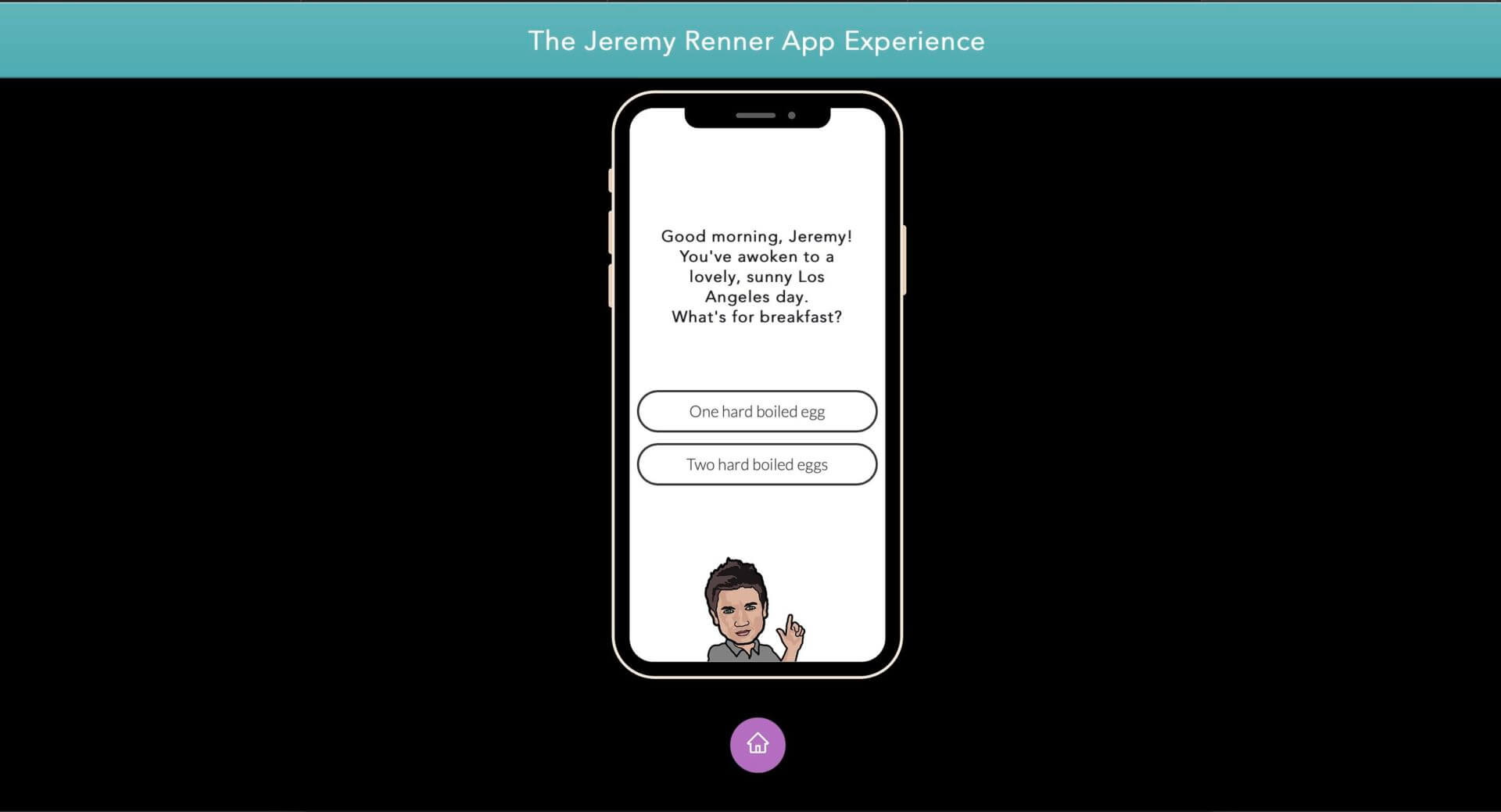 One set of questions outline four oddly specific conceptions of who Bodurtha imagines Renner to be. For example, he is eighteenth in line for the Bond throne (right behind Nick Jonas, of course), the eldest member of Imagine Dragons if he were to go solo, an Oscar-nominated Indie darling, and a blue-collar relatable regular guy who simultaneously loves hashtags.
"Something I noticed in my research was that of every post he made, every publicity move he facilitated, each fell into one of those four categories, and, stranger still, they never overlapped with each other," Bodurtha said. "When a glossy, skinny jeans-clad Renner dances onstage in his new pop-rock music video, the simple, camping-loving Jeremy of his Amazon Store is nowhere to be seen. His role of Hawkeye couldn't be further from his turn as a reserved Oscar-buzzy indie dark horse. And his regular Joe, down-to-earth vibe is immediately overshadowed when one takes into account: He has his own celebrity app. The only consistent element was the hashtags, really."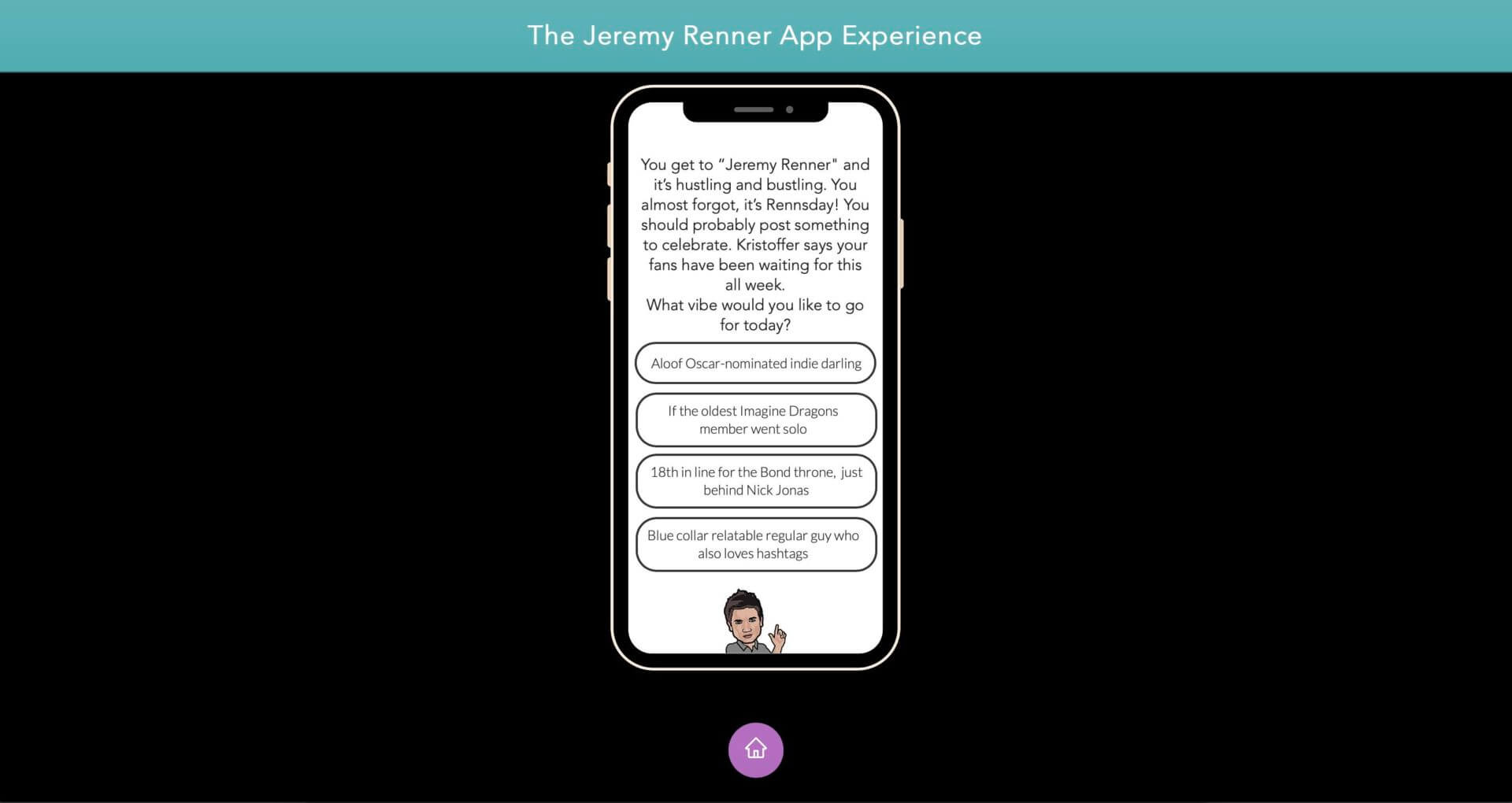 The Jeremy Renner App Experience, which isn't really an app at all, lets users explore the last day of the wholesome Jeremy Renner App before it was ruined by trolls. "Uh-oh! What's this? Some trolls have decided to attack, and on this day of all Rennsdays! What do you do?" the app asks. Users can answer in two possible ways: "Take on the trolls once and for all!" or "Put the phone down, go to sleep."
If you choose to put the phone down and go to sleep, "Your Rennsday ended and you did not shut down your app. You never look at it again. One day you just…disappear. Sorry, Jer."
And if you choose to take on the trolls, your crusade continues.
The web app is not affiliated with Renner, who is probably taking breaks from apps for a while. The web app has also surprisingly not yet gained any traction on social media.
This article has been updated to include comments from Val Bodurtha.
READ MORE: