Somehow, Jeremy Renner's celebrity brand really lends itself to mockery. People have been dunking on his self-titled app since it launched, reaching a fever pitch when he had to shut it down this week. "What was supposed to be a place for fans to connect with each other has turned into a place that is everything I detest," Renner mournfully announced on Instagram. The obvious response to this is, of course, "Why does Jeremy Renner have an app?" And why, exactly, does he have an Amazon store full Renner-endorsed products? Who wants this stuff?
Let's be real here: Jeremy Renner is famously average. He may be an Avenger, but he's inarguably the least interesting hero on the team. He earned an Oscar nomination for The Hurt Locker in 2008, but since then he's focused on middle-of-the-road action roles like The Bourne Legacy. His side gig as a rock musician is predictably embarrassing for a 48-year-old millionaire's vanity project, but he's not aggressively bad, he's just mediocre. Basically, he's just not the kind of person you expect to have a dedicated fanbase, to the point where it's actively confusing to discover that some people really, really love him.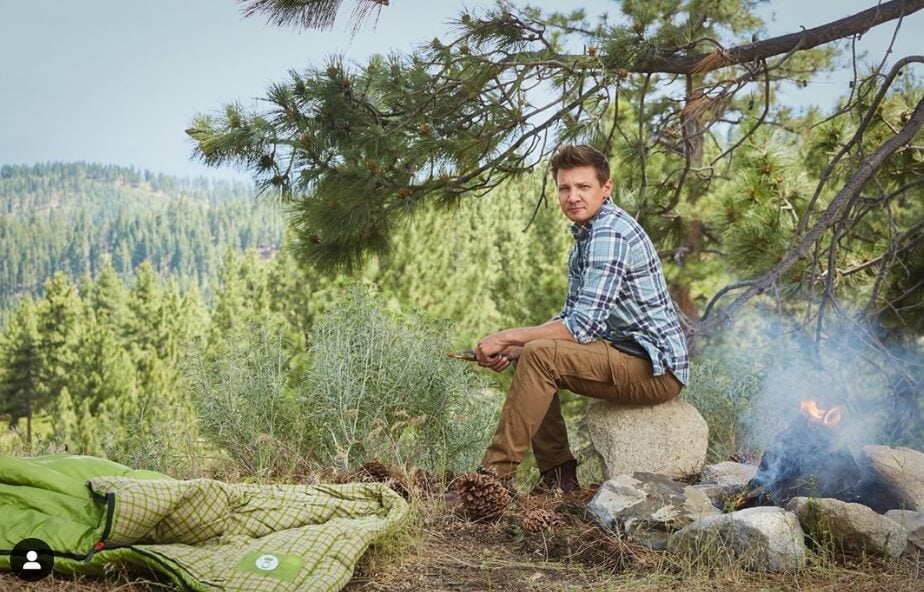 When you learn more about the Jeremy Renner app, the situation only becomes more confusing. Unlike other celebrity apps (for instance Kim Kardashian: Hollywood, or Taylor Swift's popular but politically disastrous social media platform The Swift Life), Jeremy Renner offered very little. As YouTuber Danny Gonzalez pointed out, the app is a lot like Instagram, if the only person you could follow was Jeremy Renner. In fact, many of Renner's posts were identical to his public Instagram presence. If you wanted to attract Renner's personal attention on the app, you could buy "stars" (likes) that you could add to people's posts, kind of like Upvotes on Reddit. But in the unlikely event that you did get a reply, Renner's comments were painfully banal. Like, "have a nice day" levels of banal.
So despite launching a social media app that was eventually overrun by Jeremy Renner-impersonating trolls, Renner himself is cataclysmically boring on social media. And yet there's clearly an audience for this, which brings us back to the original question: Why?
Plenty of famous people get paid for product endorsements, whether it's clothes or fragrances or Beats by Dre. You also see celebrities launching one-off businesses like the various tequila labels owned by Dwayne Johnson, George Clooney, and the stars of Breaking Bad. Wide-ranging lifestyle brands, however, are almost always the realm of women. The big success stories include Gwyneth Paltrow, Jessica Alba, and Reese Witherspoon, or the fashion-specific businesses from Beyoncé, Rihanna and Jessica Simpson.
Every celebrity brand is linked to its creator's public image. Gwyneth Paltrow's Goop is kooky and expensive, while Rihanna's Fenty Beauty is known for being both high-quality and inclusive to a wide range of skin tones – and like Rihanna, it's a big hit on social media. Jeremy Renner's Amazon webstore is similarly tailored to his public persona, and is arguably the macho equivalent of Jessica Simpson's fashion line. She may not be on the cutting edge of pop culture, but she created a billion-dollar empire based on selling down-to-earth, affordable clothes in regular department stores. Like her, Jeremy Renner isn't uniquely glamorous or aspirational. He's normal. He's a basic dad.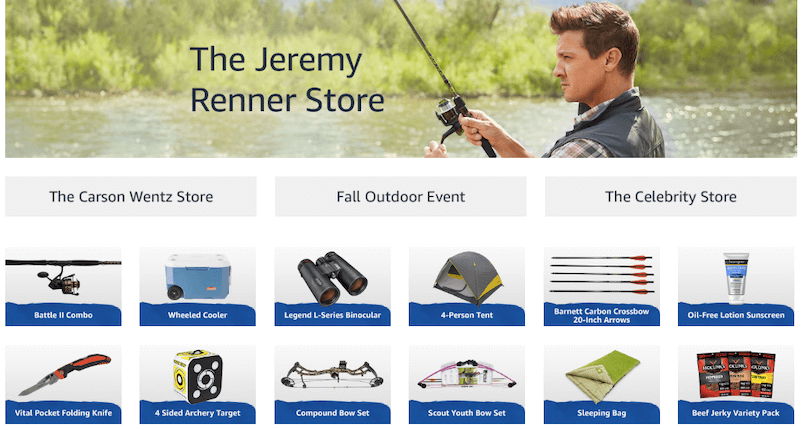 The products in Renner's Amazon store are targeted squarely at his own demographic of macho middle-aged men. He sells outdoor products like tents, archery sets (obviously), grills, and flannel shirts. By comparison, Zac Efron's Amazon store (yes, a lot of celebrities have these) is full of protein powder and workout gear, building a brand around his terrifyingly chiseled abs.
Renner's key appeal is his relatability. He isn't intimidatingly handsome, and his main hobbies are fishing and DIY. He owns a house-flipping business with his best friend. He gives the illusion of being free from Hollywood drama, as if Avengers premieres are just a temporary blip in a life of chopping wood and playing guitar in his garage. If you're the kind of straight guy who lives in fear of "seeming gay," Jeremy Renner is your safest possible choice of male celebrity idol.
This lifestyle brand isn't exactly on the same level as Jessica Simpson's (because, once again, plenty of celebrities have Amazon stores), but Renner is clearly trying to market himself as a chill, relatable American dad. The quintessential guy you'd want to have a beer with, probably while wearing khakis in a forest. Which is all a little ironic, considering the realities of his personal life – and the fact that he earned $19 million last year.
While Renner is indeed a father, his family life is a little different from the lowkey, average-Joe persona he likes to portray. After 10 months of marriage, Renner's ex-wife Sonni Pacheco filed for divorce during what was reportedly a very ugly breakup, accusing him of stealing her passport, birth certificate, and social security card. Since Pacheco isn't independently rich, famous or powerful, this didn't make much of a dent in Renner's public image. Renner now pays $13,000/month in child support —partially funded, perhaps, by the profits from his burgeoning lifestyle brand as America's gruff, outdoorsy dad.
READ MORE: