Jude Law has chosen some pleasingly strange projects over the past few years. His last HBO collaboration The Young Pope made the most of Law's faintly threatening sex appeal, while new offering The Third Day puts him in Average Dad Mode, descending into a nervous breakdown in a Wicker Man-like setting. Yes, I was delighted to discover that this excellent miniseries is a fully fledged folk horror story.
The Third Day

RELEASE DATE:
Sept. 14, 2020
CREATOR:
Dennis Kelly and Felix Barrett
STREAMING:
HBO
Jude Law and Naomie Harris star in this thrilling folk-horror drama, set on a remote English island whose community is shaped by bizarre rituals and beliefs.
You can sense The Third Day's theatrical roots from the start, beginning with Jude Law's Sam monologuing into a cell phone, panicking about a burglary at work. The thieves stole £40,000 in cash, and he's trying to handle the fallout while going on a mysterious pilgrimage into the English countryside. Sitting by a river, he throws a child's shirt into the water and begins to weep uncontrollably. He's clearly mourning a terrible loss, but the mood lurches into something darker when he stumbles upon a teenage girl attempting suicide nearby. He manages to save her, putting his personal crisis on hold so he can get her home safely. Sam comes across as a sensible, emotionally intelligent guy who's fallen into two intensely stressful situations at once. But he may also be using this new shock as an opportunity to ignore his own problems.
The girl (Epona, played by Jessie Ross) lives on Osea, a remote island that's only accessible by a tidal causeway. As soon as they arrive, we begin to see unmistakable hints of the folk horror genre. Weird paintings and symbols on the buildings. People in creepy masks and costumes, preparing for (of course!) a "traditional" "festival." And instead of being collected by her parents, Epona is discreetly ushered away by the local pub-owners Mr. and Mrs. Martin, played by British character actors Emily Watson and Paddy Considine. Mrs. Martin is maternal and no-nonsense, while Mr. Martin is so superficially jovial and blokey that you expect him to exclaim "cor blimey!" at any moment. (Fans of the genre may remember Considine from his comedic turn in Hot Fuzz, another story about an outsider being terrorized by eccentric villagers.)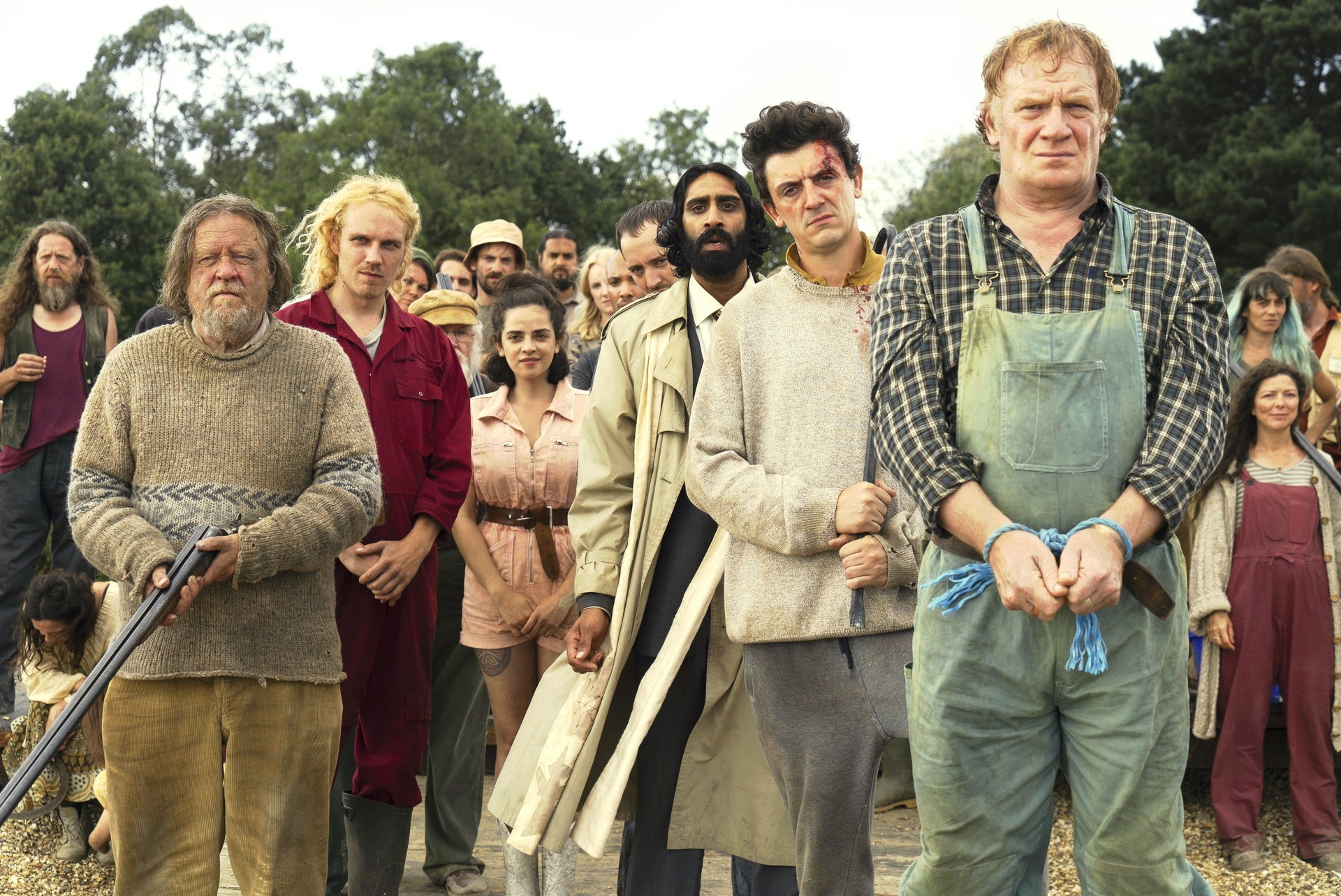 The tidal causeway is an obvious Chekhov's Gun, and events conspire to trap Sam on the island overnight. He can't help but notice a dark and violent mood in the air, and Mr. Martin's main job is to gaslight him into thinking everything's OK; a classic role in this kind of scenario. It's admirable to see The Third Day keep this tension ramping up over three distinct episodes, anchored by a gripping performance from Jude Law, embracing hysterical panic in a way that middle-aged leading men rarely get to do. He's brilliant, as is Katherine Waterston as a realistically messy academic Sam meets on the island—a convenient character to explain the local rituals and beliefs. Things do get a bit silly in the story's final act, but the intro was so engaging and cleverly paced that I was happy to go with the flow.
This show was co-created by playwright/screenwriter Dennis Kelly, and the Punchdrunk theater company's artistic director Felix Barrett. Punchdrunk is a big name in U.K. theater, specializing in site-specific events where the audience immerses itself in the performance. Their influence is clear as Sam (our audience stand-in) gets sucked into the bizarre world of Osea, whose inhabitants share a visceral instinct for theatrical terror.
Law's three-episode arc is the first third of a triptych, followed by a live-streamed performance event on Oct. 3, and then another three-episode story led by Naomie Harris, whose character brings her two daughters to Osea for an ill-advised vacation. Harris' arc builds on what we've already learned about Osea, avoiding too much repetition in another "outsiders get stuck on the scary island" story. Her kids are also very plausibly annoying, balanced out by a more sensitive side when they're not bickering with their mother.
The Third Day's overall concept is far from original, but this really doesn't matter. We don't complain when someone comes out with yet another haunted house movie, after all. The trick is making an old story work in a new way. So while it's clear from the first 15 minutes that someone is going to get Midsommar'd here, predictability was not an issue. Dennis Kelly's tight, characterful writing weaves together a tense balance between Sam's desire to get home, his sense of responsibility for Epona's wellbeing, and the string of not-so-coincidental events that force him to stay on the island. We're also invited to immerse ourselves in the beautifully scary production design of Osea's neo-pagan traditions, coupled with some eerie visual effects later on.
Director Marc Munden (Utopia) keeps the camera tight on Jude Law's face as Sam vacillates between terror, distrust, and allowing himself to be soothed by reassurances from the locals. The danger is so glaringly obvious (especially once we reach Naomie Harris' section) that we need some very convincing explanations for why these characters haven't run for the hills. The Third Day makes it work. It's a satisfying addition to the folk horror genre—although perhaps a nasty surprise for any HBO viewers who expected a Jude Law/Naomie Harris "drama," which is how this show was seemingly advertised.
---
It's not TV, it's HBO, and it's available as a standalone streaming destination. That's right, you don't need a cable subscription to access almost five decades of comedy specials, hit TV shows, original movies, and documentaries. This includes hit dramas and comedies every episode of The Sopranos, Curb Your Enthusiasm, Deadwood, Mr. Show, Game of Thrones, and Entourage. Plus, you can also live stream new shows and specials including Real Time with Bill Maher, Last Week Tonight, Big Little Lies, and Westworld. You'll never run out of things to watch, with a service that can be utilized from any web browser, or from an iOS or Android device with an easy-to-use app.
---
The Daily Dot may receive a payment in connection with purchases of products or services featured in this article. Click here to learn more.