Future Man is derivative, but at least it knows it's derivative.
Created by Howard Overman, Kyle Hunter, and Ariel Shaffir, the new comedy from Hulu, streaming now in its entirety, arrives courtesy of executive producers Seth Rogen and Evan Goldberg—two guys as likely to make a pop culture reference as anyone. And pop culture references abound in Future Man, particularly '80s science fiction and video game cliches.
The premise, in which a janitor named Josh Futterman (Josh Hutcherson) is recruited by two resistance fighters from the future named Tiger and Wolf (Eliza Coupe and Derek Wilson) after beating a video game they sent back in time as a testing mechanism, is essentially lifted from the 1984 film The Last Starfighter. Future Man acknowledges this, just as it acknowledges the copious nods to other influences, like Back to the Future, Children of Men, The Terminator, and Quantum Leap. It's not just sci-fi that Future Man is interested in, however. One episode features a sequence which is an extended tip of the black hat to Breaking Bad.
If this kind of pastiche is starting to wear you down, you're not the only one. When the show's trailer first dropped, one commentator warned that it would "make you hate nostalgia." Although if you're not already worn down by the nostalgia inherent in series like Stranger Things and movies like It, Future Man probably isn't going to be the tipping point for you.

Unlike Stranger Things, Future Man isn't winking about its nostalgia. In fact, as already mentioned, it's in your face about everything it's pulling inspiration from. Whereas "serious" properties like Stranger Things and It try to coat their references in sincerity and sweetness, Future Man makes no attempt to soften its approach. Like Seth MacFarlane's new show, The Orville, or the work of Dan Harmon on Community and even more so on Rick and Morty, Future Man would rather call attention to its patchwork of influences than drop them in as Easter eggs.
Perhaps more than any other, the show Future Man really owes a debt to is Edgar Wright's Spaced, both in scrappiness and intent. Although the stakes were much lower for the mid-20s layabouts of Wright's Channel 4 sitcom, the way he employed and called attention to genre tropes feels similar to the obsessive nature with which Future Man is constantly citing its predecessors. Of course, what made Spaced work was that it used genre cliches in service of telling a story which was grounded in the reality and relatability of its characters. In short, it had something to say, on top of being an expertly curated exercise in meta-comedy. So the question here is, does Future Man have something to say too?
Maybe! Of the episodes made available for critics, there's a lot to like in this show, despite containing few bits inspired enough to love. Future Man is at its best when leaning into absurdity, pushing either the references or the silliness of its tone as far as it can go. There is a sentimentality present too, which is good since the show's violence might feel nihilistic if not backed up by the occasional touchy-feely moment. As written, none of the characters are uninteresting, although few of them are given real depth, leaving it up to the cast to do most of the heavy lifting.
Hutcherson (The Kids Are All Right, The Hunger Games), who also serves as a producer here, is charming as the kind of good-natured, non-threatening, unentitled nerd we've all seen in movies and on TV a hundred times before, but which doesn't seem to exist in real life these days (or at least not on the internet). Josh is the classic "lovable loser" who's not really a loser at all—he's funny and good-looking, even if the people in his life don't seem to know it. There's not enough that's unique or special about him, but he's an OK window for the audience into the mad world we visit. Hutcherson is very charming and imbues the character with more idealistic likability than he might have had merely on the page.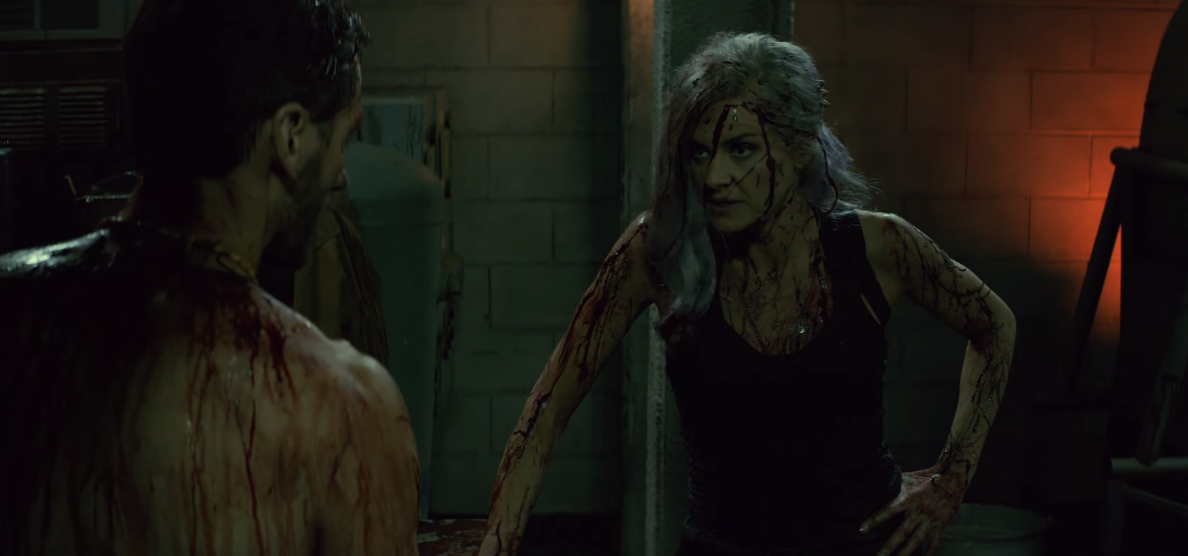 Coupe (Happy Endings), as Tiger, continues to prove that she has comedic chops to handle pretty much anything you throw at her. Derek Wilson (Preacher) gives a more mannered performance as Wolf, occasionally to the point of being distracting, but overall he works for the heightened timbre the show has set. Plenty of great supporting players pop in and out too, including Ed Begley Jr., Keith David, Haley Joel Osment, Paul Scheer, Awkwafina, Ron Funches, Dave Koechner, Martin Starr, and the late Glenne Headly.
Maybe with the exception of The Handmaid's Tale, Hulu has yet to produce a series which looks quite as good as your average Netflix original or even many of the better Amazon shows. Rogen and Goldberg, who directed the pilot as well as several other episodes, have proven they can do a lot with a small amount of money in their movies before, and they do their best to make Future Man as cinematic as possible, despite clearly having limited resources. However, they're not quite the stylists Edgar Wright is, and many of the show's visual choices feel awkward and stilted. Considering its cheap and digital look, much of Future Man comes off like the many less polished shows the BBC has to offer.
Yet being rough around the edges hasn't stopped any number of British series from finding a cult following, and even in the era of American prestige TV, it's unlikely to stop Future Man from finding an audience either. While it may have had a harder time gaining traction if it followed the traditional Hulu model, of dropping one episode a week or a few at a time, the fact that all of Future Man is available to watch now is likely to help it build buzz. The episodes slide easily into one another, and the story does a good job of keeping up steam and building momentum all throughout the first season.
In the end, Future Man may not have a lot to say, but it still succeeds as a hodge-podge of funny references and smart science fiction tropes. If you're looking to take a break from your family over Thanksgiving, it's worth a quick binge.
https://www.youtube.com/watch?v=vJaUfpbEYIU
Still not sure what to watch on Hulu? Here are the best movies on Hulu, what's new, the best shows on Hulu, the sexiest movies you can stream on the service, and the must-see Hulu originals.