Need to know what's new on Starz this month? You probably know the premium network for its smash hit series like American Gods and Outlander. But this Droughtlander will be a long one– what do you do with your subscription until then?
Don't worry, we've got you. Starz has plenty of movies to stream and several new, exciting series to obsess over. No matter what you're into, there's something new on Starz for you this August.
Best new Starz original series: Heels series premier, The Deceived, Blindspotting season finale, Powers III: Raising Kanan
New movies on Starz: Footloose, Rosemary's Baby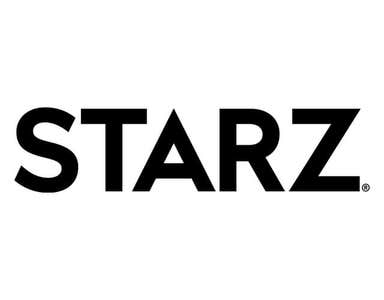 | | |
| --- | --- |
| Monthly | $8.99 |
| Annually | $74.99 |
---
What's new on Starz August 2021: Original Series
Heels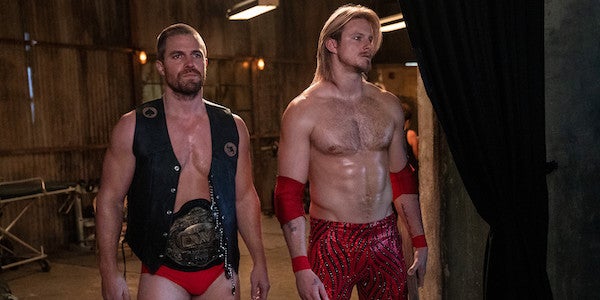 In the wrestling world, there are heroes and there are heels– and in a small Georgia town, brothers Jack & Ace Spade will have to choose rivaling roles in the ring. But family is complicated, and as the two brothers battle over their father's legacy, can each fighter play the role they're given?
Starring Stephen Amnell (Arrow) as Jack, Heels also features a couple of Shameless show-runners and the writer from Marvel's Loki series. The series promises to be a riveting drama with some wrestling flair, so be sure to check it out August 15th.
---
Powers III: Raising Kanan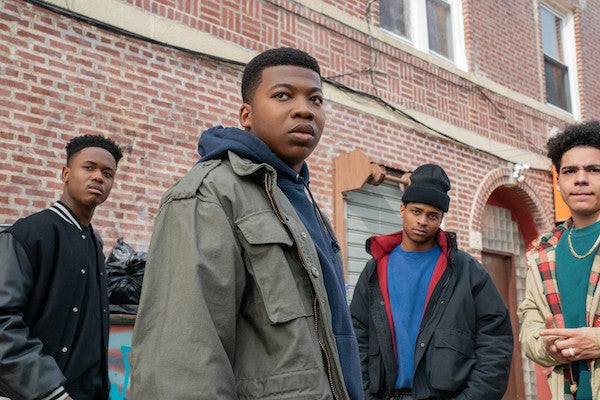 Set in the same universe as the crime drama Power, Kanan is a prequal about Ghost's former friend and rival, Kanan. Set in the early 1990s, young Kanan's hustler mother is arrested and taken to jail. As much as he wants to follow in her footsteps, she encourages him to use his wits to pursue his education.
After the original series and its spinoff Ghost garnered critical acclaim, Power III promises to be as riveting as both books before it. With two more series promised after this one, producers Courtney Kemp and 50 Cent are giving viewers plenty of compelling content to chew on in the Power universe.
---
Blindspotting Season 1 Finale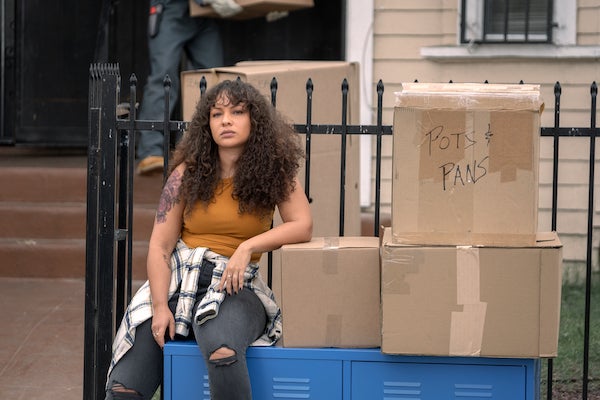 When Ashley's boyfriend Miles is arrested, she and their son Sean are forced to move in with his mother Rainey (Helen Hunt) and his half-sister Trish. Ashley (Jasmine Cephas Jones) struggles to figure out how to tell Sean about his father while managing a complicated relationship with his family and the neighborhood they grew up in.
This series takes place just six months after the end of a film by the same name and creative team. If you haven't seen the movie yet, we highly recommend giving it a watch. Go on, we'll wait…
The show is both uproariously funny and gut-wrenching in equal measure, and it continues the film's style of beautifully-crafted lyricism and dance numbers. Set in Oakland, both the movie and show make some incredible commentary on race, gentrification, and the prison system. Perfectly performed and delivered, you're sure to be moved by the finale, new on Starz this August.
---
The Deceived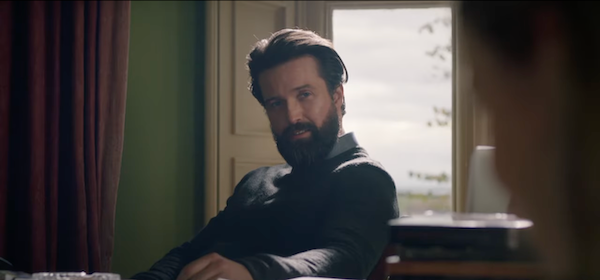 When a young student, Ophelia, falls in love with her married professor, the two begin having an affair in this 4-part series new on Starz. When Michael suddenly disappears, Ophelia goes looking for him– only to find that his wife has died mysteriously in a fire.
From the writer of Derry Girls, this series takes suspense to another level. Full of twists, turns, and some genuinely creepy moments, this UK-based thriller is sure to keep you on the edge of your seat.
---
What's new on Starz August 2021: Movies
Footloose (1984)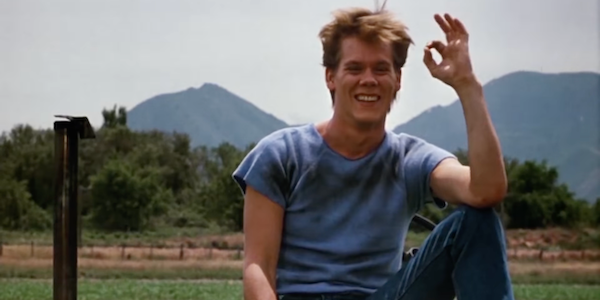 When Ren and his mother move to a conservative Baptist town, he's alarmed to learn than the town has banned rock music and dancing. Ren makes it his mission to bring dancing back to the town– and along the way, falls in love with Ariel, the town preacher's rebellious daughter.
This musical classic is a must-see Kevin Bacon. By the end credits, new and old viewers alike will be tapping their feet and shaking their hips alongside this repressed town.
---
Rosemary's Baby (1968)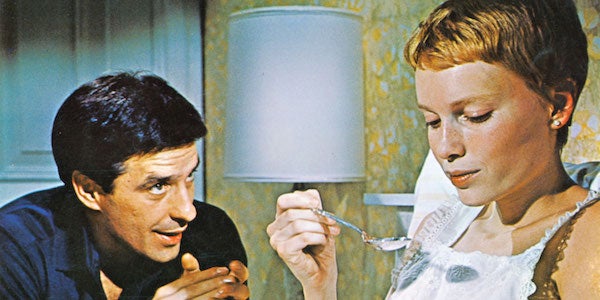 When Rosemary and her husband move into a new apartment building, Rosemary is a little put off by the buildings dark past and her strange new neighbors. Soon after, Rosemary has visions of a dark ritual the night she and her husband plan to conceive a baby. As her baby grows, so do her feelings of unease.
A horror movie with its own real-life horror mythology, this antichrist birth story is bone chilling, even after all these years. Revisit this harrowing classic new on Starz this August.
---
Movies New on Starz in August
Available August 1
Along Came Polly (2004)
Ballad Of Josie, The (1967)
Beguiled, The (1970)
Blindspotting (2018)
Boss Of Lonely Valley (1937)
Brooklyn's Finest (2010)
Cattle Drive (1951)
Chief Crazy Horse (1955)
Contractor, The (2007)
Cutting Edge: The Magic Of Movie Editing (2004)
Day Of The Bad Man (1958)
Daylight (1996)
Eat Pray Love (2010)
Eiger Sanction, The (1975)
Footloose (1984)
Four Guns To The Border (1954)
Frenchie (1950)
Frontier Gal (1945)
Get On The Bus (1996)
Grease 2 (1982)
Incident At Phantom Hill (1965)
Jumping The Broom (2011)
Musketeer, The (2001)
Orgazmo (1998)
Private Valentine: Blonde & Dangerous (2008)
Pure Luck (1991)
Scarface (1983)
Sharky's Machine (1981)
Sierra (1950)
Silverado (1985)
Spanglish (2004)
Tyler Perry's Meet the Browns (2008)
Undercover Brother (2002)
Your Highness (2010)
Available August 6
Available August 13
28 Days (2000)
Accused, The (1988)
Blue Velvet (1986)
Conrack (1974)
D.C. Cab (1983)
Dilemma, The (2011)
How to Lose Friends and Alienate People (2008)
Jane Austen Book Club, The (2007)
Jury Duty (1995)
Kiss Of Death (1994)
Last Hard Men, The (1976)
Mark Of Zorro, The (1974)
Men Of Honor (2000)
Object Of My Affection, The (1998)
Prelude To A Kiss (1992)
Rosemary's Baby (1968)
See No Evil, Hear No Evil (1989)
Sheep And Wolves: Pig Deal (2018)
Thomas Crown Affair, The (1968)
Ticking Clock (2011)
Undefeated, The (1969)
Urban Cowboy (1980)
Available August 15
Available August 16
Available August 18
Mortal Instruments: City Of Bones, The (2013)
Available August 25
Battle Of The Year (2013)
Available August 26
Available August 27
New Series on Starz this August
Available August 1
Blindspotting – Episode 107, "Seannie Darko"
Deceived, The – Episode 103
Power Book III: Raising Kanan – Episode 103
El Embarcadero – Episodes 101-108 & 201-208
Pier, The – Episodes 101-108 & 201-208
Available August 8
Blindspotting – Season finale – Episode 108, "Bride or Die"
Deceived, The – Episode 104
Power Book III: Raising Kanan – Episode 104
Available August 15
Heels – Series premier – Episode 101
Power Book III: Raising Kanan – Episode 105
Rifleman, The – Episodes 41-76
Available August 22
Available August 29
Heels – Episode 103
Power Book III: Raising Kanan – Episode 106
---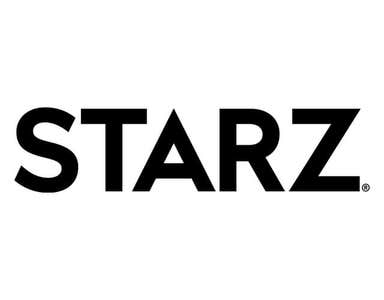 | | |
| --- | --- |
| Monthly | $8.99 |
| Annually | $74.99 |
---
The Daily Dot may receive a payment in connection with purchases of products or services featured in this article. Click here to learn more.