Warning: This story contains potential spoilers for those unfamiliar with the plot of American Gods.
Like other shows that have debuted in the contentious first few months of President Donald Trump's administration, fans and critics alike have noted how much more politically relevant American Gods seems now.
It didn't just sneak up on the cast and crew, who filmed the majority of the show prior to the 2016 election. Neil Gaiman's 2001 book—and now the show—touched on themes of immigration and how uncertain America was of its own identity well before the president's anti-immigrant sentiment was pushed as policy. The "coming to America" segments that serve as some of the episodes' cold opens develop the idea that the gods themselves were brought to America by their worshipers hundreds and thousands of years ago. Versions of themselves sparked to life in this land because people believed, because they prayed and sacrificed.
This is a world that has always existed behind some mysterious invisible veil, but it's new to Shadow Moon (Ricky Whittle), the ex-con hired by the mysterious Mr. Wednesday (Ian McShane) who finds himself at the center of a war between the old gods and new gods. The ancient ones grow worship hungry as their believers dwindle, while those attached to popular religions and modern obsessions thrive.
There are multiple Jesuses in existence because of the demand for him. (Kristin Chenoweth, who plays Easter, god of fertility, now has to share her special day with 13 of them.)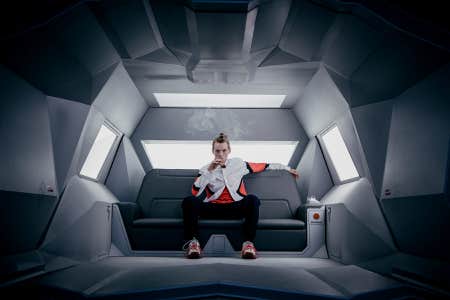 These themes, showrunners Bryan Fuller and Michael Green explained to reporters at a recent event, were already there. And Gaiman pointed out how little of the original book they actually had to change to adapt it to modern-day. But then the election happened, leaving them reeling.
"We had done our thinking in the run-up to things, but no one I don't think anyone anticipated just how much the country would change—and we'll go on-record saying not for the better," Fuller said. "But the book offered the opportunities to talk about subjects and issues that were important to us, and it was a prescient novel in that way. These things have always been important in America, they've always been hot-button things in America, and the times have made the book even more relevant, so it continues to be that gift."
That moment particularly stung for Fuller and Green once they returned to work after the election and found themselves editing part of an episode that felt all too familiar to them: Bilquis (Yetide Badaki) being taken down by men.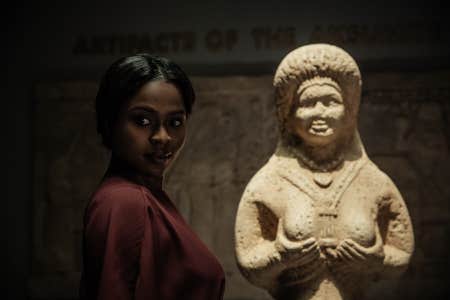 "Essentially, there is no shortage of the horrible lengths that men will go to to take down a woman of power," Fuller added.
Chenoweth even used aspects of the election in mind in her own performance.
"I was looking at Hillary and I was like, she was getting slammed for being a strong woman," Chenoweth said. "If she were a man it would be different—this is a subject that we all know, right? That's what I was feeling, and I was feeling for her. And it's interesting that I took a little bit of her in with me."
The fact that American Gods is an immigrant story resonated with much of the cast, who came in with different stories and ideas of their own. Much of the cast isn't American, something Pablo Schreiber (Mad Sweeney) said allowed them to bring their ideas together, much like America itself.
"[Gaiman] mentions how he feels America is one of the few countries—perhaps the only country in the world—that is still searching for its soul," Bruce Langley (Technical Boy) explained. "That doesn't know what it is, who it is, what it is at its heart. And that it is an amalgamation of all of these other cultures, all these other ideas, and it's evolving into this strange mix and trying to define itself in that maelstrom."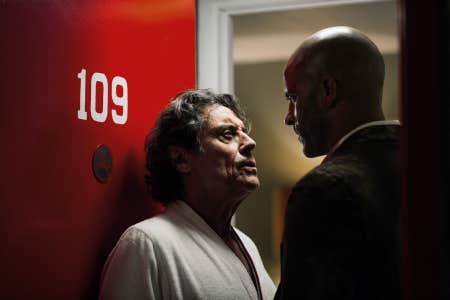 "America's a great country," McShane said, acknowledging his own immigrant roots. "You just happen to be going through a particularly weird time but a lot of places do. They'll recover from it. I hope sooner than later."
American Gods introduces viewers to a breathtaking world grounded firmly in reality despite the presence of gods. Among the highlights is an incredible performance from Orlando Jones as Anansi, the West African trickster god who shows up when all seems lost to one of his followers—and it goes in places rarely seen on TV.
"It's a brutally honest accounting of obviously the historical elements that come to play," Jones said of his monologue. "It's in the same way that I think we're responding to all of our dialogue as the characters in that way that there's a core resonating through it that we recognize as completely truthful and you're almost like, 'Are they gonna let us say this?'"
The biggest change from the book was to expand the roles of its female characters, who originally play important parts but are often overshadowed and don't often have as much depth. Bilquis is now using dating apps to find men and women to worship her, while Shadow's late wife Laura Moon (Emily Browning) is expanded upon so we might better see where she's coming from.
For Browning and Badaki, the exciting thing is that she gets to play a character who's screwed up and gets to be weak and show a vast range of emotion—something that's still an issue on TV, even now. It's a start but they still have a long way to go.
"It was refreshing though, you know, to be able to see a woman be incredibly flawed," Badaki said of Laura. "It's just then that you get to see every aspect. It feels like a human being. You get to play a human being."
"It's so funny that it's still such a big conversation," Browning added. "It's like, 'So in this show, the woman are like people!' Why are we still talking about this, but obviously we are."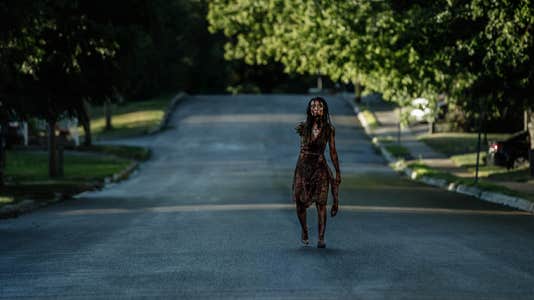 American Gods brings complex characters together and tells a rich story that has something for a lot of its viewers.
"It's about a lot of things," Gaiman said. "It's about the immigrant experience. It's about coming to America. It's about what happens to cultures when they come here—and what we leave behind. It's about the new gods, the things that pull our attention and our love and our belief and our interest. And it's about all of those things and it's also about the people in the story and caring about what happens to them and following them around."
But in the end it might also spark another thought-provoking conversation about what and how we worship: not necessarily in what religions we do and don't practice, but in what we value and how we spend our time and energy. 
"If anything I hope the show provokes is just five minutes of thought from people as to, 'Do you really worship what you think you do?'" Green said. "And it's a very good question for all Americans to ask themselves right now."
American Gods premieres on Starz on April 30 (U.S.) and on Amazon Prime Video on May 1 (international).