This review contains spoilers. 
There's a reason Stephen King's novels are notoriously difficult to adapt for the big screen. The horror veteran is a master of character development and suspense, imbuing his protagonists with a humanity that makes their imminent doom even more bone-chilling when it finally comes. Perhaps nowhere is this prolonged sense of dread on better display than 1983's Pet Sematary, a white-knuckle story of death, resurrection, and the folly of man. But directors Kevin Kölsch and Dennis Widmyer's latest adaptation, which premiered on the final night of SXSW, is a bloodless bastardization of its source material that sinks under its own uninspired storytelling and horror movie cliches.
Pet Sematary (2019)

RELEASE DATE:
4/5/2019
DIRECTOR:
Kevin Kölsch, Dennis Widmyer
The latest 'Pet Sematary' remake is a bloodless adaptation of its source material.
Louis (Jason Clarke) and Rachel Creed (Amy Seimetz) move from Boston to the sleepy town of Ludlow, Maine, in order to slow down and spend more time with their kids, 8-year-old Ellie (Jeté Laurence) and toddler Gage (twins Hugo and Lucas Lavoie). It only takes a few minutes at their new home to realize trouble is afoot, when an Orinco tanker truck roars by their driveway, the first of several telegraphed jump scares. They soon discover the Pet Sematary, a makeshift graveyard where local kids have buried their deceased pets for decades, donning animal masks and wheeling their dearly departed through the woods in a ritual procession. According to their sagely neighbor Jud Crandall (John Lithgow), who's lived in Ludlow all his life, the Creeds' property includes the Pet Sematary—and extends far beyond where any human would ever care to explore.
Death hangs on the Creed family like a stench. Louis loses a patient during his first day on the job at a university infirmary: Victor Pascow, a student who gets bludgeoned by a car while jogging. Victor calls Louis by name with his dying breath; that night, a spectral Victor leads Louis to the Pet Sematary and warns him never to cross the site's deadfall—the barrier between where the dead rest and the dead walk.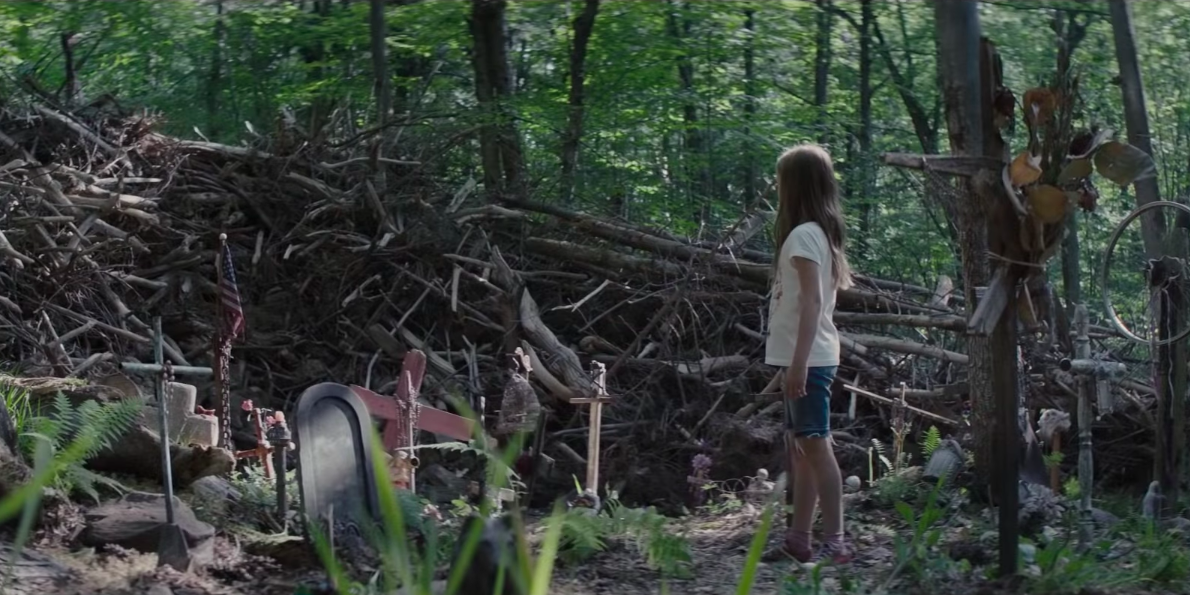 As a doctor, Louis has come face-to-face with death plenty of times and regards it as perfectly natural. Not so much for Rachel; she still blames herself for the death of her sister, Zelda, who succumbed to meningitis when they were children. Rachel and Louis fumble over their words when Ellie, perturbed by the Pet Sematary and the thought of losing her beloved cat, Church, asks them about death and the afterlife. Rachel, who believes the human soul endures after the body dies, learns after a decade of marriage that Louis is agnostic (they have great communication skills).
Louis's beliefs—or lack thereof—are put to the test after he finds Church dead on the side of the road. Jud leads him beyond the Pet Sematary to an old Native American burial ground, inhabited by a malevolent spirit called the wendigo. Louis disposes of Church, only to find him lurking in Ellie's closet that night. Church is awake, yes, but not quite alive—fundamentally different after his resurrection. As Jud tells Louis, and as he will soon learn for himself: "Sometimes, dead is better."
Perhaps Jud shouldn't have taken Louis to the burial ground beyond the Pet Sematary, but he couldn't seem to help himself.  The burial ground holds tremendous power—but would anybody dare try to bury a human there? Louis determines to find out after tragedy strikes his family again. This time it's Ellie, who was running in the middle of the road on the day of her birthday party when another Orinco tanker barreled past their house. (The 2019 version swaps Gage for Ellie in order to overcome the physical limitations of having a toddler perform this role.)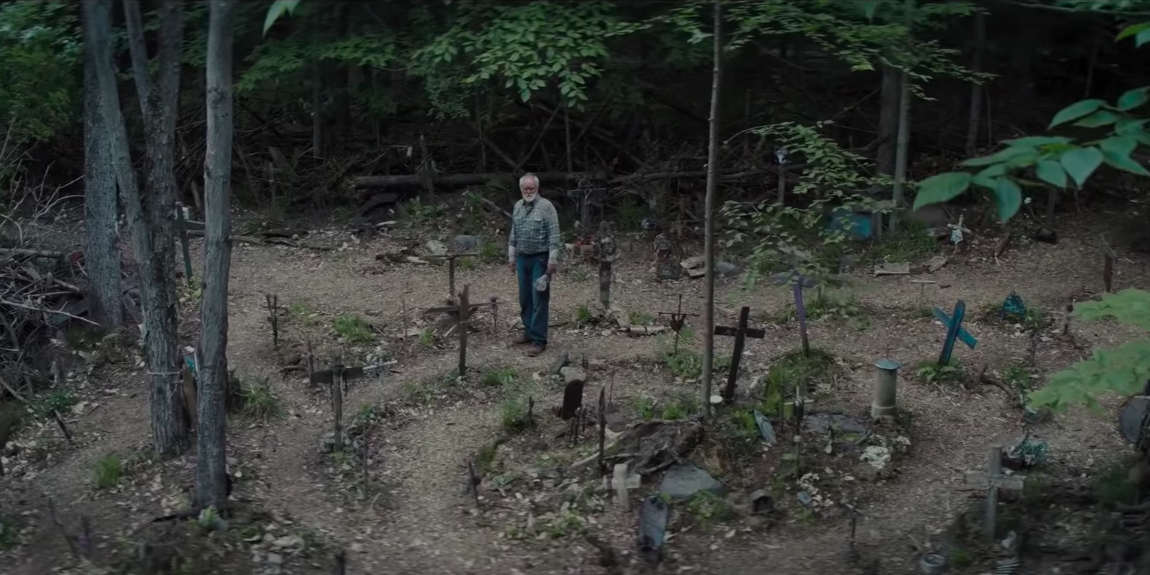 The problem with Pet Sematary is that it gives viewers absolutely no reason to care about anything that happens to the Creed family. Clarke and Seimetz don't have a lick of chemistry, and the film's plot unfolds at such a mercenary pace that there's no room for substantial character development. Rachel explains her morbid fear of death to Louis with little prompting, which is strange considering she's apparently withheld this information from him for the entirety of their marriage. Jud's eerie stories about old townspeople's ill-fated brushes with the Pet Sematary get relegated to a Google archives search.
Clarke plays Louis with such stony detachment that it's hard to imagine any sort of conflict raging inside him. In King's original novel, Louis' mission to resurrect his dead child ran parallel with his own descent into madness. Here, he reaches the decision as if it's the most logical thing in the world, showing little fear or remorse for his actions. Only after Ellie returns does Louis begin to consider the error of his ways.
READ MORE:
The terror does intensify once Ellie comes home, and Laurence plays the demented side of her character well, even if that character is just a B-rate composite of living dead girl tropes from The Ring and The Exorcist. She comes off as more taunting than terrifying (and in some instances, unintentionally funny), and by introducing her to the rest of the family, the film eliminates the element of isolation that caused Louis to lose his grip on reality when he carried out the deed in secret in the book.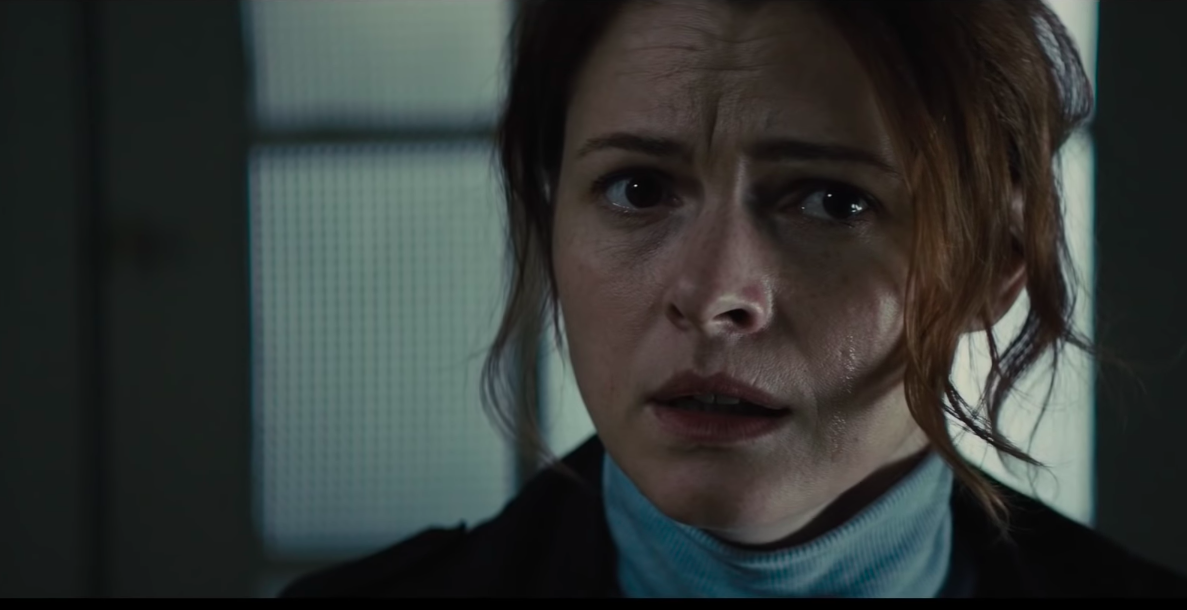 None of this stops Ellie from wreaking havoc, starting with her pesky neighbor Jud and then focusing on her own family. It's here that Pet Sematary makes its biggest and most egregious deviation from the source material, with a new ending that dilutes one of the book's central themes: that weak men will go to any length to get what they want, and will continue to make the same mistakes even after their decisions come back to bite them.
King initially deemed Pet Sematary too horrifying and nihilistic to publish. But beneath the near-impenetrable blackness exists a breathlessly entertaining novel that dares readers to consider the threshold for human suffering and the ethical and metaphysical implications of life after death. The latest big-screen adaptation asks no such questions and captures none of the mysticism or nuance of King's novel. Kölsch and Widmyer should have heeded Jud Crandall's advice: Pet Sematary would be better off dead.