Five women say Louis C.K. subjected them to sexual misconduct, making public rumors that have followed one of the country's most popular comedians for the past several years.
In interviews with the New York Times, comedic duo Dana Min Goodman and Julia Wolov said they were invited to C.K.'s hotel room during the U.S. Comedy Arts Festival in Aspen, Colorado, in 2002. Once they arrived in his room, C.K. asked if he could take out his penis, shed all of his clothing, and began to masturbate. The two said they fled the room after he ejaculated.
In 2003, Abby Schachner saidC.K. masturbated while they had a phone conversation, and in 2005, another comedian, Rebecca Corry, said he asked if he could masturbate in front of her. Corry said she said no.
Another female comedian, who spoke to the newspaper anonymously, said C.K. repeatedly asked to masturbate in front of her when they worked together at the Chris Rock Show in the late 1990s. She said she acquiesced to his request, and he masturbated in front of her in his office during the workday.
"It was something that I knew was wrong," she said. "I think the big piece of why I said yes was because of the culture. He abused his power."
When asked for comment, Lewis Kay, C.K.'s publicist, said, "Louis is not going to answer any questions."
Last August, comedian Tig Notaro said C.K. needed to address his sexual misconduct issues, and she elaborated further in the New York Times report. "Sadly, I've come to learn that Louis C.K.'s victims are not only real," she told the Times via email, "but many are actual friends of mine within the comedy community."
The fallout from the New York Times report has been swift. Here's a running list of the Louis C.K. news that's happened since the allegations went public.
Louis C.K. news
On Monday, Dave Becky, Louis C.K.'s former manager, released a statement and addressed claims that he attempted to silence two women from coming forward with allegations.
FX has cut ties with Louis C.K. On Friday it released a statement saying it has ended an overall deal with his production company, Pig Newton.
3 Arts Entertainment has also dropped Louis C.K. as a client.
Louis C.K. on Friday released a statement addressing the Times report. He says the allegations are true. Read the whole thing below:

Earlier on Thursday, the premiere of C.K.'s new controversial film, I Love You Daddy, was abruptly canceled, because of "unexpected circumstances." A character in that film mimics masturbating in front of other people. His scheduled Thursday night appearance on The Late Show With Stephen Colbert was also canceled.
Netflix has reportedly pulled the plug on a second planned Louis C.K. special. His first special,

2017

, was released in April and is still on the site.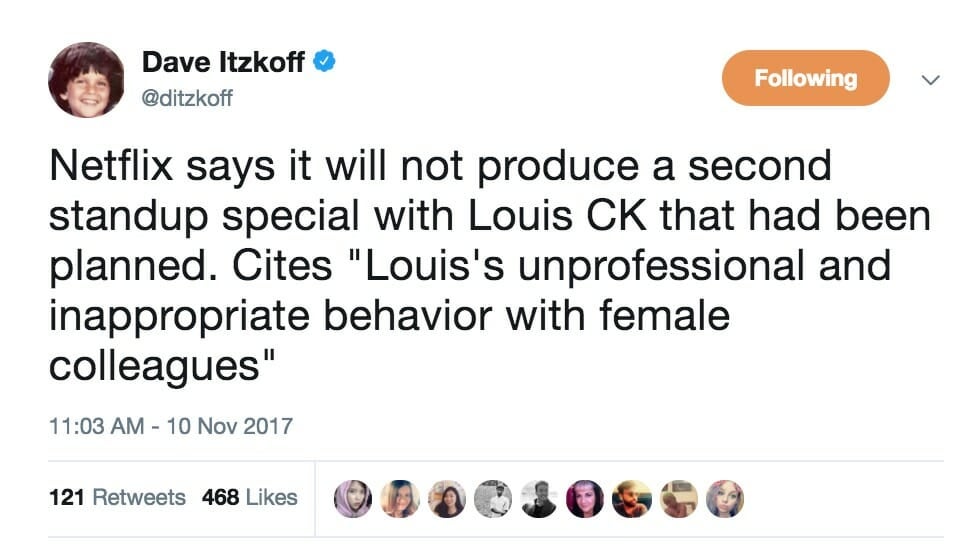 HBO also

dropped

him from an upcoming special and claimed it would pull his past content off the site.

Charlie Day and Chloe Grace Moretz, two of the stars of 

I Love You, Daddy

, won't be promoting the film. Day

said

in a statement: "I was as appalled as everyone to read the allegations made in the

New York Times

. I do not condone sexual misconduct and, in light of the allegations, will not be promoting the movie further." Moretz reportedly dropped out of promotion two weeks ago, after being made aware of allegations. The film's production company has

backed out

of releasing it.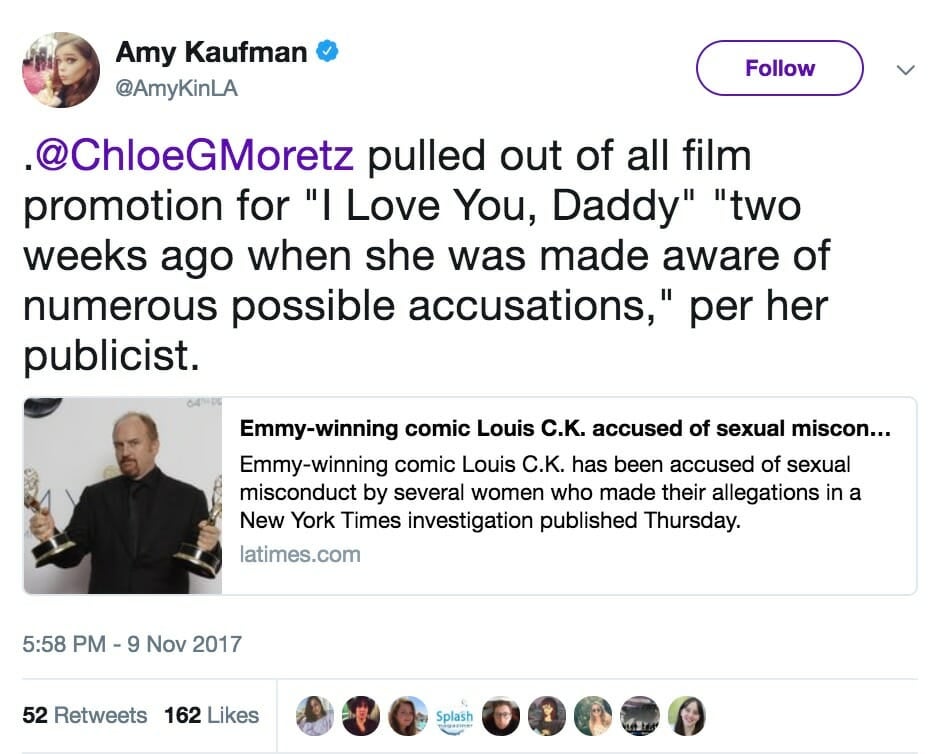 Editor's note: This article is being regularly updated for relevance.