Lil B released 35-plus mixtapes onto Spotify and Apple Music in late April. Considering only a few stray projects were on these platforms beforehand, the fact that so much of the blog-era rapper's work went direct-to-streaming was cause for celebration.

He's best known as a court jester with a wildly active social media presence. He'll start beef with NBA players and follow you on Twitter. But his sonic rebellion began in earnest around 2009 when rap blogger Andrew Noz discovered that B made more than 100 Myspace profiles full of music, and then abandoned them. Ever since the prolific hip-hop rebel's discography has been tricky to track.
In honor of his move to Spotify, where the discography is neatly assembled, I tried to listen to 42 tapes in six days. (You can track my journey below and on this best-of Spotify playlist.)
I definitely feel more based than I've ever felt before.
May 2
10:00am
There's nothing really of note on Lil B's oldest mixtape Im Thraxx, except for tracks "I Am the Ocean" and "Go to Dumb." Both foreshadow the eccentric turn the rapper would take. While the latter finds him rapping over production one would expect to hear on an easy-listening playlist, the former is an early example of his "Based Freestyle" delivery, in which he basically raps about whatever he wants, devoid of rhyme scheme or coherence. Case in point:
I'm Based Lord, I'm Based God
I should've went to the fucking prom
I should've voted best dressed
I should've been voted best dressed
10:05am
Im Thraxx features the first utterance of Lil B calling himself the Based God, his infamous alias that's become something of a lifestyle brand.
10:25am
Lil B calling himself a "pretty bitch" on 6 Kiss is subversive in the best possible way. Considering rap music's toxic, hyper-masculine tendencies, Lil B challenges the norms of the genre by referring to himself as such. I'm going to start my mornings by looking in the mirror and proudly doing the same.
10:45am
There's a song on here called "X-Men," where Lil B raps over a sample of the X-Men cartoon series from the '90s, and now I'm wondering what Lil B's superpower would be if he had one. Maybe something where whenever he says the word "Based" within a 30-mile radius people hug each other and become friends? (The world needs a Lil B comic book.)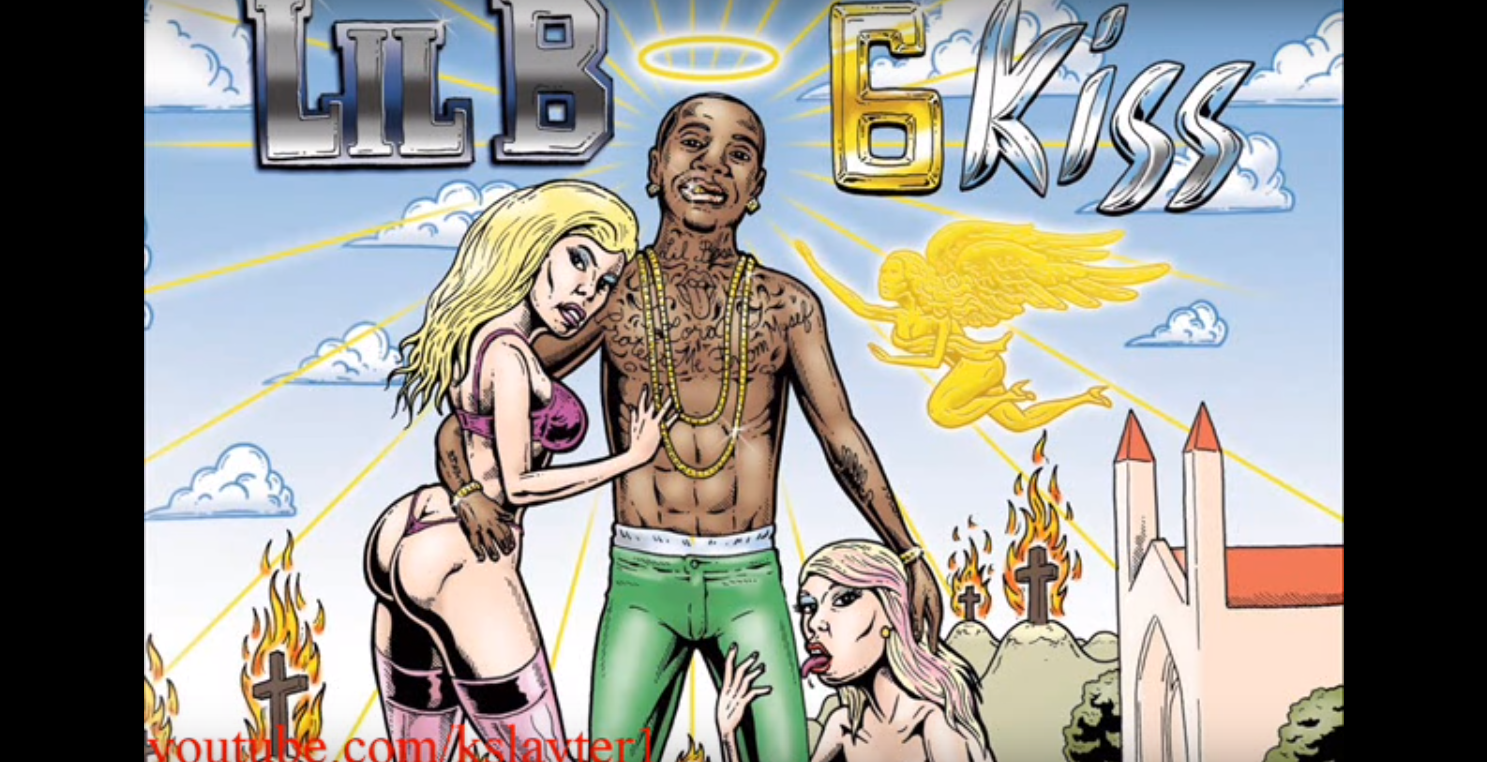 10:50am
Speaking of based, the word is an integral part of Lil B's music and online virality and is defined as being true to one's self and not caring about other people's opinions.
11:15am
2010's Everything Based is where Lil B went full-Lil B and never looked back. "Wonton Soup," "Cooking Dance," "Suck My Dick Hoe," "Like a Martian"—these tracks are now essentials and synonymous with his persona. The music video for "Like a Martian" was Lil B's first viral moment, the visuals depicting him in a home presumed to be his, rapping into the camera. Directed by Kreayshawn, the clip is impossible to look away from.
11:20am
By now Lil B's infamous Twitter is up and running, having joined in May 2009.
11:30am
There's a song on here called "Cooking Dance," which references one of the most notable memes associated with Lil B—his signature cooking dance. If you're unfamiliar with the dance just watch this nine-minute instructional video the rapper made back in 2010. You may have seen variations of it after NFL players scored touchdowns.
12:20pm
"Im Paris Hilton" on Lil B's Blue Flame mixtape is important because it introduces a recurring theme throughout his music: referring to himself as famous people. The hook of the track is literally "Hilton, Hilton, Hilton, bitch I'm Paris Hilton." Granted, there are more noteworthy people he dedicates songs to later, but Hilton was the first.
May 3
2:05pm
Rain in England is 14 tracks of Lil B rapping over avant-garde and ambient production—which he credits to his Based God alter ego. The project is also considered an album, with the rapper previously stating that he wrote the lyrics for it in a coffee shop over the course of a month.
3:07pm
Lil B should consider releasing a meditation mixtape. Or just an instrumental version of Rain in England. He should also just become a yoga instructor and open up a studio called Based Yoga.
4:00pm
Red Flame features two celebrity tracks: "Bitch Im Bill Clinton" and "Im Miley Cyrus." The latter is better because of how Lil B says "Party in the USA" toward the end of the song.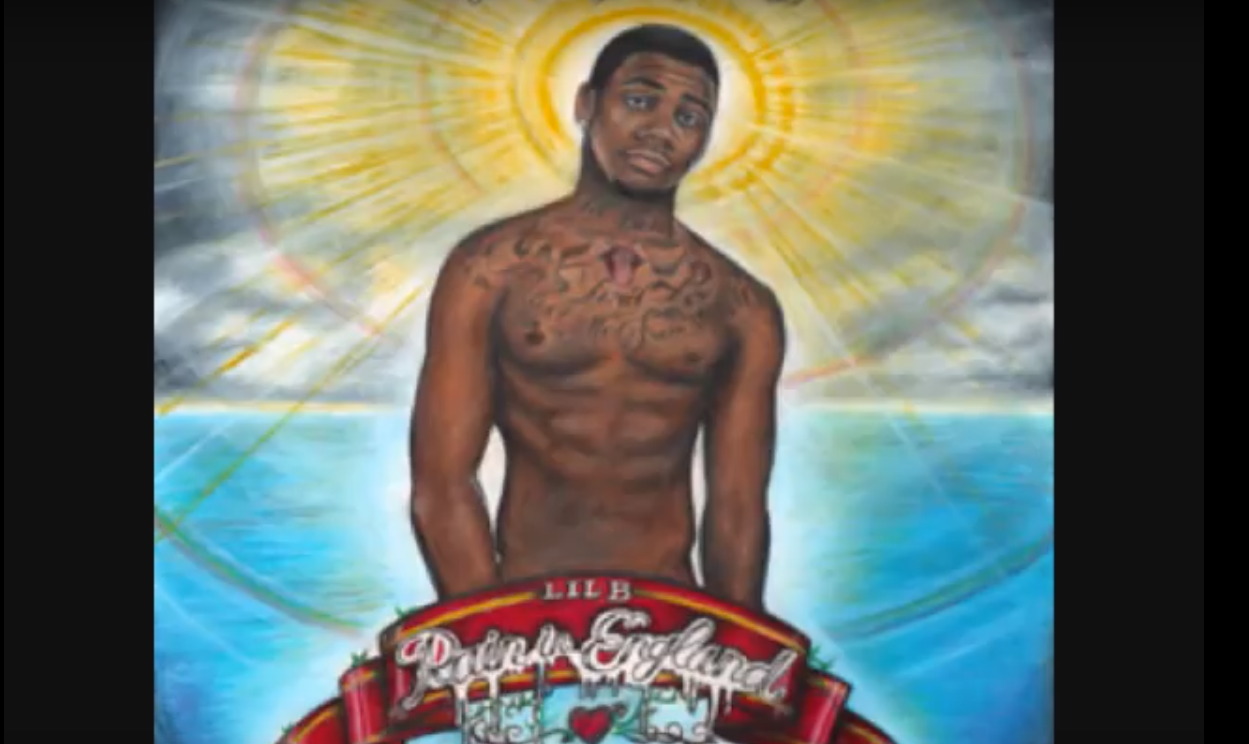 5:05pm
Evil Red Flame has some of the best samples I've heard from a Lil B mixtape. "Fuckin With Me" samples Sarah McLachlan's "I Will Remember You"; "Happy New Year" samples Demon Hunter's "The Soldier's Song"; and "Hipster Girls" samples Daft Punk's "High Fidelity." You can tell this dude is online all the time.
5:35pm
I've been listening to "Fuckin With Me" on a loop because I can't actually believe Lil B flipped a song about heartfelt memories into a death threat.
6:10pm
Angels Exodus is refreshing, primarily because it's only 39 minutes long, his shortest release thus far. Similar to Rain in England, the project is considered an album by Lil B.
6:25pm
Wow, "More Silence More Coffins" features a pitched up sample of Evanescence's "Bring Me to Life." Incredible. According to the Wikipedia page for Angels Exodus, its theme is  "Lil B against the undead: zombies and vampires." This is probably why Evanescence is sample on a track titled "More Silence More Coffins."
7:08pm
Why are there three variations of Lil B's Red Flame? There's the original, Evil Red Flame, and now Red Flame (Devil Music Edition). Ironically, Devil Music Edition is the least sinister of the three, with the rapper explaining how the mixtape's title is a "metaphor for music and what the people, artists, and what I see them feeding the community."
7:55pm
OK, Evil Red Flame is my favorite. I keep circling back to that Sarah McLachlan sample.
May 4
6:10pm
I really hope Lil B has a framed portrait of the mixtape artwork for Illusions of Grandeur in his house.
6:43pm
When Lil B said "Don't be on the outside, come on in / We got to work as a people to move on my friend," I felt that.
8:00pm
Why is Bitch Mob Respect da Bitch almost 90 minutes? His maximalist approach to output will test your patience here.
10:00pm
It's unfortunate that I'm Gay (I'm Happy) received the controversy it did when it was released in 2011 because it's one of Lil B's strongest and most cohesive projects. His fifth studio album, I'm Gay addressed important topics such as race relations, poverty, and humanity. However, people were so focused on the album's title, with some going so far as to threaten Lil B's life because of it.
Other rappers also voiced their displeasure with the title. There's this video of DMX who, upon being informed of the album's name, is so distraught that he can't even speak.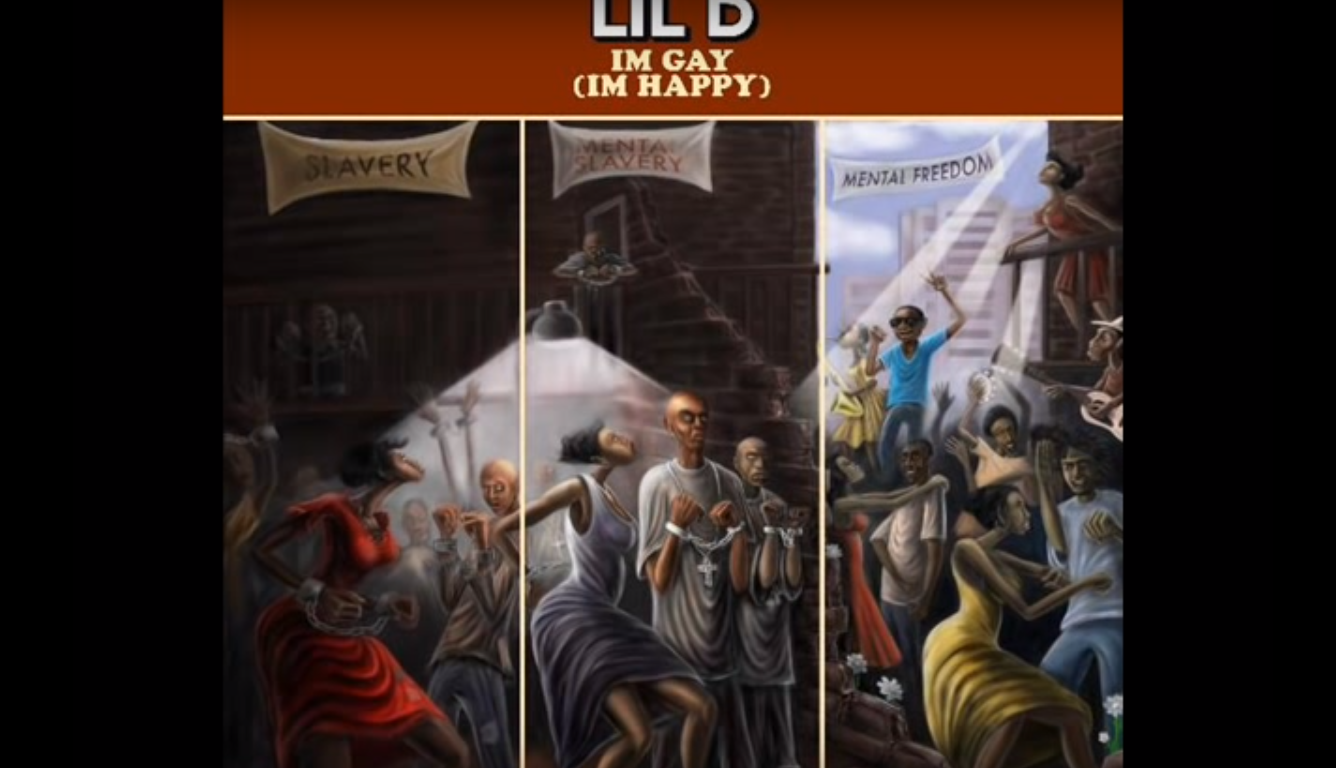 11:10pm
I should be listening to Black Flame but I'm getting tired, so I'm going to listen to Rain in England in hopes that the Based God tells me the secrets of the world in my dreams.
May 5
8:30am
I woke up so relaxed and I'm going to credit that to Rain in England. I really need the instrumental version of this mixtape so I can send it to every acupuncturist office in the Tri-State area.
9:47am
"Take a Picture BasedGod" from Black Flame is hilarious, considering toward the end he just starts naming random public figures:
Anderson Cooper
Colin Powell
Rosie O'Donnell
Howard Stern
Dr. Phil
Rick Ross
9:55am
I can't stop repeating Lil B shouting out Colin Powell. I no longer need coffee to start my morning, I just need a loop of Lil B saying "Colin Powell."
1:10pm
The Silent President, BasedGod Velli, and Goldhouse have been my least-favorite mixtapes. Yet White Flame stands out among the Flame mixtapes. It's unhinged and absurd in the best ways and "BasedGod Fucked My Bitches" is a standout example of this. The track, which samples Daft Punk's "One More Time," is a song where fans of Lil B (voiced by the rapper) offer their girlfriends to him. I laugh out loud every time.
2:08pm
Why is Gods Father two damn hours long?
4:15pm
Gods Father is 33 tracks but considering "I Love You"—one of Lil B's greatest songs—is at the end makes it all worth it. Like, one listen to this song and your entire day will improve significantly. It's such a beautiful song.
4:18pm
Now I'm watching the "I Love You" video and I'm crying because Lil B is crying. He's in a pet store, showing love to all living creatures. I love this video so much. Shout out to this comment from Bobby Candia: "I was gonna cheat on my girlfriend, but then I heard this song. Now I'm married, have 2 children, and regularly attend church on Sundays."
4:55pm
I'm listening to "Ima Eat Her Ass Based Freestyle" from #1 Bitch and now I'm thinking: Lil B wrote the best song about eating ass.
5:20pm
I'll always have an appreciation for Trapped in BasedWorld because it features a song called "Texas" and, being from Texas, it's an honor to have the Based God write a song about your home state. Thank you Based God for your love of the Lone Star state.
7:07pm
Green Flame is now my favorite of the Flame mixtapes, solely because there's a song on here that samples the "Save Room Theme" from Resident Evil: Code Veronica.
8:05pm
Task Force is an ode to Lil B's most devoted fan base, the Task Force. Normal fans are referred to as the Bitch Mob while the most elite fans are a part of the Task Force. Now, there are rules to being in the Task Force, which Lil B explains in a song fittingly titled "Task Force":
First you have to be based

You have to be a part of Bitch Mob

You have to protect Lil B at all times. You have to be one of the top commenters, top protectors.
(It also helps if you wear tiny pants and a pink bandana.)
Apparently, there's a 60-year-old man who's a part of the Task Force. Known as Task Force Chip, the fan has an entire YouTube channel dedicated to Lil B, with his latest video introducing a baby named Max to the rapper.
8:20pm
Wow, the Task Force is really out here. There are so many Facebook pages and Reddit pages dedicated to the fan base. There's this great Reddit page where the Task Force called out an article titled "It Only Takes Six Seconds, But These Are The Worst Rap Lyrics In History," which is Lil B is listed in. An angry comment reads: "GRAB YOUR TINY PANTS, PINK BANDANAS, AND LOVE EVERYONE."
May 6
3:10pm
Lil B has a mixtape titled Obama BasedGod. I'm looking at Obama and Lil B memes, which there are quite a few of. My personal favorite is definitely this one, although this image of Michelle Obama holding a copy of Trapped in BasedWorld is up there too.
4:00pm
I took a break to watch Childish Gambino's "This Is America" video and now I can't stop watching it.
4:14pm
This video is so wild. I'm sorry Based God please forgive me for the detour.
6:00pm
I didn't want to admit it to myself but I've become fatigued from all this Lil B music. I paced myself well when I first started but yesterday fucked me up. I've been responding to texts with Lil B ad-libs and randomly yelling "Based God" in my apartment.
7:20pm
I'm now on Illusions of Grandeur 2 and I'm not sure I'll actually be able to finish all 40 tapes.
8:40pm
At this point, it feels as if Lil B is actually in my New York apartment. He's a guest who has been hanging out with me for the past few days just rapping while I do mundane shit. There are points where I'll even talk to him. Lil B just said "Do the Mona Lisa" in a song called "Mona Lisa," and instead of responding with an affirmative "Swag," I asked, "How do you do a Mona Lisa?"
9:10pm
Pink Flame is the second-best of the Flame tapes, but it features the best art: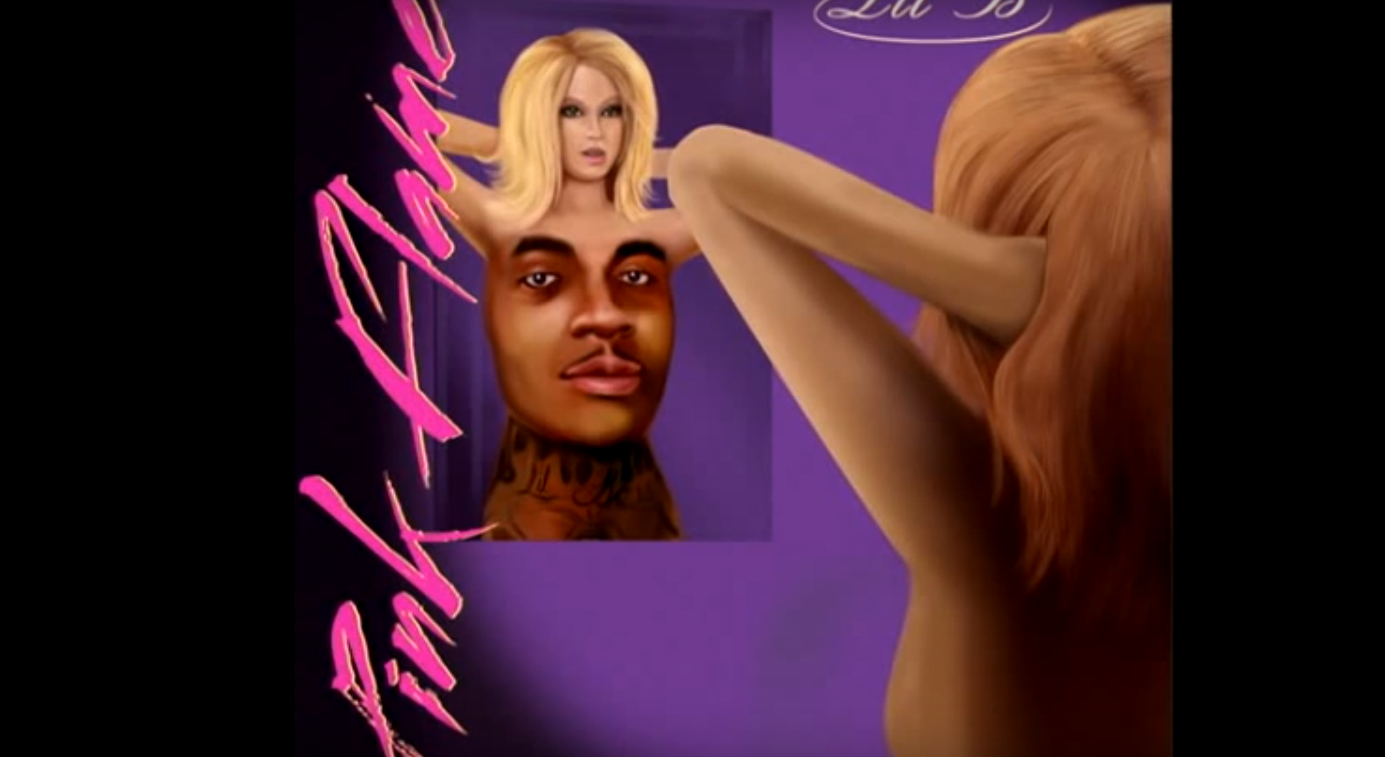 9:37pm
Remember when Lil B and Joey Badass had beef in 2013? I just remembered after listening to "I'm the Bada$$," a Joey diss. The beef began on this track, with Lil B also seeming to respond to the late Capital Steez, who called him out on a song titled "Survival Tactics." By the time Lil B released "Im the Bada$$," Steez had died by suicide, which made the release of the song that much more confusing. And looking back, it was all unnecessary and not in the spirit of his work.
May 7
6:34pm
I've skipped to 05 Fuck 'em and am giving up on listening to all the other Lil B releases. If I go any further, I'll tap a level of based-ness that no human being should be able to attain. There is only one Based God, after all.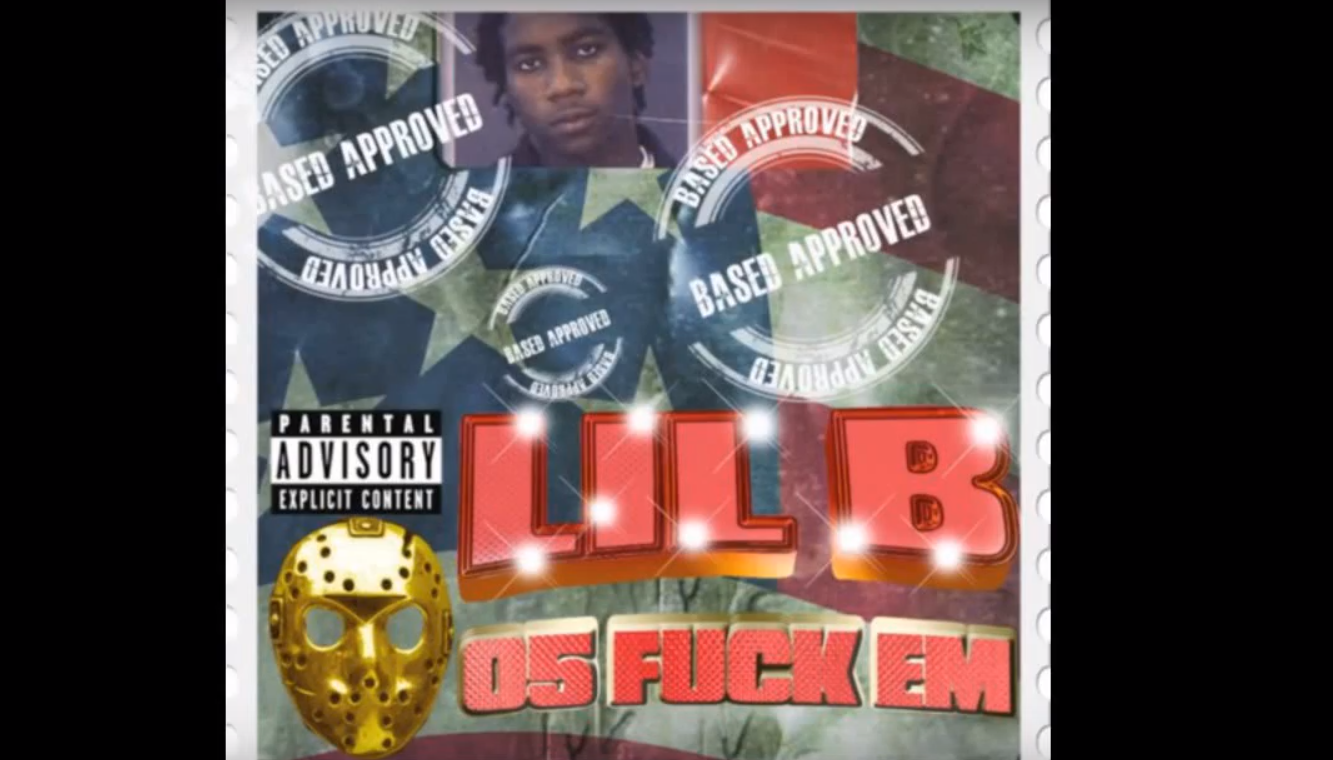 6:36pm
OF COURSE THE LIL B PROJECT I DECIDE TO END ON HAS 101 TRACKS AND IS MORE THAN FIVE HOURS LONG.
11:15pm
I'm sorry, I can't. Don't hate me. I don't want to listen to anything for at least three days.
11:20pm
I'm kidding. You know I had to put on that Rain in England real quick. Goodnight Based God.