What's Leonardo DiCaprio watching these days? At the Once Upon a Time in Hollywood premiere last night, DiCaprio dished on his favorite new show, Euphoria, which he said is "amazing."
Euphoria, the HBO series starring Zendaya, which explores the addictions, identities, and trauma of Gen Z life, is indeed a great show. It's also aimed at a fairly specific demographic, and while there's nothing wrong with a 44-year-old man watching a show for teens, once his critics' pick was out there people started connecting the dots.
u talk to girls in their 20s u gotta watch euphoria absolutely love when ppl snitch on themselves https://t.co/MSFzUR6bGi

— hunter harris (@hunteryharris) July 24, 2019
Leo watches Euphoria so he can check out his future gf….he ain't fooling me

— Amanda (@mandychele) July 24, 2019
It's fairly public knowledge that DiCaprio dates women in their 20s who are also models, and that they almost never talk to the press. His current model girlfriend, Camila Morrone, is 22, though they apparently started dating when she was 20. A recent post from r/dataisbeautiful offered the visual data to support his trajectory, charting the ages of DiCaprio's girlfriends over the last two decades, and it appears he hasn't dated anyone over 25. There's nothing wrong with a man in his 40s dating someone in their 20s, but there's also a pattern at work here, one that reduces these women to literal data.
Leonardo DiCaprio Refuses to Date a Woman Over 25 [OC] from dataisbeautiful
Zendaya tweeted out the clip, and Zendaya/Euphoria stans were largely thrilled, though some people warned DiCaprio to stay away from the 22-year-old actress. There were also theories that Zendaya's character Rue was dressed as DiCaprio's character from Titanic in the most recent episode, though Reddit believes it was actually Marlene Dietrich from Morocco, which would make a little more sense.
keep Leo away from Zendaya dot tumblr dot com pic.twitter.com/UbZqLHtUuQ

— alyssa, the Little Women enjoyer, (@alyssakeiko) July 24, 2019
A tweet from the Hollywood Reporter about DiCaprio's long and illustrious career also drew some criticism this week. People called out the fact that DiCaprio hasn't worked with a woman director since the '90s, though that's probably applicable to a lot of A-list men in Hollywood.
This is all well and good, and some fine work has come out of it, but I wouldn't call his choices adventurous either: huge studio prestige productions with established male directors. https://t.co/a1MJo04T9y

— Guy Lodge (@GuyLodge) July 22, 2019
It's completely realistic that Morrone, the target demo for Euphoria, introduced him to the show. They are "pretty serious," a source told People. Morrone "spends a lot of time at his house." If anything, DiCaprio's praise might open the show up to a new demographic.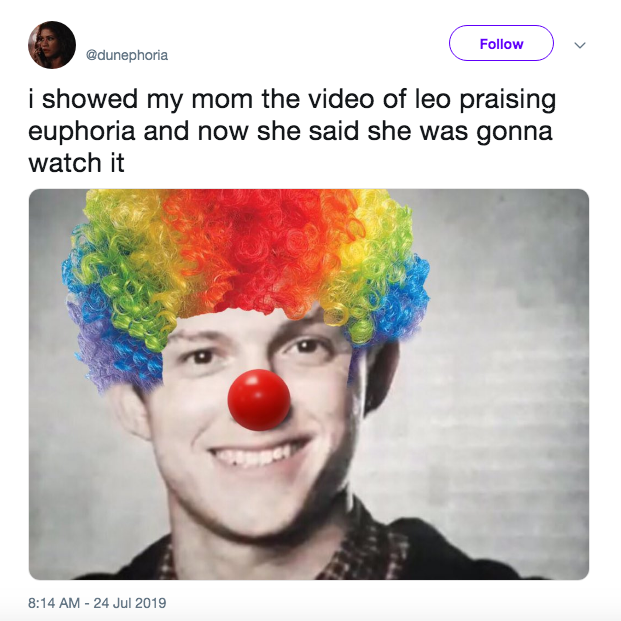 READ MORE: