Update 7:28am CT, Oct. 25: Kanye West's Jesus Is King was promised at midnight Friday. That was several hours ago and there is still no album. The controversial artist did drop a long-winded podcast with Apple's Zane Lowe on Thursday.
And so, as has been a tradition with West's oft-delayed music, fans who stayed up late to wait for it—only to not get any new music—turned to Twitter and made memes. Here are the best ones.
Kanye West—Jesus Is King, memes
People used a common sad reaction meme, the crying chihuahua, to convey how they felt. Here the photo of the little pupper is juxtaposed with another chihuahua that is listening to music on headphones. The text in the tweet spells out the joke: "how i wanted to be tonight vs. how it actually went down."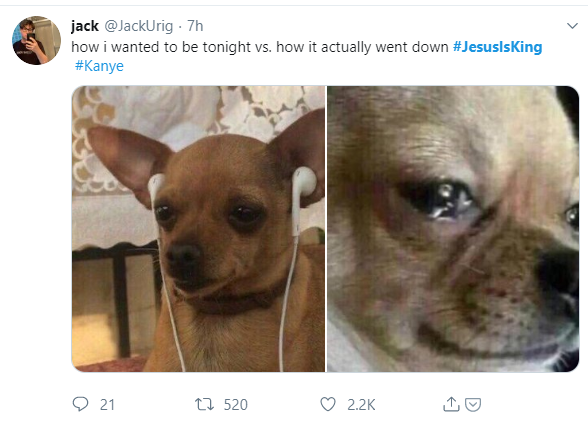 Lots of good reaction clips from crying people.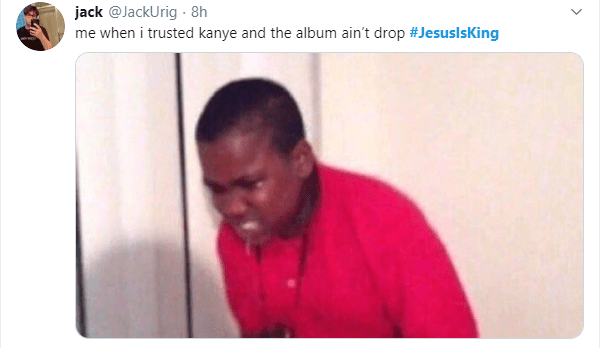 LeBron James' distinct facial scowls also became Jesus Is King reaction memes.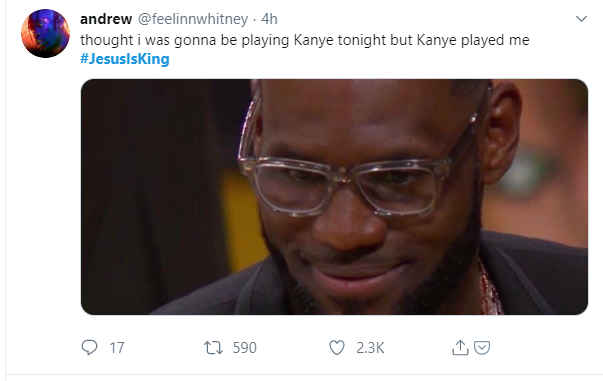 Fans tweeted the classic "ah shit, here we go again" reaction meme from Grand Theft Auto.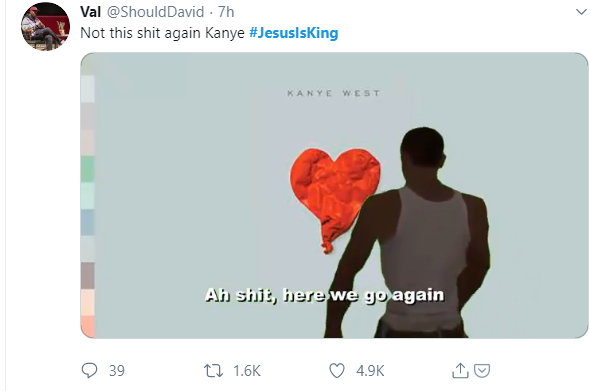 West fans channeled Breaking Bad's Jesse Pinkman melting down to convey how they felt about another dang album delay.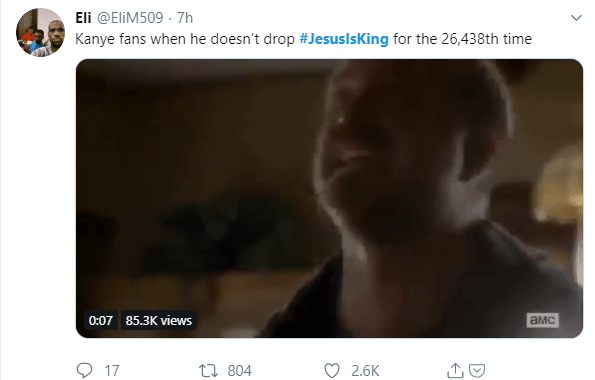 A common gag was some twist on copy like "When Kanye said he's dropping #JesusIsKing album today, me and my homies waiting like" and then a photo of people waiting around. Here, a photo of West himself, 2Chainz, and T.I. says it all.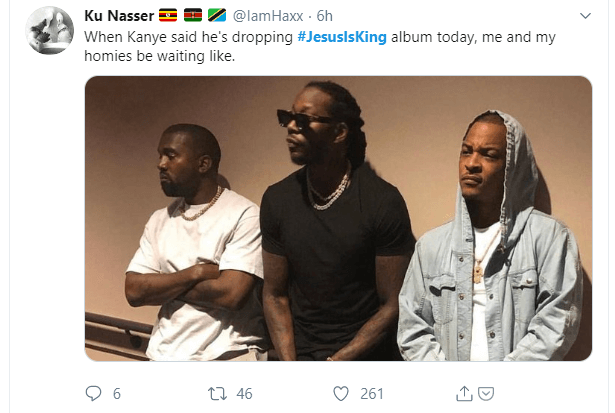 And of course, people turned to Rick and Morty memes to express themselves.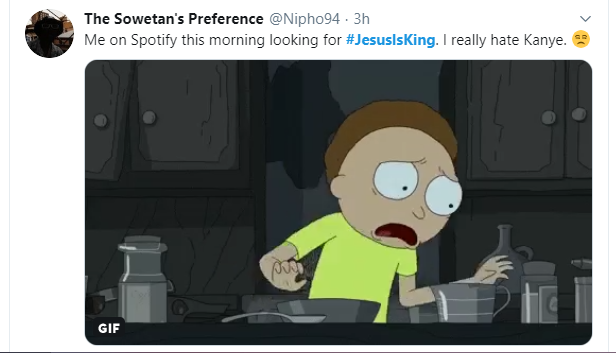 Below is our original report from last month about… West's album Jesus Is King being delayed. It also features memes.
…
No, Kanye West's Jesus Is King still isn't out, after it was reported that it would release on Sept. 27. In fact, it's difficult to know if (and when) it will ever arrive. 
If Kanye west actually manages to release Jesus is king today this is how I'm gon be all weekend pic.twitter.com/1Zkgq0u7aC

— ben (@rubenorlii) September 27, 2019
TMZ reports Ye is constantly tweaking the final product, his ninth full-length album, which is said to be complete and ready for release. The Chicago-raised artist has virtually delayed the album into an uncertain status. 
Kim Kardashian West announced Jesus Is King on social media in August. She provided an update, saying the highly-anticipated project would drop on Sunday, Sept. 29, after "a few final tweaks." There's also a notion that this album will be West's entre into permanence as a gospel artist.
Kanye also announced that he is no longer making secular music. Only Gospel from here on out.

— Andrew Barber (@fakeshoredrive) September 29, 2019
West held recent events in Michigan and New York in which fans were blessed with snippets of the album, a short doc of recent housing and architecture projects, and an extended preview of his upcoming IMAX film focused around his "Sunday Service."
YE IN NYC #JesusIsKing pic.twitter.com/iVGlV4pXhc

— Alus (@AlusOfficial) September 30, 2019
https://twitter.com/HipHopDX/status/1178174199325577217?s=20
Even so, the one thing West's fans actually asked for is still missing, leading memes to flow in.  
Fans used memes of Joaquin Phoenix's Joker while crying and putting on his clown makeup, a drunken Barney surrounded by empty beer bottles, and Wagner Moura's Pablo Escobar staring blankly into space to express their sadness and disappointment.
Kanye West fans staying up knowing damn well #JesusIsKing wasn't gonna drop: pic.twitter.com/1f0PPSWGGA

— DiabolicRaps (@DiabolicRaps) September 27, 2019
Me by my computer since midnight on Friday waiting for Kanye West to drop #JesusIsKing album pic.twitter.com/ETZvvlW5r0

— Tyguy1990 (@Tyguy19901) September 30, 2019
"Lol who actually thought Kanye West was dropping Jesus is King on time"

Me:
pic.twitter.com/71z90tJnMZ

— JerryVen (@jerry_ventrello) September 27, 2019
Waiting for #Jesusisking #KanyeWest pic.twitter.com/nCOLzMvC8w

— Dirty J (@j_king4424) September 30, 2019
waiting for kanye west dropping #JesusIsKing pic.twitter.com/NPaHopu8Bc

— D.etc (@electrorilla) September 30, 2019
https://twitter.com/VicVonDoom94/status/1178501814905442305?s=20
I thought we were actually getting a new @kanyewest album this year… #JesusIsKing pic.twitter.com/BXtfZLaLad

— Tyler Quill (@TQuill) September 30, 2019
Here's the Breakfast Club with more information on Jesus Is King and commentary on West's move away from secular music.
READ MORE: