James Franco copped to it. 
The 35-year-old actor's text messages and Instagram DMs with a 17-year-old fan made the rounds on the Internet yesterday. They show Franco, currently acting in Of Mice and Men on Broadway, chatting up a young fan whom he'd met at an autograph signing. He asks if she has a boyfriend, when she turns 18, and if he should get a room at her hotel. See the full correspondence here.
Many speculated that it was all a viral hoax to promote Franco's new movie, Palo Alto, in which he plays an adult teacher who has an affair with his 14-year-old babysitter, played by Emma Roberts. 
It wasn't. Franco appeared on Live With Kelly and Michael Friday morning to discuss the incident. 
"I'm embarrassed. I guess I'm just a model about how social media is tricky," he admitted. "It's a way people meet each other today, but what I've learned is you don't know who's on the other end. I used bad judgment and I learned my lesson." 
But in this case, it was clear who was on "the other end"—a Scottish teenager named Lucy Clode, who was visiting New York with her mom. After posing for an Instagram selfie with Franco, he told her, "You gotta tag me." She did, and he followed her. The two began to talk over direct message, eventually trading numbers. He sent her two selfies to prove it was really him.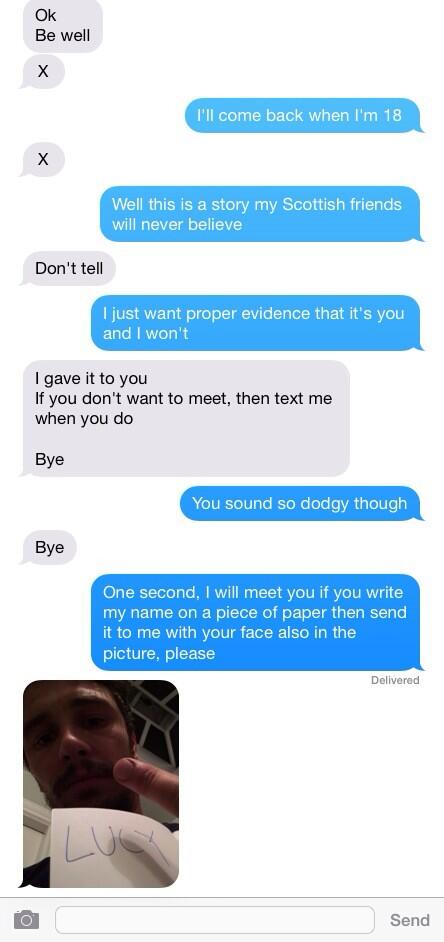 She finally rejected him. "I'll come back when I turn 18," she said.
"Unfortunately in my position, not only do I have to go through the embarrassing rituals of meeting someone, but if I do that, then it gets published for the world so it's doubly embarrassing," Franco said on the show.
He should know that already. He's written New York Times articles about celebrities and social media.
Show cohost Kelly Ripa kept things light: "I promise I will not reveal our text messages," she said.
Meanwhile, Lucy Clode has taken down her Twitter and Instagram accounts. She's now the subject of galleries and listicles devoted to her cleavage. Commenters all over the Web are saying nasty things about her. It's a lot to take in when you're simply trying to pass your exams.
Photo via TonyShek/Flickr (CC BY 2.0)