Update: James Franco discussed the incident on Live With Kelly and Michael Friday morning. "I used bad judgment and I learned my lesson," he said. Read more here. 
Here's a friendly reminder to celebrities with social media accounts: It's really easy to screenshot what you post. 
Actor and New York Times selfie columnist James Franco's Instagram bio reads "LOVE TO 'THE TWEET GENERATION.'" The 35-year-old has played teen heartthrobs and affable weirdos throughout his career—Daniel Desario from Freaks and Geeks, the Green Goblin, that guy who cut off his own arm—and he's kept a young and active fanbase, one with which he must be eager to connect.
 
MORE:
James Franco fesses up
Is the James Franco scandal a hoax?

A 17-year-old from Scotland named Lucy Clode allegedly found this out when she met Franco at an autograph signing for his current play, Of Mice and Men, on Tuesday.
She documented it in videos and photos on her Instagram (since removed).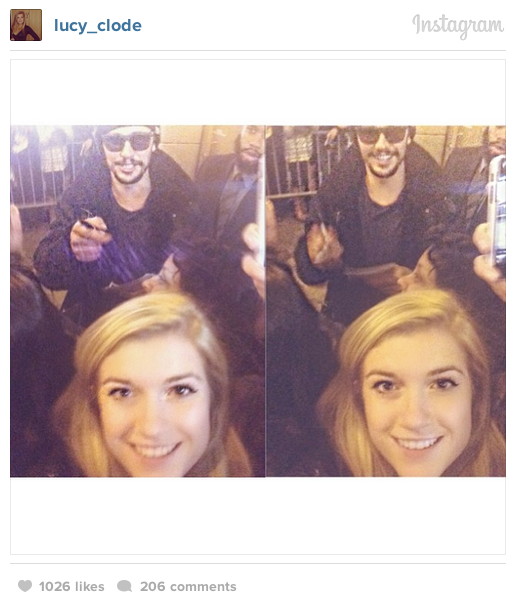 In a now-removed Instagram video, Franco tells her, "You gotta tag me." She did.
Franco then followed her on Instagram.
The two allegedly began to send direct messages. In the exchange, he asks her how long she's staying in New York, where her hotel is, and if she has a boyfriend. She tells him she's in the city for her 18th birthday (in May) and staying with her mom.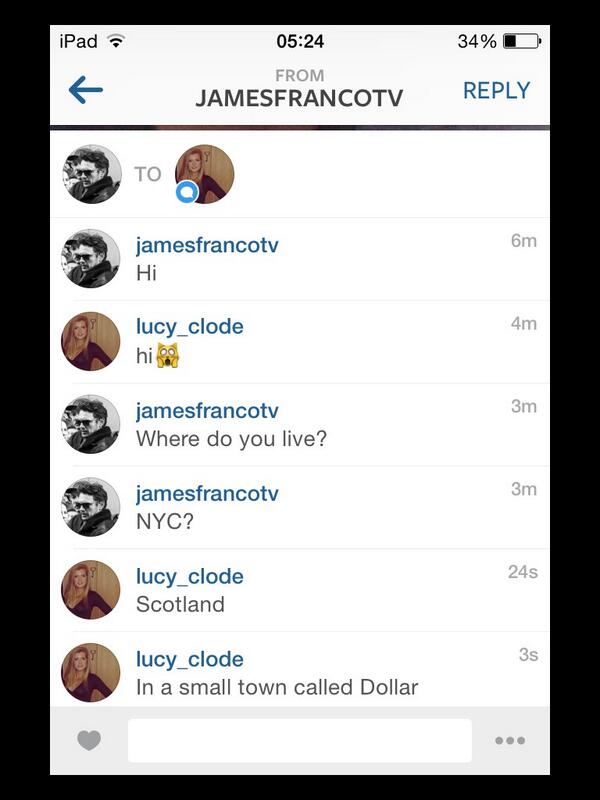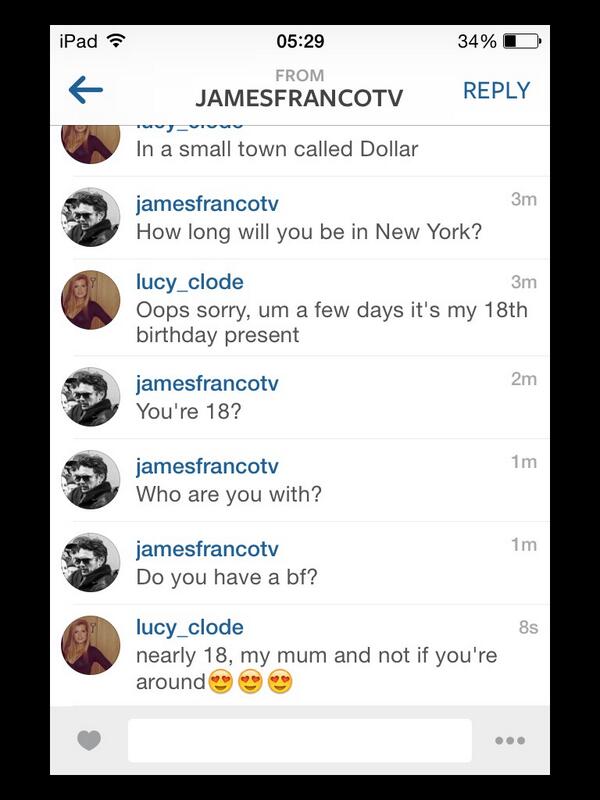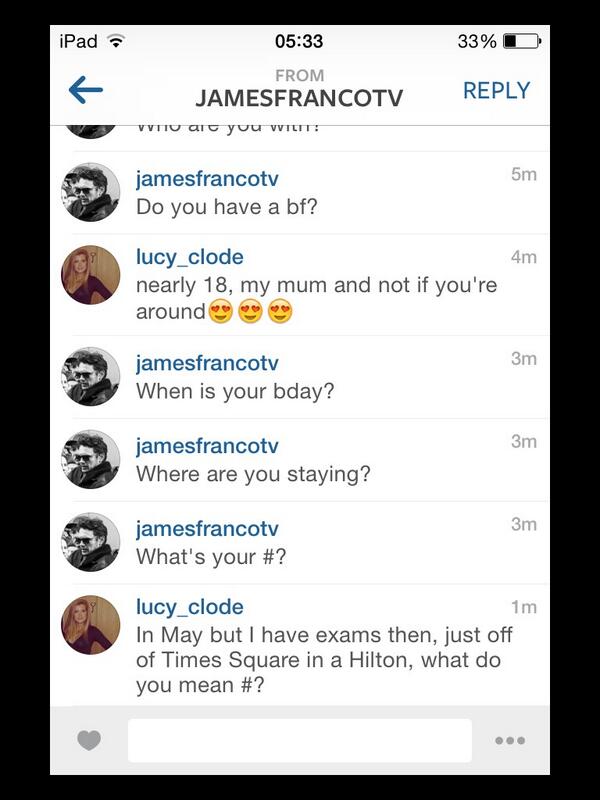 The DMs show Franco asking for her number. The messages switch to texts, and Franco then allegedly asks if he should rent a room. "April fools was an hour ago though…" Clode responds. 
She eventually turns him down. "I'll come back when I'm 18," she says.
To prove it's him, Franco apparently writes Lucy's name on a piece of paper and takes a selfie with it. The communication ends here.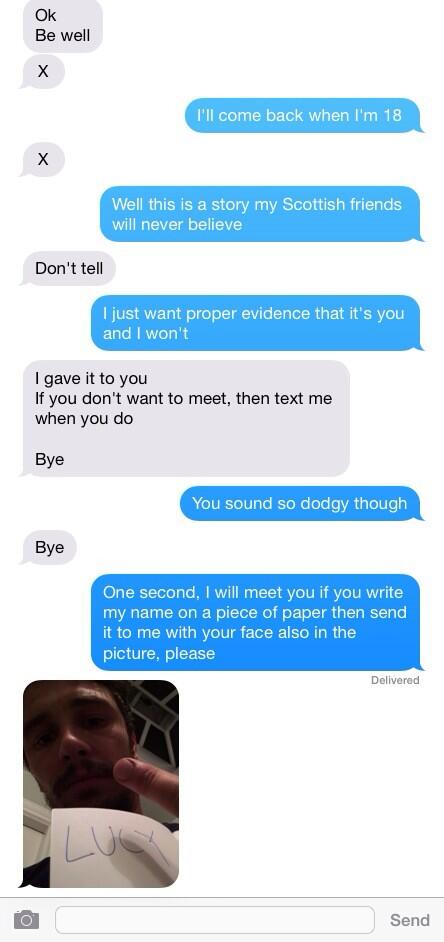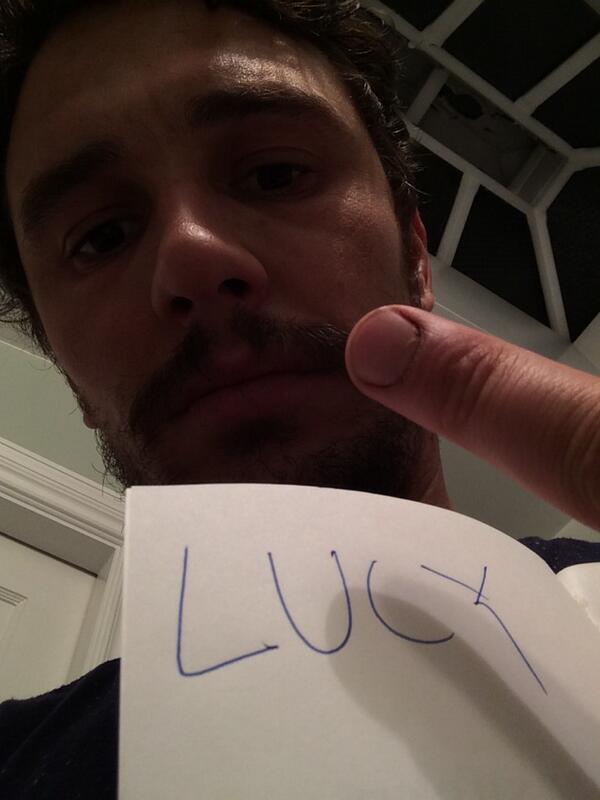 Clode didn't keep it quiet, though. She tweeted about the exchange, and someone posted a timeline on Reddit.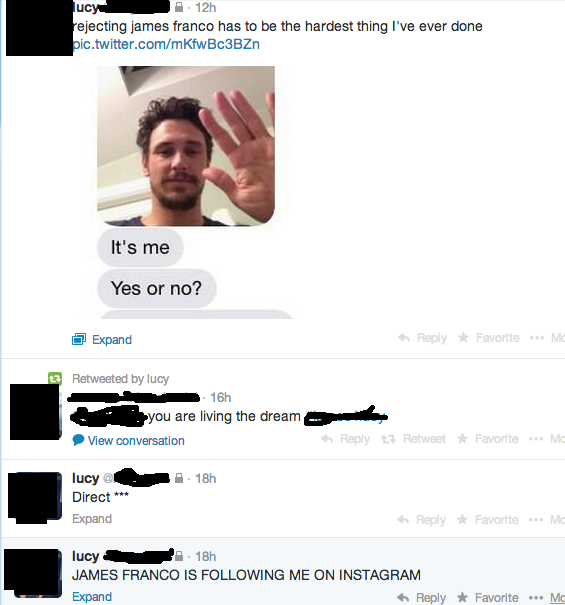 When the exchange started to go around the Internet, Franco tweeted, "I HOPE PARENTS KEEP THEIR TEENS AWAY FROM ME. Thank you."
I'M NOT! I HOPE PARENTS KEEP THEIR TEENS AWAY FROM ME. Thank you https://t.co/I1d4n3yVe0

— James Franco (@JamesFrancoTV) April 2, 2014
@dbrodieb @lucyclode James Franco posted this a few hours ago pic.twitter.com/ibFoXxkG5I

— Danny (@YoDxnny) April 2, 2014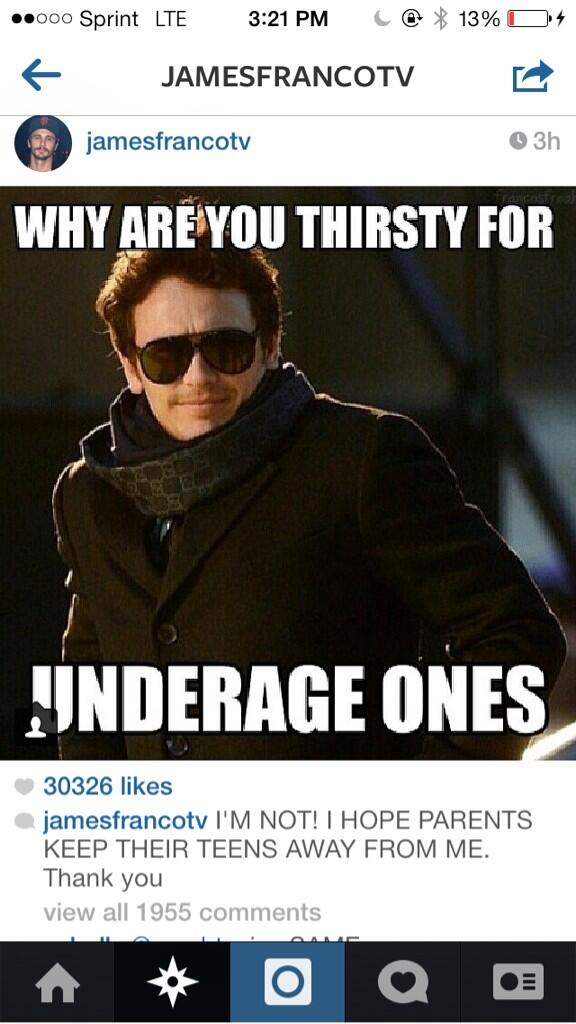 Franco's Instagram follows are all public. The list primarily consists of young women, some of whom he's met in real life and then connected with over DM.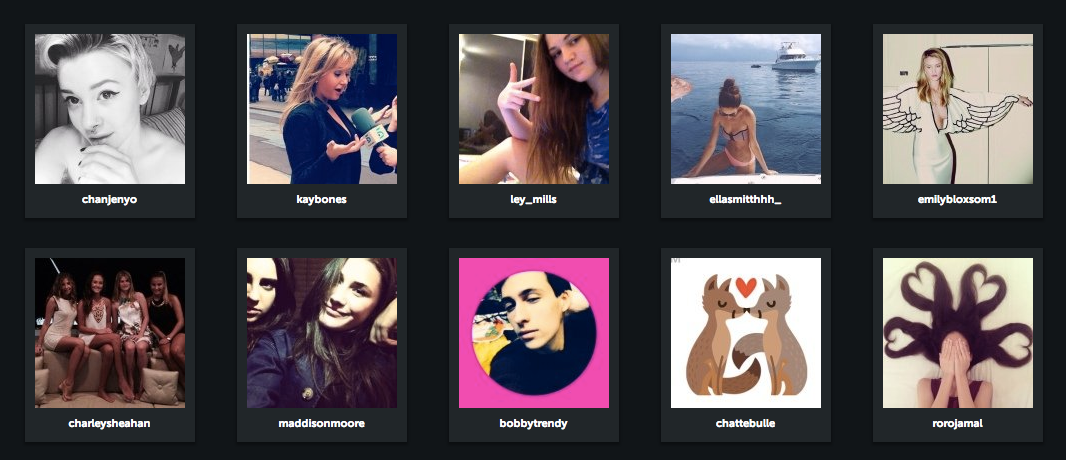 "I Met James Franco on Broadway for my 21st Birthday [heart emoji] He tickled my elbow & then we selfied [emoji] He followed 3 days later [kiss emoji]," one wrote in her Instagram bio.
Franco's bio now says "PLEASE DON'T MESSAGE ME IF YOU'RE UNDER 18."

That's all we know. Are they legit? There are a number of ways these screenshots could be doctored, although they look authentic. What's also interesting is that some correspondence seems to be left out. It could be boring, it could be incriminating, or it could hint that maybe this is a joke set up to go viral around April Fools' Day. You never know—Jimmy Kimmel could be running Franco's account for a week.
It could also be a promotional stunt for Palo Alto, a film starring Franco and based on Franco's 2010 collection of short stories. Its trailer was released April 1, the same day as the DMs took place, and it features an older teacher (Franco) who begins a relationship with a high school soccer player, played by Emma Roberts.
Hey, it's not the first time a celebrity has been implicated in less-than-savory activities via social media.
Photo via GabboT/Flickr (CC BY 2.0)