Maybe Team 10 is floundering because so many members of YouTube's most famous social media clique have abandoned Jake Paul. Maybe Paul's social media empire is falling apart as some of its most important and recognizable members have left him in recent weeks.
But then again, maybe none of that matters.
On Friday night at San Antonio's Aztec Theatre on the third stop of the 21-date Team 10 national tour, thousands of fans (and just as many parents) watched as Paul and his group of cohorts rapped, sang, danced, and entertained their way through a nearly two-hour show.
Nobody onstage mentioned that Team 10's COO Nick Crompton left the group this month because "the vision for the business, people involved, and direction it's now going in, no longer makes sense to me." The names of Chance Sutton, Kade Speiser, and Nathan Speiser, Paul's videographer—all of whom followed Crompton out the door—weren't uttered by anybody involved in the production. And it's unlikely anybody in the crowd was bemoaning the rumors that Greg Paul, Jake Paul's father, was trying to consolidate power with Jake and older brother, Logan, while reportedly calling Team 10 employees derogatory names.
None of the preteens draped in Jake Paul sweatshirts, T-shirts, and backpacks cared at all about any that on Friday. Why should they? Paul was in attendance, and, no matter what you think of his talent (or if he has any), he put on quite a show.
Team 10 is more like Team 6 at the moment, but Jake Paul proved why he's such a needle-mover. Paul is a teen idol who dabbles in music, sure, but he's also a Johnny Knoxville figure known for outlandish YouTube stunts. He also uploads videos with superhuman output, talking near-daily to his millions of fans.
https://www.youtube.com/watch?v=IT0WZIX7tsc&feature=youtu.be&a=
Though there have been online rumors that Paul's ticket sales are suffering, the theater was packed. Whether you like Paul or think he's an internet bully with no discernable skills, the high-pitched screams that filled the theater when Paul first made an appearance involuntarily sent chills up my spine. He jumps at you when he's not a prankster who streams on your phone.
When he wasn't up there, letting the rest of the Team 10 members take in the spotlight, it was difficult for them to keep up the energy. Young rappers Jitt and Quan were the first to perform, and Team 10's Sunny Malouf was the next to appear, singing her pop with a quartet of backup dancers roaming around the stage.
Videos on the big screen at the back of the stage featured interviews with Paul and Erika Costell, praising Malouf's talent and predicting that she'd be the next big star. That level of hype wasn't paid to anybody else in Team 10, and it seems apparent that Paul would like to turn the teenager into a music star (while probably taking the same sizable percentage of her earnings that Team 10 members are contracted to pay him). Malouf got more stage time than just about anybody.
When Paul finally did appear, about 30 minutes into the show, pretending to sleep in a bed in his childhood home in Ohio, he seemed content to let the massive amount of cheers wash over him for a few extra seconds.
What followed for the next 80 minutes or so is the YouTube version of vaudeville. Team 10 members Anthony Trujillo, Justin Roberts, Chad Tepper, and Costell each performed their own songs and joined in for others. There were comedy sketches that were mercifully short. There was PG-rated romance between Paul and Costell, aka Jerika.
It felt like we were living in an unedited vlog. Camera people crisscrossed in the background throughout most of the show, probably creating future content for Paul (15 million YouTube subscribers) and Costell (4 million subscribers). Paul took one camera and turned it on the audience, asking if they wanted to be in one of his vlogs (the crowd's answer was pretty obvious). Illustrations of Hollywood and the Team 10 mansion in Calabasas, California, were featured on the background scenes. Even Logan Paul showed up on-screen for a few minutes, much to the delight of the crowd.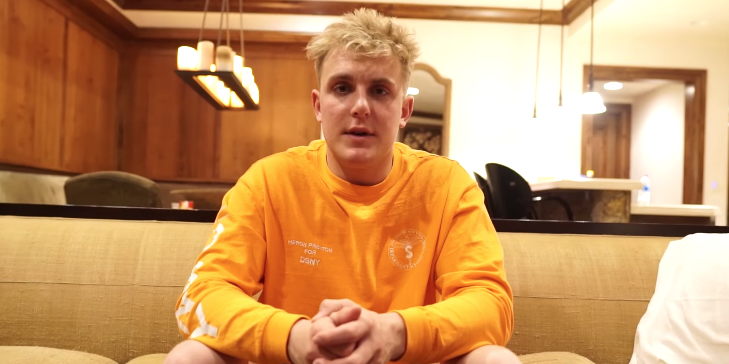 Paul, though, is savvy.
He made to sure to thank the parents in attendance, many of whom were tossing back tall boys of Michelob Ultra and Dos Equis and FaceTiming with kids who weren't lucky enough to be in attendance at the show. If the parents hadn't driven his fans to the show, the theater would have been a quarter full.
"Guys," he said, "parents are awesome."
(The cheering for that line had a much less high-pitched sound than before.)
Just when you think it's over, he pulls a fast one. For as much as he talks about his merchandise in his vlogs, he didn't seem interested in being a salesman on Friday night. Except for his final words of the night when, almost as an afterthought before he walked off the stage for good, he said, "I might see you guys at the merch booth."
That led to a preteen stampede to the lobby, and after several minutes of fans clogging the exits to the building as they waited for Paul to possibly show up, a man who identified himself as the tour's production manager told a security guard that Paul actually would not appear.
As I left, I asked another security guard, "Then, why did Paul say he was going to the merch booth?"
He said, "To get people to rush over there and buy more shirts."
We both agreed that this was a smart ploy, even if it was a pain in the ass for anybody who wanted to beat the traffic home and a potentially dangerous stunt.
It didn't matter that Crompton or Sutton or the Speiser brothers weren't in attendance, aside from the fact that Paul's most popular song, "It's Every Day, Bro" was only about one-third as long as normal because most of the people who appeared in that video are no longer affiliated with Paul. Really, though, it doesn't much matter who is onstage with Paul as long as he's there with an outfit change every few minutes and with a microphone to his lips so he can rap along with the viral tunes that have made him famous.
The rest of Paul's friends aren't natural performers, and that was evident throughout the show. The coordinated dancing from the Team 10 crew was barely passable, and some of the performers were content to stop lip-syncing for seconds at a time to let the backing track do all the work. Roberts suffers from not having much of a stage presence at all.
Without Team 10's backing, it might be difficult for Paul's friends to make millions of dollars in the social media game. Without Team 10, Paul proved he'd be just fine.