Netflix's cancer drama Irreplaceable You is a movie beholden to formula, for better and worse. It is a frustrating film: For every good thing, there is something that keeps it firmly trite. That puts the film in an unenviable position. During its best moments, you'll be reminded of other, better movies. During the lackluster moments, you'll wish you were watching those other movies.
Such is the curse of a movie that plays everything right down the middle.
Abbie (Gugu Mbatha-Raw) and Sam (Michiel Huisman) are soulmates who have known each other since they were 8 years old. Their love is the kind normally reserved for fairy tales. Then cancer strikes. A visit to the doctor to discuss what they believe is Abbie's pregnancy turns into a stage four nightmare. Abbie copes with her diagnosis by searching for Sam's next love. It's a distraction for Abbie and an important one. Or, rather, it could have been. She screens a few prospects and the reality of her plan scares off any decent options. But it does give Abbie a chance to take stock of her relationship with Sam. The movie doesn't go all the way to full introspection, and it would be so much better if it did. Instead, there are numerous references to Sam's inability to match socks. The sock thing is obviously a metaphor for something deeper, but the movie doesn't articulate it.

Once Abbie moves on from trying to set up Sam Irreplaceable You starts running everything from the cancer film handbook. Abbie goes to meetings and makes unlikely friendships. There's the slightly off old guy (Christopher Walken, obviously) Abbie takes a shine to. They crochet together and buy tacky clothes and talk about what's coming. Their scenes together are generally lovely. Familiar faces like Kate McKinnon and Steve Coogan sit alongside character actors like Glen Fleshler. The support group scenes strike the right mix of emotional and bleakly funny. It's not fair to say the movie is giving audiences what they want, but what they expect. There aren't any curveballs within the confines of Abbie's treatment. But the cast elevates these moments into something the film can hang its hat on.
Where Irreplaceable You gets into trouble is with the drama between Abbie and Sam. Nearly every time they fight it feels manufactured and dramatically cheap. There is no spark or real tension to their fights. I don't know if the actors' hearts are in these moments, but the movie goes flat. And Huisman, born in the Netherlands, loses control of his American accent. It adds a layer of unintentional comedy. You anticipate their fights just to see how his accent will slip.
Gugu Mbatha-Raw pops as the lead of Irreplaceable You. She is a star and the sooner people embrace her as such the better off we'll be. With a role in Ava Duvernay's upcoming A Wrinkle in Time, maybe the Gugu appreciation will start in earnest. And, hopefully, better material will come with it. Since her breakthrough in 2014's Beyond the Lights she has been everywhere. Most notably in the Netflix-released third season of Black Mirror (in the excellent "San Junipero" episode) and the Netflix sneak attack The Cloverfield Paradox. But she and the solid cast can only do so much with this material.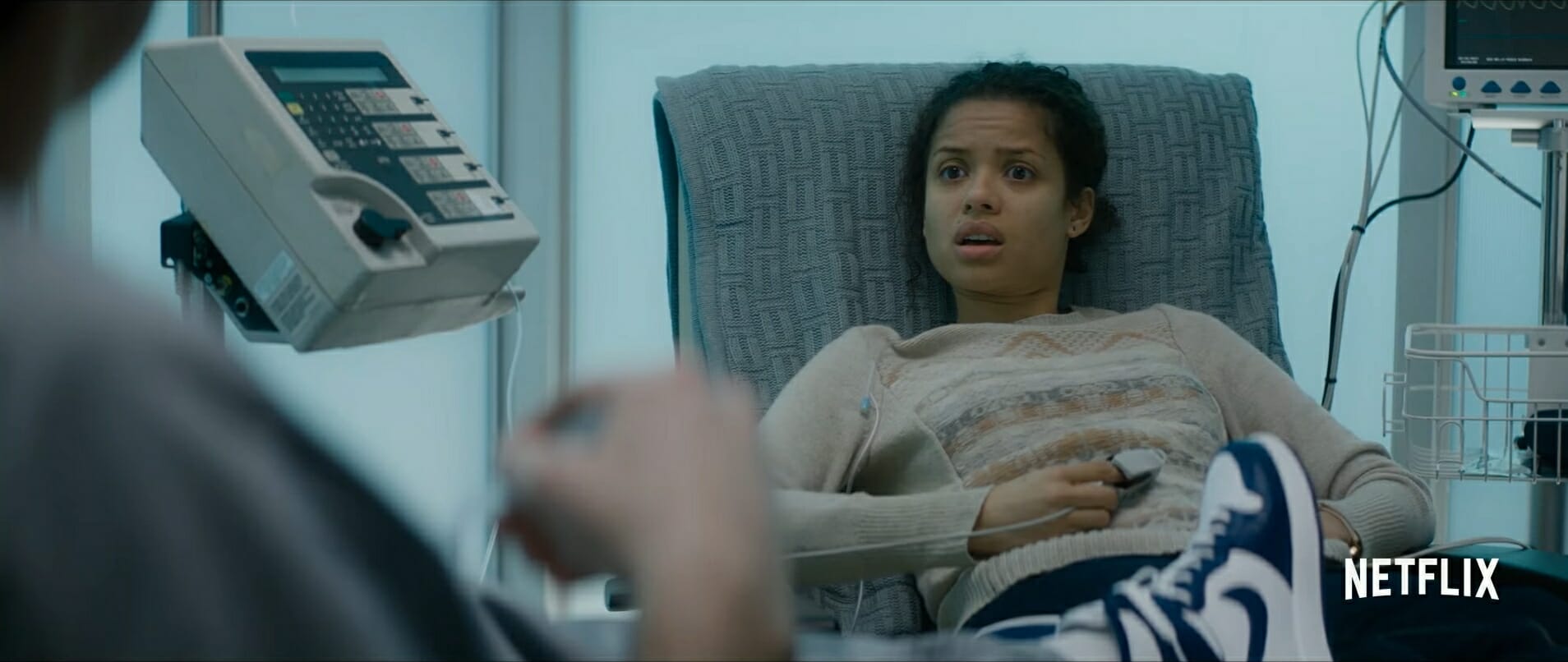 In comparison to recent examples like 50/50 or even The Fault in Our Stars, Irreplaceable You comes up lacking. 50/50 sets itself apart by digging into its rawest emotions. Fault does the same even if the result is uneven. But both movies put themselves out there while Irreplaceable You doesn't take any chances. Director Stephanie Laing, making her feature debut, has a good sense of her actors, but the movie's visual style is nondescript. There is one sunset where Laing goes with a handheld shot that stands out as the film's most stylistic flourish. It's a great choice and Irreplaceable You could stand to have a few more like that.
The script, by Bess Wohl, also finds a few areas to stand out. Most of those instances are in the already-mentioned support group scenes, but there are other examples. Sam and his confidant Benji, played by Brian Tyree Henry (Paperboi on Atlanta), have interesting conversations. But the formula of these movies rears its head during the Sam-Abbie arguments.
Irreplaceable You is a mixed bag and Netflix is the perfect home for it.  It's the kind of movie that won't offend or waste your time. There are better options out there, but you'll find things in Irreplaceable You to be moved by.
Still not sure what to watch on Netflix? Here are our guides for the absolute best movies on Netflix, must-see Netflix original series and movies, and the comedy specials guaranteed to make you laugh.