This story contains racist language.
YouTube stars RiceGum and iDubbbz have been going back and forth in a heated YouTube beef, but their disses aren't just fun and games: The taunts being thrown at each other involve jokes about rape, exploiting women, and using the N-word.
Bryan Le, RiceGum, is a 20-year-old rapper and YouTube comedian with more than 8.5 million subscribers. The conflict between RiceGum and 27-year-old Ian Carter, known as iDubbbz on YouTube, began more than a year ago.
iDubbbz, who has 5.6 million subscribers, is known for posting "Content Cop" videos in which he harshly critiques the work of other YouTube stars. In September 2016, after posting a "Content Cop" video about another YouTuber, RiceGum threw his hat in the ring.
"I kind of want him to make one on me," RiceGum said in "Message to iDubbbz the content cop," a clip he also posted in September 2016. "I'm next on the hit list. If not next, then I'm next, next. I'm ready, but if you do a video on me, I'm dropping the best diss track ever."
More than a year passed without any drama between the two—until iDubbbz finally responded.
On Oct. 3, iDubbbz posted a 30-minute video titled "Content Cop-Jake Paul." However this video wasn't about the Disney actor and YouTube sensation. This diss video was directed at RiceGum and consisted of a half-hour of critiquing and analyzing RiceGum's videos on his channel, followed by a 3-minute rap diss. In the video, iDubbbz said he used Paul's name so he "didn't have to give [RiceGum] the satisfaction of having his name in the title or his face in the thumbnail."
iDubbbz begins the video with what appears to be an accent and facial expressions mocking Asians, and then picks apart all of RiceGum's worst YouTube moments.
In one of his old videos, RiceGum insensitively jokes about rape to a rape survivor and says, "Did it feel good?"
"If you want to rape her, she won't sue you," he adds.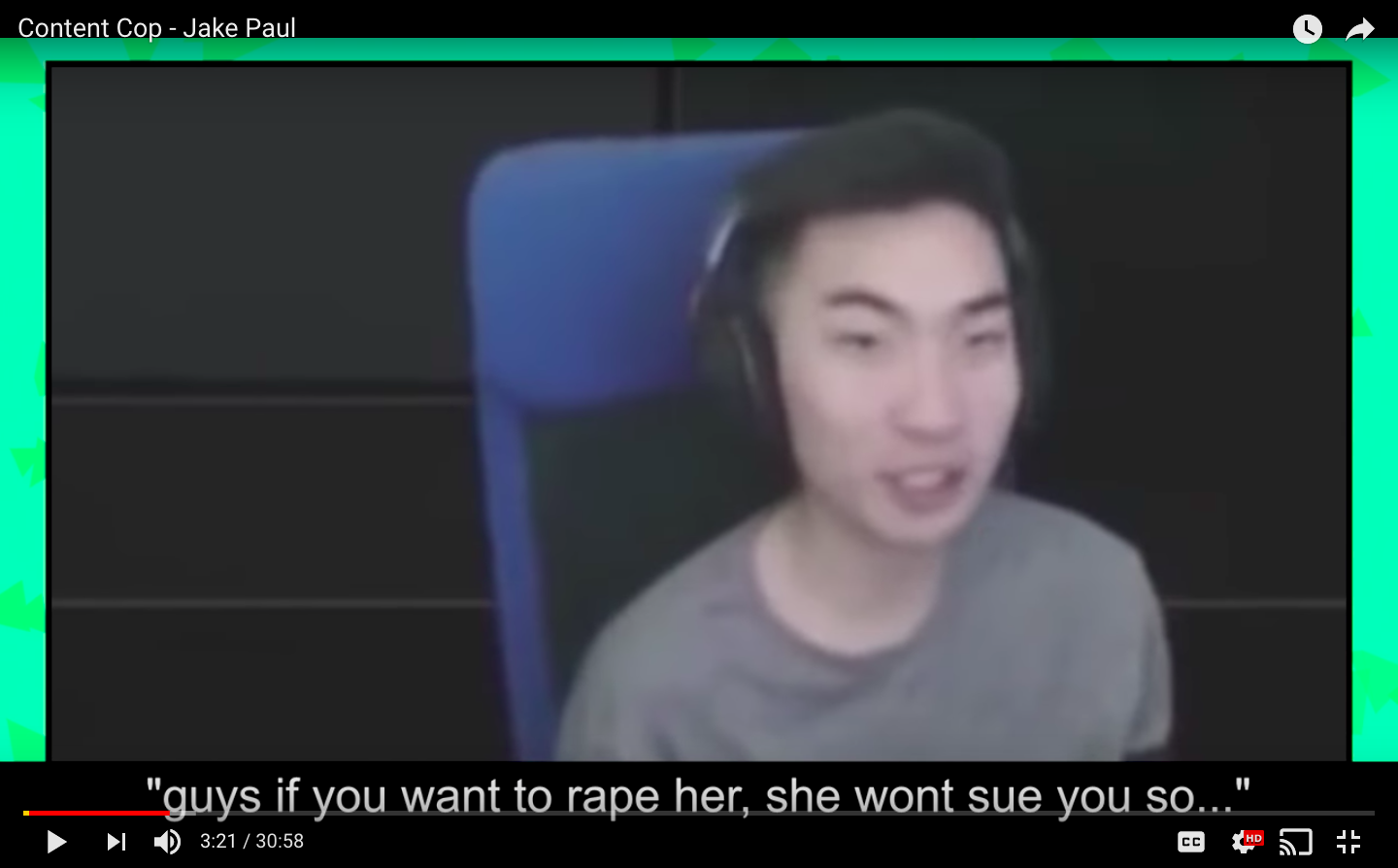 iDubbbz claimed RiceGum has committed the "7 deadly sins of YouTube: lust, gluttony, greed, sloth, wrath, envy, and pride." He critiqued him for advertising a $10,000 giveaway to a subscriber and not following through. He also showed video footage from RiceGum's YouTube in which he talks about women and teenagers in a sexual manner while video-chatting, talking about seeing their "titties" and wanting to "fuck" them.
At the end of video in a rap song, iDubbbz mocked RiceGum by calling him gay, dumb, talentless, a "borderline sex offender," and a "whiny Vietnamese wannabe gangsta."
"Content Cop-Jake Paul" has gained nearly 20 million views in the two weeks it has been live.
The same day the viral diss video was posted, RiceGum responded with a tease video and then later posted a 22-minute response video.
RiceGum said iDubbbz falsely portrayed him as being an arrogant, greedy person and caused him to lose a lot of subscribers and likes on his videos, but still gave him props for putting the video together.
"The rape thing is old news and I literally cringe every time I see the video," RiceGum said. There was also a clip of iDubbbz saying "rape is good" in one of his videos.
RiceGum also showed screenshots and clips from YouTube videos of iDubbbz saying the N-word several times on Twitter, and saying "nigger faggot" several times in his videos.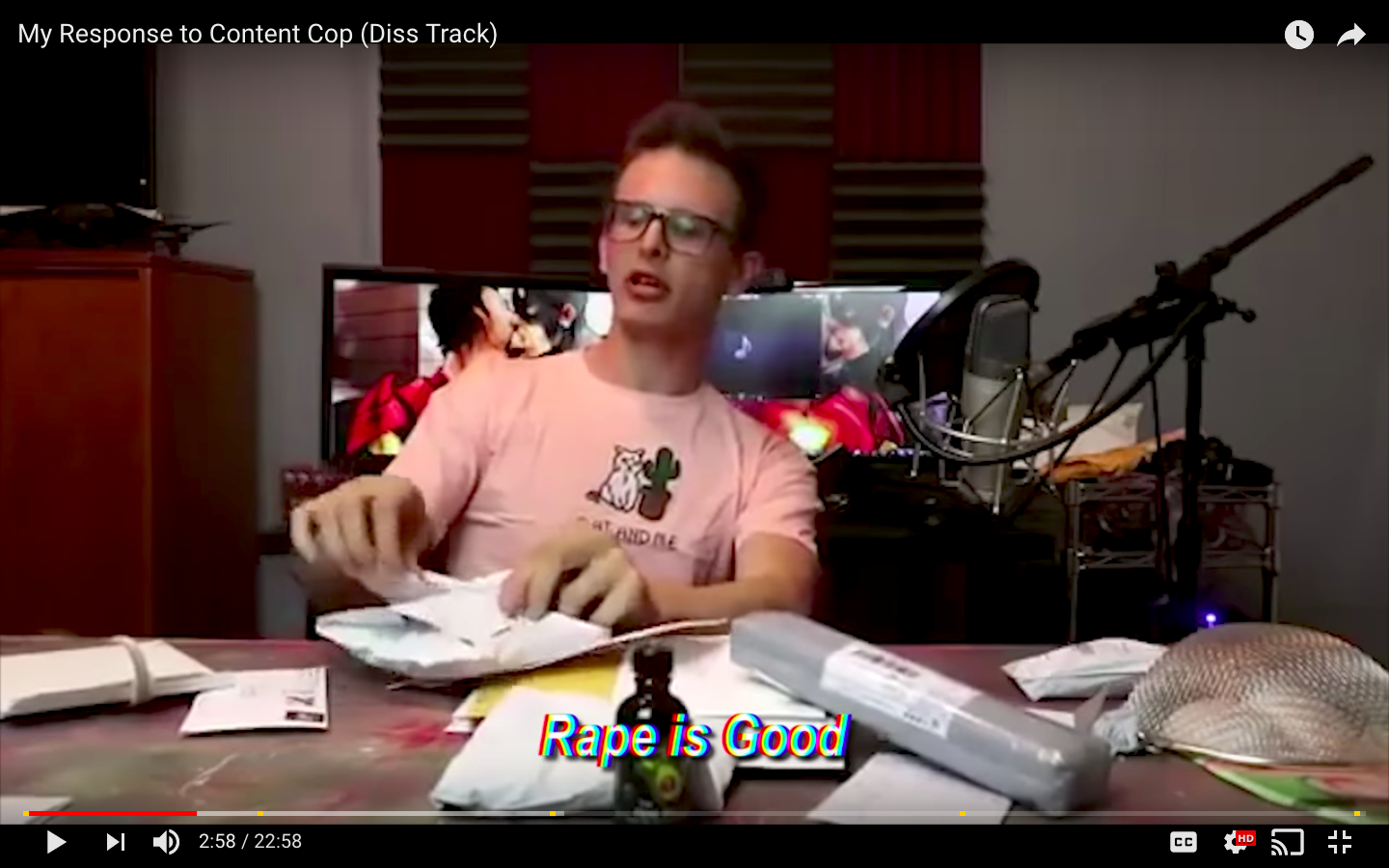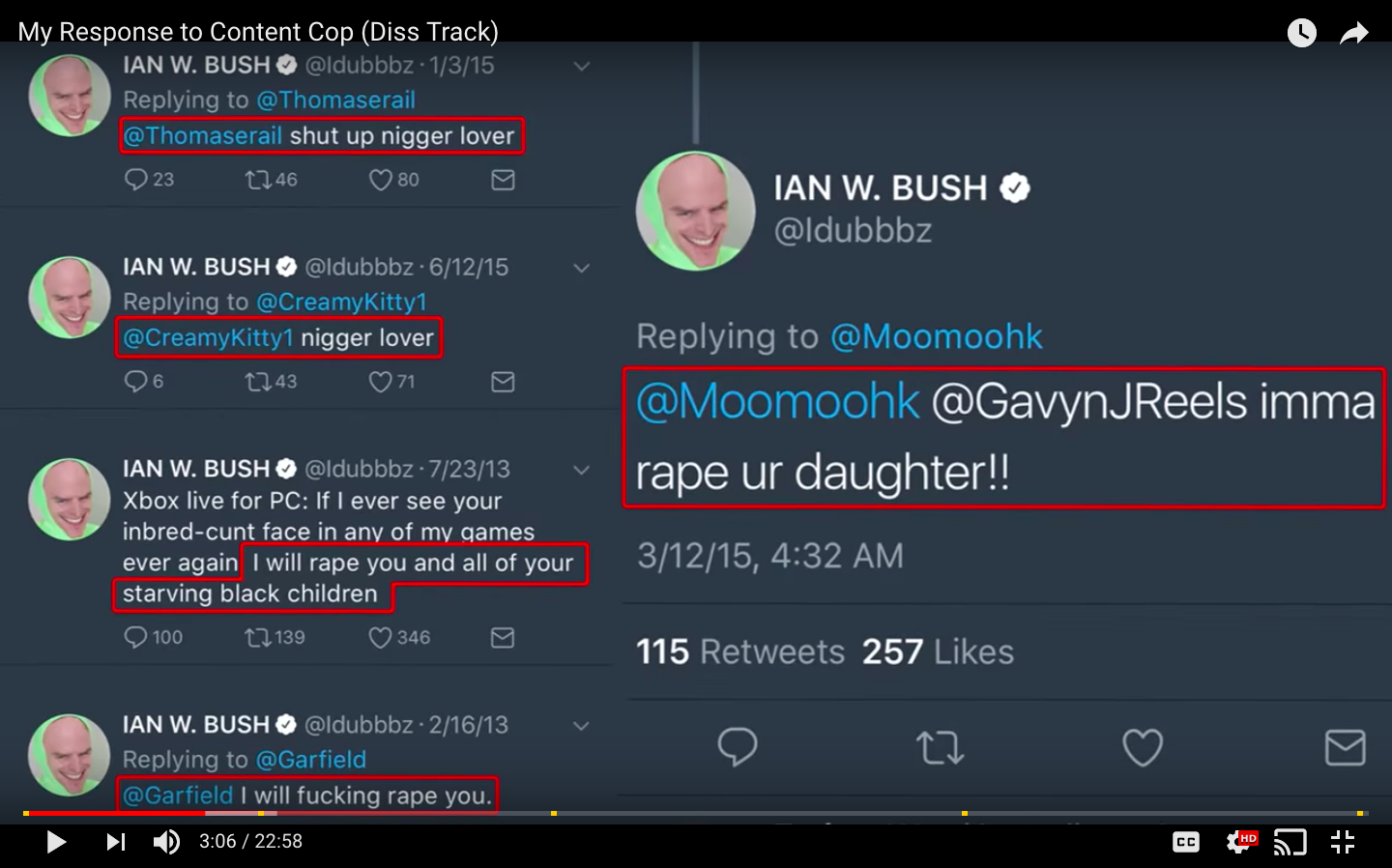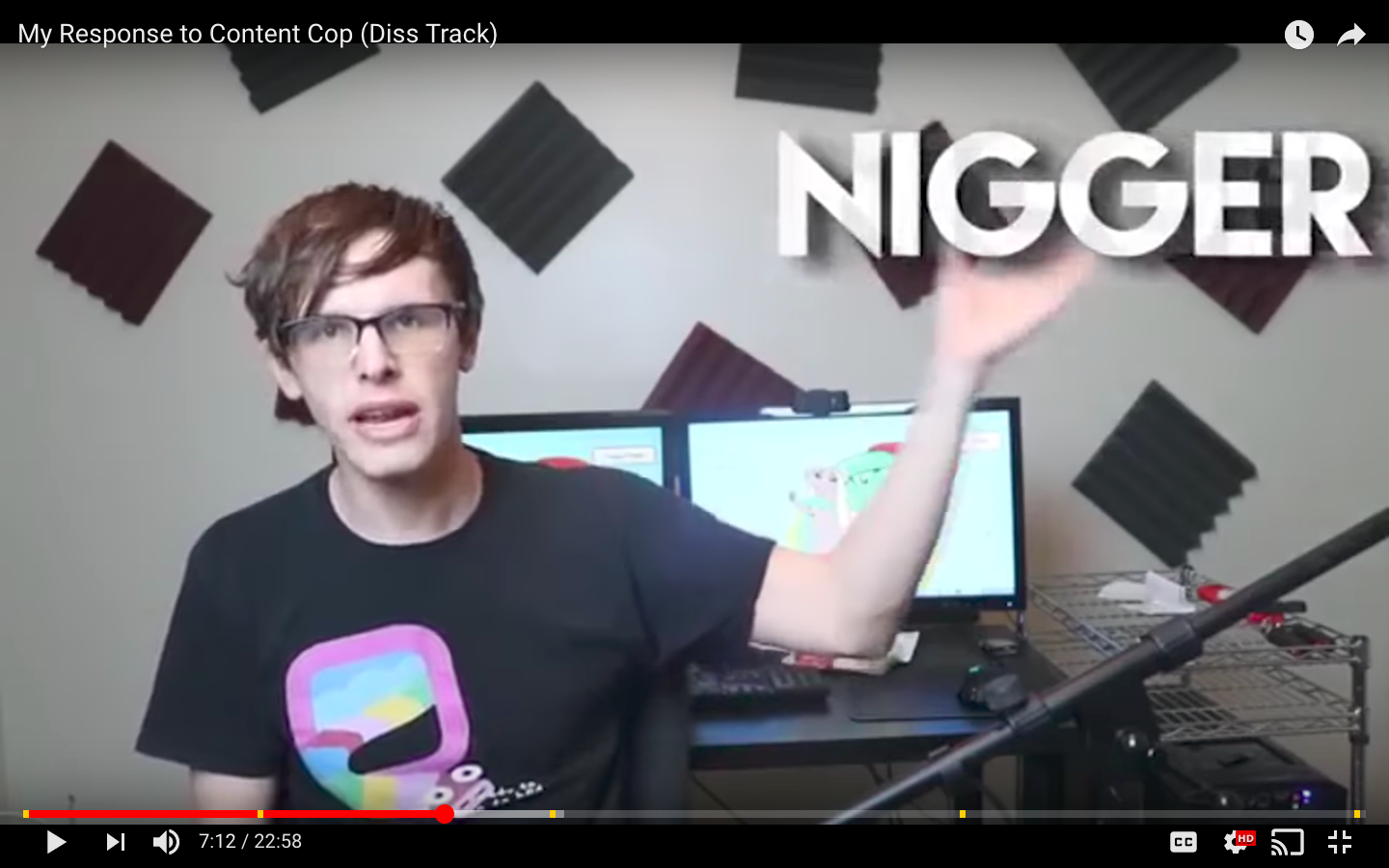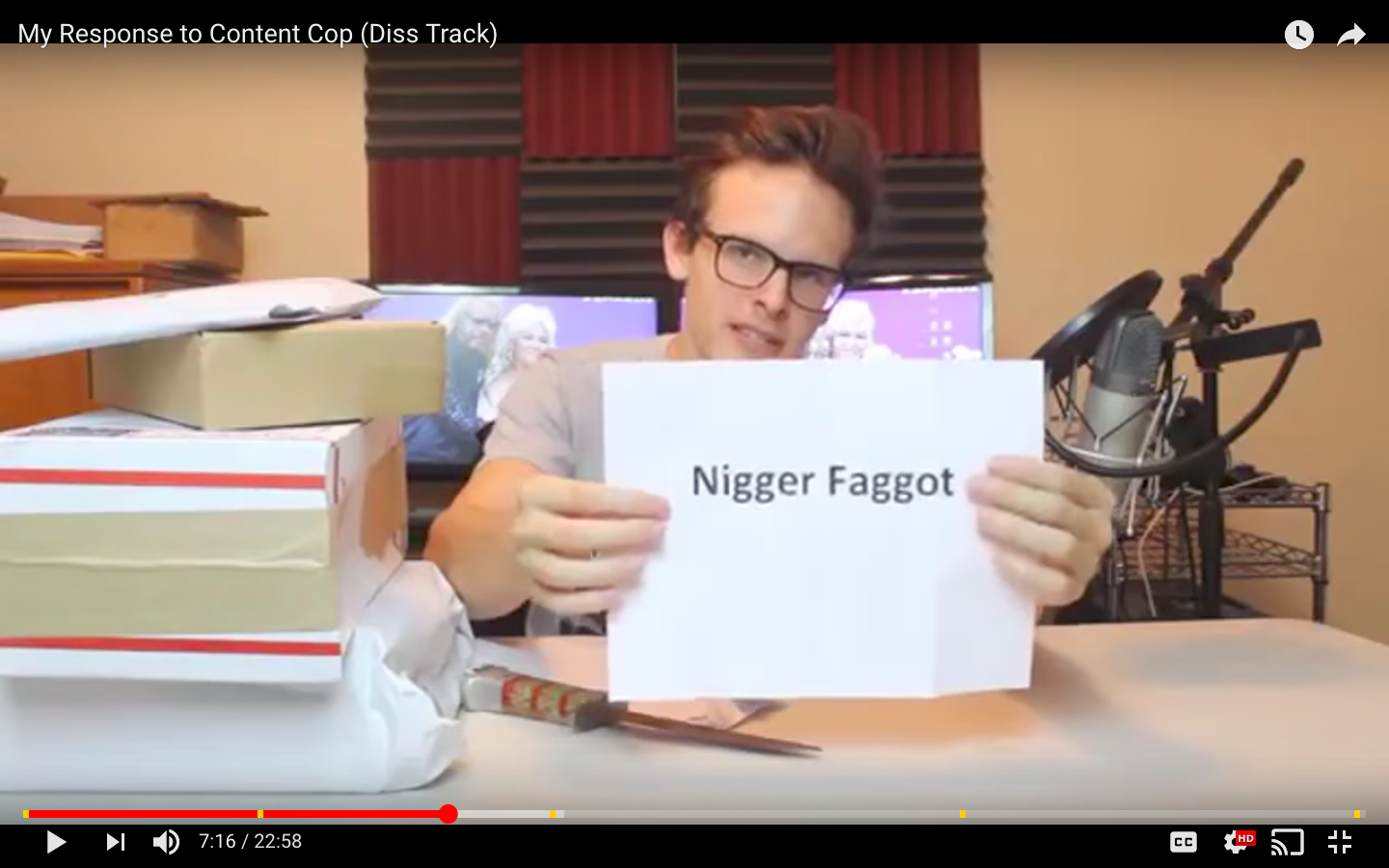 RiceGum then posted a diss song, "Frick Da Police," directed at iDubbbz. He called iDubbbz a stalker, a "27-year-old game nerd," and joked about iDubbbz being "the next school shooter." This video has more than 16.5 million views as of Wednesday. The song is also on iTunes and Spotify.
iDubbbz responded with another video, "Content Deputy-AJP." After critiquing RiceGum again for another 13 minutes, rapper Post Malone makes a cameo appearance at the end of the video, and then iDubbbz says this was his final response.
Since then, the two YouTube stars have continued posting regular videos to their channels and the beef appears to have come to an end after a year in the making. This marks the second big spat that involves racially charged language from iDubbbz.