Light as a Feather, Hulu's new occult horror series, delivers on its title in every respect. Not only is it based off the creepy party game "Light as a Feather, Stiff as a Board," which many attempted at sleepovers growing up, it's also insubstantial and airy in a fairly pleasant way.

Adapted from a piece on the popular social storytelling platform Wattpad, Light as a Feather traces the fate of five teenage girls who play a deadly version of the titular game in a graveyard one Halloween night. Zoe Aarsen's original story found a million online readers in less than six months and remains in Wattpad's top 25 for paranormal fiction. Its high school characters make it a logical property for Hulu, who, with the help of AwesomenessTV, were likely interested in bringing some youth-oriented content to their platform. The result plays like an ABC Family (or Freeform or whatever you call it now) horror show, arriving just before the spookiest time of the year.
Liana Liberato (Trust, If I Stay), Ajiona Alexus (13 Reasons Why, Empire), Brianne Tju (Scream: The TV Series), and Peyton List (Diary of a Wimpy Kid: Dog Days) star as the four central friends, while Haley Ramm (Disconnect) plays the strange outsider who joins them on that fateful night in the cemetery. It doesn't take long for the central premise to reveal itself, and at 23 minutes an episode (minus commercials), the show breezes by once it does. The main characters' deaths are predicted during the supposedly innocent game that sets everything in motion, and it should surprise nobody to learn that those predictions soon start to come true.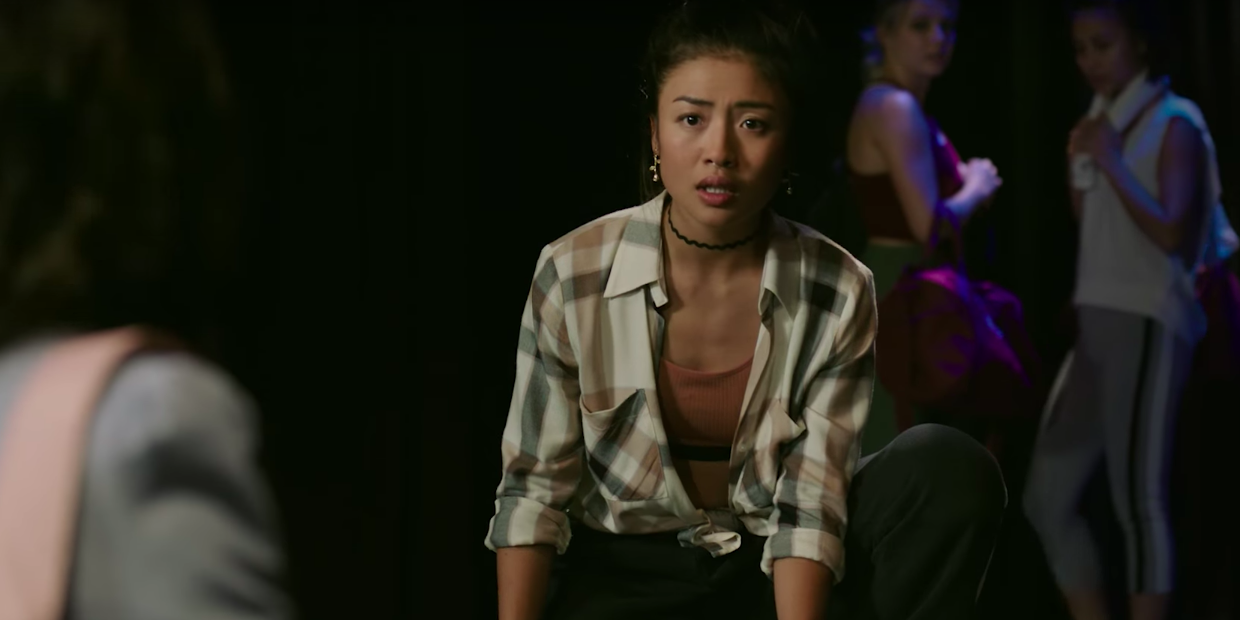 Created and executive produced by R. Lee Fleming Jr., who previously wrote on ABC Family's The Lying Game, Light as a Feather is just scary enough to keep viewers engaged without ever pushing far enough to alienate its target audience, many of whom are probably still in middle school. It walks the line of camp, containing its fair share of groaners and some truly bad acting. The serious moments that do work owe themselves to Liberato, the most complicated member of the group and therefore the hero. While Liberato skillfully handles a lot of melodramatic heavy lifting, Ramm also proves entertaining to watch, in a "single white female" kind of way.
The silly and spooky tone generally works, recalling the early days of Buffy the Vampire Slayer, before the preaching or profundity (or decent effects). The advance screeners looked abysmally dim (literally), so hopefully the show's contrast will improve now that it's on Hulu. Then again, no one is going to tune into Light as a Feather for great cinematography. The ambitions here aren't incredibly high; this is low-budget B-horror for the teen scene.
That said, even the odd adult looking for a fun, easily digestible Halloween binge could enjoy Light as a Feather. It's way scarier than playing the actual game, but not nearly as horrifying as some of the other shows on Hulu.
Still not sure what to watch on Hulu? Here are the best movies on Hulu, what's new, the best shows on Hulu, the sexiest movies you can stream on the service, and the must-see Hulu originals.