Hulu's holiday-themed horror anthology show Into the Dark got off to an uneven start. For anyone new to Into the Dark, each episode is a roughly 90-minute film with new casts, writers, and directors. The first installment of the series, the unfunny dark comedy The Body, came out in October. The November offering, Flesh & Blood, was a terrific single-location thriller. Count the Christmas-themed episode, Into the Dark: Pooka!, as a mild success. It's a psychological slow burn that takes a silly path to a surprisingly potent finale. Pooka! demonstrates the highs and lows of the show's format, and proves why it's still worth venturing Into the Dark.
Into the Dark: Pooka!
RELEASE DATE:
12/7/2018
DIRECTOR:
Nacho Vigalondo
STREAMING:
Hulu
A suspiciously lucrative job for a struggling actor comes with unexpected consequences.
Pooka! pairs writer Gerald Olson with Spanish director Nacho Vigalondo. The story follows Wilson (Nyasha Hatendi), a struggling actor who takes on a job he probably shouldn't. Despite ample warnings, Wilson signs up to don the costume for the Christmas season's hottest toy: Pooka, a creepy bear with giant lightbulbs for eyes that can record and repeat things it hears, all at its discretion. Equipped with naughty and nice settings, Pooka is all the rage.
The premise almost works as a metaphor for the gig economy that takes advantage of desperate people. Wilson shrugs off the vague cynicism of his boss (played by comedian Jon Daly), the NDA in his contract, and his pride in exchange for a payday.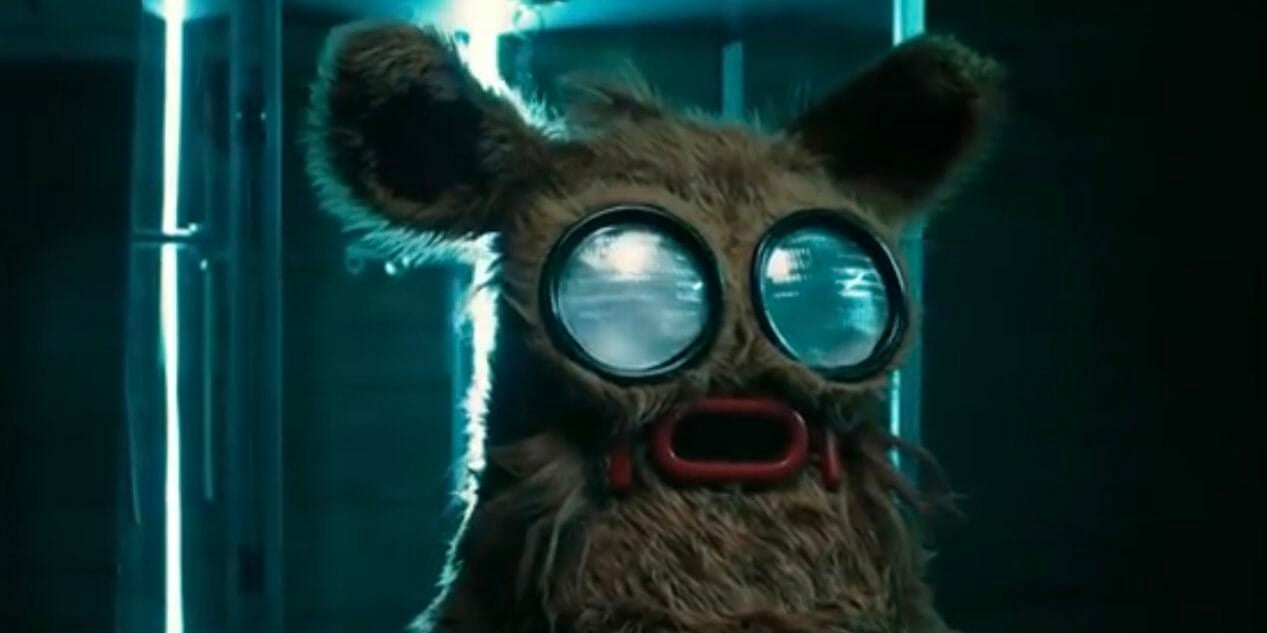 Of course, things get off to a good start for Wilson. He's making easy money hawking toys, and he strikes up a potential romance with single mom Melanie (Latarsha Rose). Life is good for ol' Pooka. Then come the hallucinations and psychological stress. For long stretches, Pooka! plays like a perverse comedy. Olson's script has its share of punchlines, but Vigalondo's direction elevates the humor. He has a nifty way of presenting absurdities in a straight-faced way and daring the audience to laugh. Vigalondo has a mischievous streak running through all of his films (particularly time travel thriller Timecrimes), and he brings that to Pooka!
For as funny as Pooka! can be at times, the repetitive nature of the script becomes obvious, and the film lags. But it's worth sticking it out until the end. Once the various storylines start to intersect in the final third of the film, it jumps in quality. Its ending manages to carry more weight that you would expect from a movie that also features a man masturbating while wearing a bear suit.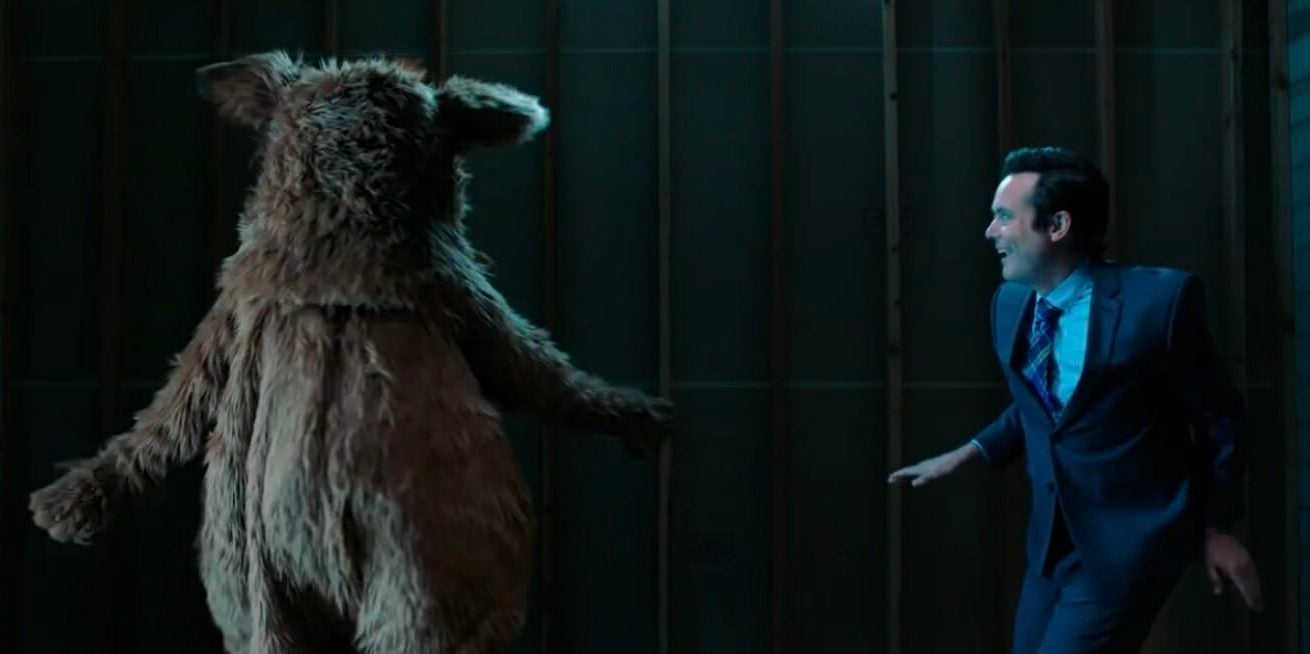 As Wilson, Hatendi offers an interesting screen presence. Initially Wilson comes across as a bland character, and Hatendi's performance feels muted. But once Wilson meets Melanie, both the character and actor come to life. Hatendi and Rose make for a charming pair, and they make Wilson and Melanie the heart of the story. Both characters have troubled pasts, and the performers and story navigate that baggage in a compelling way.
Pooka! is a solid entry for Into the Dark. Not all of the creative choices pay off, but there are enough indelible images that you'll remember Pooka!, perhaps longer than you'd like. A movie this weird is the exact kind of thing you would expect to find on streaming sites, and that's perhaps the strongest feather in Into the Dark's cap. The show gives you want you want, and something you weren't expecting. I'm looking forward to whatever the show has to offer in the new year (and later this month, with its upcoming New Year's-themed episode).
Still not sure what to watch on Hulu? Here are the best movies on Hulu, what's new, the best shows on Hulu, the sexiest movies you can stream on the service, and the must-see Hulu originals.