Jay-Z and Beyoncé released a surprise, joint album on Saturday. Fans know the drill at this point: Sign up for yet another free trial of Jay-Z's floundering music streaming service, Tidal, so you can hear the dang thing. But while Tidal remains the exclusive home of solo music by these American royals, the album is secretly on Spotify and Apple Music, too—you just need to know where to look.
The album, Everything Is Love, won't appear under the artist page for either Jay-Z or Beyoncé, but it does materialize when you search for "the Carters." Even on Tidal, the album was released under three acts: Jay, Bey, and the Carters. It's a curious loophole that can't bode well for a company that is reportedly running out of cash and was caught cooking the books when it comes to streaming numbers, but we'll take it.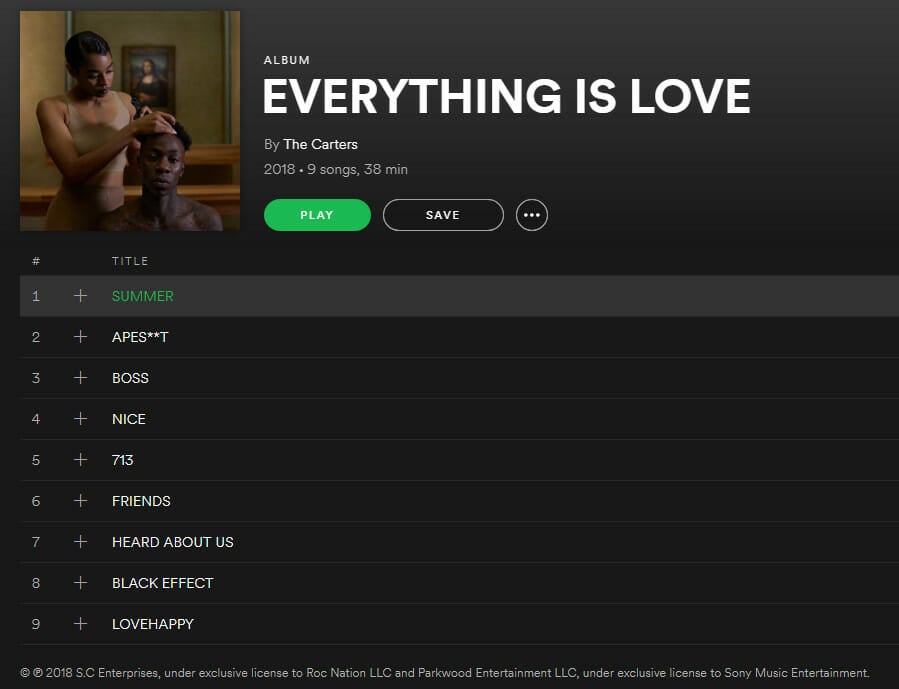 For Spotify users, the album is only available to users with a paid "Premium" subscription. According to reports, in two weeks it'll be made available to free users.
Fans are starting to catch on. "BEYONCÉ REALLY DRAGGED SPOTIFY THEN HER AND JAY PUT THE JOINT ALBUM ON THERE NOW SHE'S ABOUT TO DESTROY THE CHARTS FORREAL OMGG GOODNIGHT," one wrote on Twitter.
Indeed, on "Nice," Beyoncé takes a shot at Spotify, singing "If I gave two fucks about streaming numbers, would have put Lemonade up on Spotify. Fuck you." That may still be the case, but the timing is interesting given that recent rival Kanye West is four weeks into his one-album-a-week project that's allowed him to take a bite out of the Billboard charts. Pusha T's West-produced Daytona debuted at No. 3, and solo album Ye debuted at No. 1 for the week of June 16. (The chart is measured by "multi-metric consumption" that includes streaming and album sales.) West's Kid Cudi project, Kids See Ghosts, will see high returns from last week, but his Nas project, Nasir, is almost certainly going to come in behind Everything Is Love.
Lemonade, 2016's masterclass solo project, debuted at No. 1 with a Tidal-exclusive release for Beyoncé. But there's nothing like some multi-platform streaming to secure your seventh No. 1 album.
READ MORE: