Subscribers to FX Networks' standalone streaming service have until August 20 to enjoy their favorite content, after which the service will be permanently shut down.
News of FX+'s demise came after Disney's acquisition of 21st Century Fox was complete. FX+ was launched back in 2017, offering subscribers on-demand, ad-free streaming of FX shows for a $6 monthly fee. Current subscribers have just over a month to enjoy series like American Horror Story and Sons of Anarchy before the service disappears completely.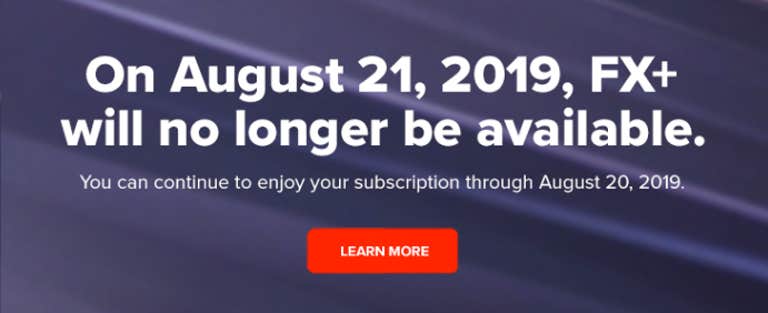 Thankfully, these shows will still be available to stream. Paid television subscribers will still be able to view current seasons as they air. They will also be available to stream on the FXNow app and FXNetworks website with authentication. Cord cutters aren't out of luck either: Disney plans to make FX favorites available to stream through Hulu.
Hulu has been under Disney's full control since May. Disney has plans to use its resources to boost Hulu's library of original content, according to Engadget. Hulu will see its library grow not only with Hulu originals but also with the slew of adult-oriented shows recently acquired by the streaming giant. While family-friendly and kid-oriented programming will soon find a home on Disney+, older households can look forward to a greater selection on Hulu soon.
Speaking with Variety in May, FX Networks CEO John Landgraf admitted that FX doesn't have enough programming to carry its own streaming service. "I don't think 15 shows is enough to be a brand continuously in the conversation about what's best in television," he said. "I don't want to expand too far the curatorial quality of the brand. That's what gives it weight."
Landgraf noted that Hulu would provide FX an opportunity for its content to reach a wider audience without the pressure to fill up an entire streaming service. With a home on Hulu, FX can continue releasing great content to stream and we won't have to pay for an entirely new service to see it.
Everybody wins.
READ MORE: 
Got five minutes? We'd love to hear from you. Help shape our journalism and be entered to win an Amazon gift card by filling out our 2019 reader survey.
H/T Engadget