After a huge public outcry, Disney is doing what it should have done from the start, and giving Brave's heroine a nice, sensible dress to go with her sensible coronation ceremony.
As a Disney princess, one of the most iconic figures in modern pop culture, Merida bore perhaps the greatest burden of any Disney or Pixar hero when she appeared in 2012's Brave. Not only was she the first female hero of any Pixar film, but her creator, Brenda Chapman, was the studio's first female director. Disney was taking on the project shortly after allegedly ending its long line of princess films and changing the name of its 2011 animated project, Rapunzel, to what it felt was the more boy-friendly Tangled.
Interest in the film grew even more intense when Chapman was fired a year out from the film's release. All this within an industry where only about 50 percent of films pass the Bechdel Test and expectations and hopes were always going to be impossibly, unreasonably high for Merida and her story.
In a famous scene from Brave, widely publicized as part of the trailer, Merida tears her fancy coronation dress so that she can more skillfully and flexibly shoot arrows as part of an attempt to "win her own hand" in marriage. Her rejection of the dress symbolized her independence and leadership skills, as well as her inability to conform to the typical princess role.
That's why it was so inexplicable  that when Disney went to market its new Merida doll as part of what it called her "coronation ceremony," it gave the Scottish princess-turned-queen an overtly sexualized makeover.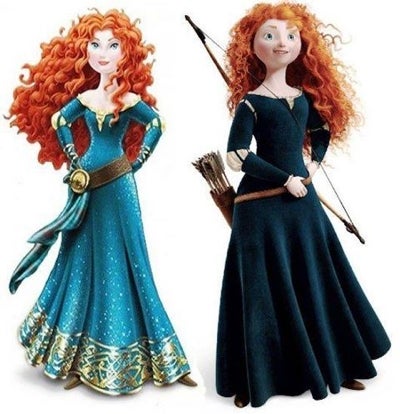 Photo via therotoscopers
The new design made her thinner, bustier, older, and hotter, and put her in a slinkier, lower-cut version of the dress she loathed from the film. The new look may have been designed to bring Merida in line with the other princesses on Disney's princess site, all of whom are canonically older and, well, hot. But it was also a move that undid everything the character fought against in her own movie.
After Chapman herself wrote an angry open letter on May 11 addressing the sexualization of the character and the message it sent to teenage girls everywhere, the floodgates opened on an Internet backlash. A Change.org petition started by the media watch website A Mighty Girl received over 200,000 signatures in a couple of days.
Earlier today, just as quietly as it had unveiled Merida's new look, Disney substituted an image of Merida from the film on its princess website, and removed all of the images of the new doll from the website. A Mighty Girl's Carolyn Danckaert stated that she was pleased but wary:
While this is very exciting news, it's still too early to declare victory in our effort to keep Merida brave and preserve her original image. Making changes to a website are easy and easily undone; the true test will be how Disney plans on depicting Merida on merchandise now that she is part of the official Disney Princess collection.
IGN earlier today blamed the divide between Disney's marketing department and its creative teams for the fiasco, speculating that eventually "this tampering will one day extend beyond ephemeral marketing material and stupid title changes, and start to affect the content of the films themselves."
But with a subject as broad as the portrayal of women in Disney films, it's never that simple. Yesterday FeministDisney pointed out that much of the language being used to argue for Merida's wardrobe change was language that overlooked the accomplishments of Disney's non-white princesses, several of whom went through similar battles for their independence:
Merida is hailed so much because she breaks the white princess mold. Mulan and Jasmine and the other princesses of color aren't celebrated because they're performing what's 'expected' of WOC [women of color]. Merida is a groundbreaking white princess. But let's be real: she's still a white princess in a pantheon that's glaringly white.
If Disney truly has given up the princess game, we may be waiting for a long time for another entry into the princess pantheon. Frozen, out this November, is rumored to be the latest entry, featuring a possible princess named Anna.
We can only hope the marketing department will let her keep all her winter furs.
UPDATE: The Los Angeles Times is reporting that since "the image of Merida that sparked this maelstrom is part of a limited run of products including backpacks and pajamas," Disney has no intention of discontinuing the product, despite the public protest.
While Disney appears to have removed all references to the older, sexier Merida from its website, the images remain prominently featured on the Target website, along with several variant depictions of Merida in doll form.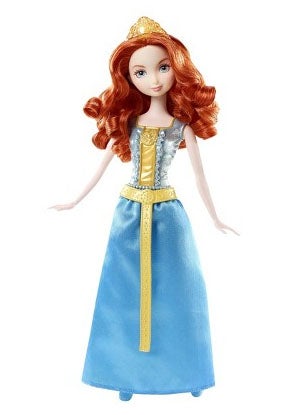 READ MORE:
Photo via Princess.disney.com