Desus Nice and The Kid Mero found out that Taylor Swift fans aren't a group you want to rile up. On the Daily Beast's The Last Laugh podcast, the hosts of Showtime's late-night talk show Desus & Mero addressed death threats and racial slurs they received after allegedly "body-shaming" the pop star on The Tonight Show in May.
Mero: She has a very long back

Desus: Ugh Taylor Swift?! 😂

The brand is forever strong!👏#BodegaHive pic.twitter.com/dn58SiIGjQ

— Fabuloso🔮 (@fsalerno13) May 1, 2019
Desus and Mero were on The Tonight Show to play Catchphrase—a timed game where participants say or act out a word or phrase for their partner to guess—against host Jimmy Fallon and guest Charlize Theron. Mero had "Taylor Swift," and as a clue, he told Desus, "She has a very long back." Desus promptly said Swift, for the win. Fallon walked away laughing, with Theron standing stunned.
It was hilarious at the moment for the contestants, as it had been a running joke for the pair. But things escalated quickly when Swift's fans (or "Swifties") took to social media to drag the comedians for ostensibly "body-shaming" the singer.
The online spat went to the next level when a Swiftie called Mero's local FBI precinct with threats.
Taylor Swift stans coming for Desus & Mero for pointing out that she has a long back pic.twitter.com/PWWHhYJpHo

— Internet Nick Nuñez (@blocktimusprime) May 6, 2019
"I screen-grabbed it and was like, 'I wish you would, motherfucker!'" said Mero. "'Come to my house, I got a rusty machete waiting for you.'"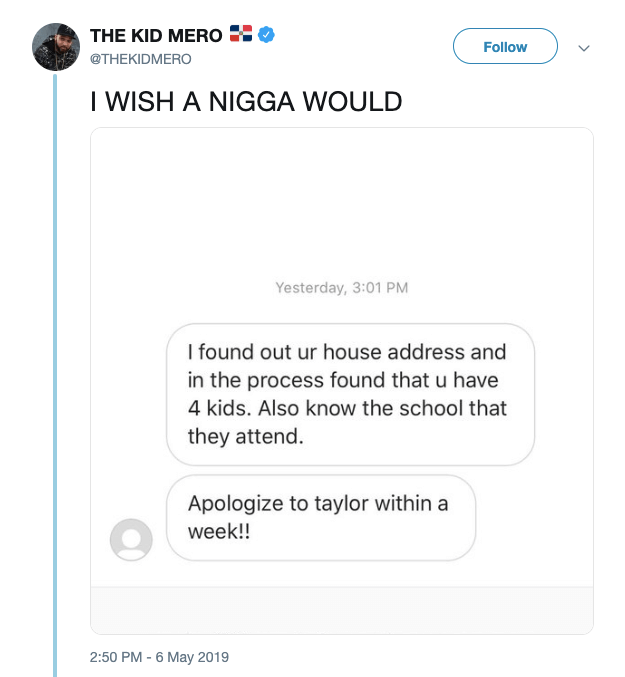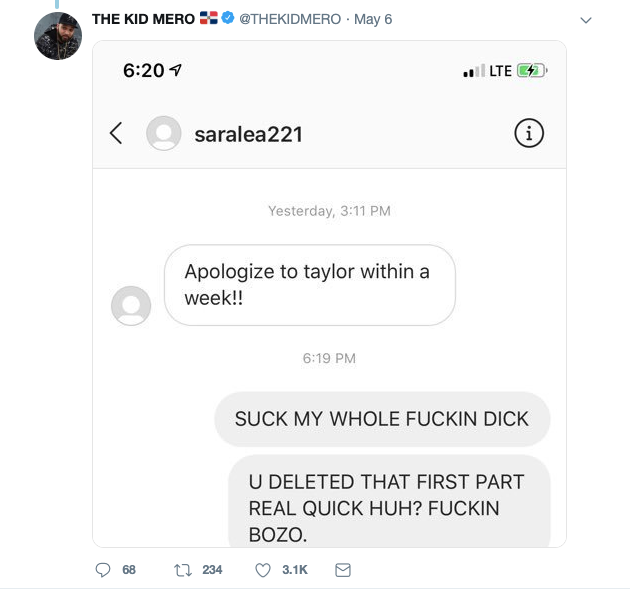 😂😂😂😂 pic.twitter.com/nf3RWcA2Xs

— Desus Nice (@desusnice) May 3, 2019
"All of her 15-year-old fans are like, you're 'body-shaming' Taylor Swift," Desus said. "So their answer to us 'body-shaming' Taylor Swift is death threats and calling us racial slurs."
But the duo pushed back online, calling the Swifties' bluff. "BRO FIRST TIME EVER I POSSESS A LEGAL FIREARM I'LL TURN AN INTRUDER INTO A FUCKIN PIZZA BAGEL," Mero responded to one Twitter user.
BRO FIRST TIME EVER I POSSESS A LEGAL FIREARM ILL TURN AN INTRUDER INTO A FUCKIN PIZZA BAGEL

— THE KID MERO (@THEKIDMERO) May 6, 2019
"I had people who were like, 'I'm going to kill you, you better get more security at Showtime,' Desus said. "And I was like, 'I will beat you up.' And they're like, 'I'm sorry!'"
READ MORE:
H/T Decider