If you think you see a celebrity out in public, what's the first thing you do? Google them to be sure, of course.
That's exactly what 19-year-old college student Janani Krishnan-Jha did when she saw Cole Sprouse at an ice cream shop in Hawaii. She had no idea the celebrity saw her type his name into Google.
Sprouse posted a picture of Krishnan-Jha's Google search—as well as his reaction—to his Instagram Friday.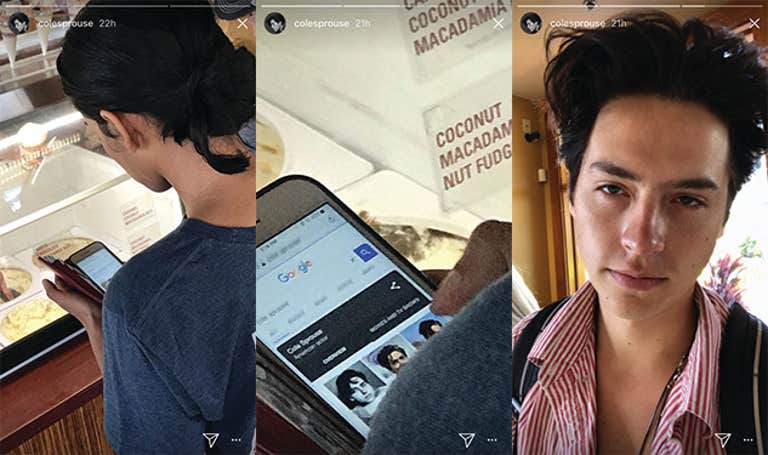 People thought the whole thing was just too funny.
https://twitter.com/pradasfairy/status/949103377316827137
https://twitter.com/Pailining/status/949114952379375616
she be like "is that cole sprouse" *check on google* HAHAHA https://t.co/moQ6oZkMzE

— roay (@Roayieofficial) January 5, 2018
Krishnan-Jha explained to BuzzFeed that she wanted to confirm it was really the Riverdale and Suite Life of Zack & Cody star before asking him for a photo.
"I was waiting in line when I turned around and saw someone who looked eerily like Cole Sprouse," she said. "I almost told him he looked a lot like Cole Sprouse, but then I realized that it might actually be him. Because I wasn't 100 percent sure yet."
She said she actually Googled his twin brother Dylan Sprouse first, and she was totally unaware that Cole Sprouse was looking on behind her the whole time.
"I had no idea that he was looking, and thought the phone was sufficiently hidden, but I guess I didn't do a good enough job because when I turned to ask for a selfie, he smiled and told me he'd seen me google him," she told BuzzFeed. "I told him I was embarrassed, and we laughed and took a selfie."
Sprouse has a habit of playfully calling out fans for dogging him. He even runs an Instagram account called Camera Duels dedicated to sharing photos of people trying to snap his picture.
Krishnan-Jha said he was a total "sweetheart" to her during the encounter.
"I thought his reaction was extremely funny," she said. "I'm glad there were no hard feelings, and that I got to meet a childhood hero of mine!"
H/T BuzzFeed