Booksmart, the feature directorial debut from Olivia Wilde, had a modest opening at the box office Memorial Day weekend. But is its appearance on Netflix really responsible for a slump in ticket sales?
The coming-of-age film, featuring Kaitlyn Dever and Beanie Feldstein as overachieving besties on the eve of high school graduation, earned $8.7 million its opening weekend. But it was no match for Aladdin, which clocked over $112 million in the U.S. Wilde tweeted about the film's performance at the box office and the importance of going to see it on the big screen, saying: "We are getting creamed by the big dogs out there and need your support. Don't give studios an excuse not to green-light movies made by and about women."
https://twitter.com/oliviawilde/status/1132398541811273730
The same day it was released, however, it was also released internationally on Netflix, in France.
I think I have some followers who live in France so I just wanted to inform you that Booksmart is available to stream on Netflix in your country. *cough* and if anyone else has the ability to stream via VPN/other tech. *clears throat* pic.twitter.com/rxS870w9at

— Jetgirl Says Stuff (@jetgirl78) May 24, 2019
i wonder if we're not underestimating the fact that Booksmart is already out on French Netflix. meaning that it was on Torrent sites by Friday morning, granting some of its technologically savvy target demo access to it at home for free

— david ehrlich (@davidehrlich) May 27, 2019
@ballmatthew Just so you know, "Booksmart" that is released in theatres in the US today is also released on Netflix France today (under the "Netflix Originals" banner). It's the first time that a US film is released in theatres in the US and on Netflix over here on the same day. pic.twitter.com/nq0s3pdSWz

— Films de Lover (@FilmsdeLover) May 24, 2019
We've reached out to Netflix for details, but as noted on Twitter, that meant interested parties could get immediate access and leak it, or use a VPN to watch it. According to TorrentFreak, Booksmart was the No. 10 most pirated film of the week, behind Us, Aquaman, and Avengers: Endgame. That's notable, since those films have already been in theaters for some time.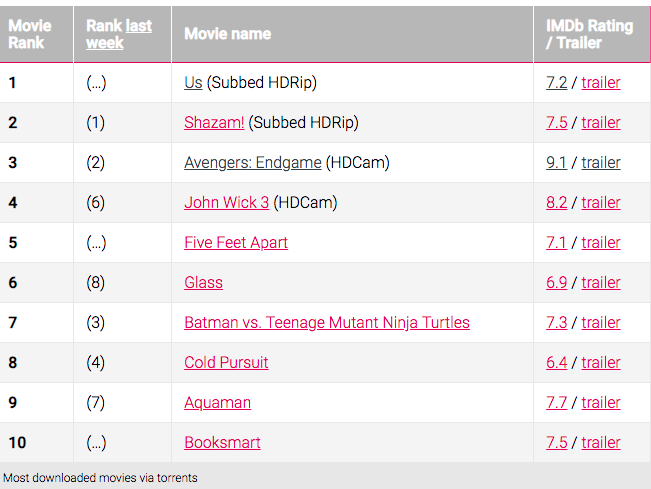 Others noted that Booksmart doesn't feature diverse leads and that it's the kind of film people would wait to watch on Netflix.
Also, Booksmart's audience is watching teen comedy dramas on Netflix and going to the movies for "big" movies like Aladdin or John Wick 3.

It's got a demographic problem, its audience was cannibalized by Netflix & it opened Memorial Day weekend & got killed by bigger movies!

— Katarin (@boldmatter) May 28, 2019
I'm sure it was a fine movie but I really don't want to see another high school coming of age story centered around white girls. I'm exhausted.

— Taylor Got Senioritis (@InspectorNerd) May 27, 2019
I completely understand being disappointed about Booksmart's opening. I am too, but you're going to have a hard time convincing me not to be happy about another big budget studio film starring people of color overperforming expectations, domestically and especially abroad.

— Franklin Leonard (@franklinleonard) May 27, 2019
But you can't blame a Netflix France release for a middling showing stateside. Fast Color, a film directed by a woman and featuring Black leads, also received positive critical reviews but floundered at the box office. Director Julia Hart called out the film's distributor for not knowing how to market the film: "At the end of the day, when it got to the white male gatekeeper—time and time again—they said, 'I don't know who this movie is for. I don't know how to market it.' We need to keep buying tickets to these movies. We need to keep making these movies, and we need to prove them wrong because they're wrong and they're dinosaurs."
Targeted ads for Booksmart made the rounds on Twitter and Instagram the week before its release (I saw several). It was a critic fave that didn't immediately translate to sales, even with Annapurna and Will Ferrell and Adam McKay's sister production company Gloria Sanchez behind it. Still, Hart and Jinn director Nijla Mumin pointed out that they would have loved the same kind of marketing push for their films. (Hart is directing Disney's adaptation of Stargirl next, and it will be interesting to see how that's marketed.) 
i've been feeling the same thing!!! feels like it's everywhere compared to FAST COLOR & JINN id kill for their marketing! https://t.co/Cv0Fvv76Nq

— Julia Hart (@juliahartowitz) May 26, 2019
But Booksmart will likely find a bigger audience, maybe next week or years from now—maybe even with a wider Netflix release. Maybe even because of this debate-igniting word of mouth. After getting some criticism for downplaying an inclusive film like Aladdin, Wilde tweeted on Monday that a "wide release for a small film is def a major gamble. I'm lucky my first movie is in any theater at all!" 
https://twitter.com/oliviawilde/status/1133097137581879302
READ MORE: