In yet another twist to a completely silly social media story, a satirical Twitter account said that dozens of people who drank the apparent bathwater sold by social media star Belle Delphine have contracted herpes.
It is, of course, not true, according to fact-checking website Snopes and Delphine herself.
The fake story was spread by the @BakeRises Twitter account—which at the time was representing itself as the U.S. version of the Daily Mail newspaper. The tweet, complete with the U.K. newspaper's logo as the Twitter account's avatar, read, "Over 50 people have reportedly contracted herpes after drinking Instagram star, Belle Delphine's bathwater."
A day later, the Twitter account explained that it was only impersonating the Daily Mail and wrote, "It seems the best way to grow on Twitter is to impersonate a company [the Daily Mail] and say things about a celebrity [Belle Delphine] that legally can be considered libel and I could potentially be sued for." The @BakeRises account has since been suspended from the platform.
Delphine was also quick to deny the allegation, writing on Instagram that you're a clown if you believe it.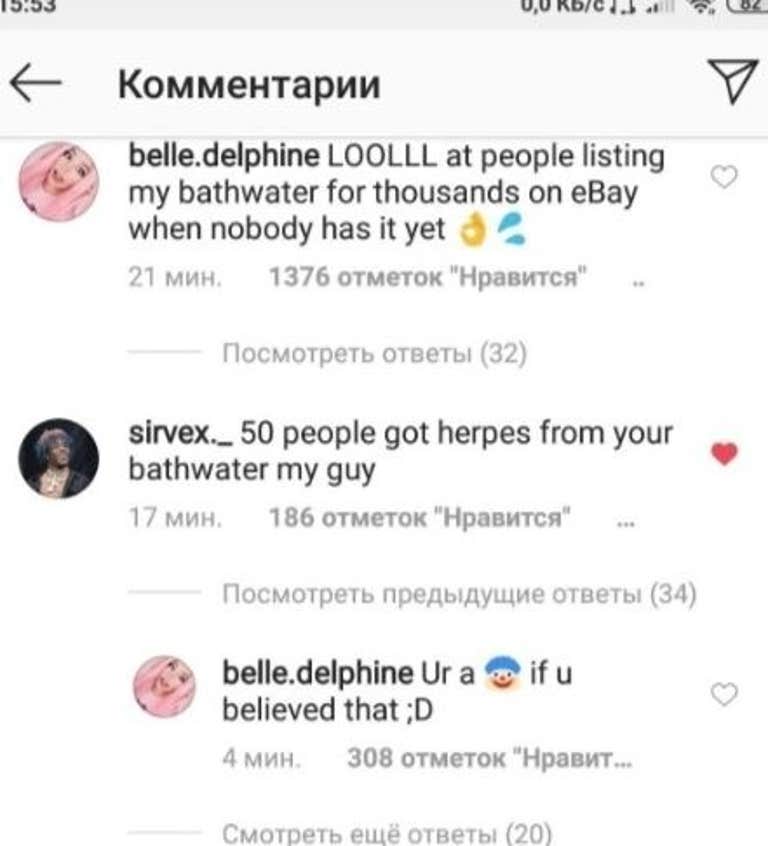 It's yet another strange turn in this Delphine narrative.
Previously, she made news when she trolled her fans into believing she would post revealing photos on Pornhub. Last week, she declared she would sell her bathwater for $30 a jar to her more than 4 million Instagram followers, writing, "I am now selling my BATH WATER for all you THIRSTY gamer boys."
https://www.instagram.com/p/BzY_MYppbSt
A few days later, it hit the YouTube reaction circuit as vloggers seemingly vaped and drank the soiled liquid for pageviews. Meanwhile, some on Twitter have shared pictures that appear to show Delphine with a cold sore on her lips.
https://twitter.com/MentalHampton/status/1148386594740723714
All of it has given Delphine, the YouTubers, and Twitter users who reacted to her plenty of attention, pageviews, and revenue earnings. Like much of the social media world, though, the herpes story (and much of the bathwater story arc, in general) simply isn't true.
READ MORE:
Got five minutes? We'd love to hear from you. Help shape our journalism and be entered to win an Amazon gift card by filling out our 2019 reader survey.