If you happen to see rapper and social media sweetheart Lil B performing live on primetime TV this year with some Vans sneakers on, you can probably thank 4chan for that.
The site's random imageboard, /b/, a place where dick pics and violent photos are shared freely under the guise of anonymity, is asking people to once again game a public vote for the laughs. This time it's to have the 23-year-old rapper, also known as the BasedGod, perform at the 55th annual Grammy Awards Feb. 10.
The following instructions were posted on /b/ as part of Operation #BasedGrammys:
1. Go to facebook/TheGrammys/app_207367796002477
2. Use all ten of your votes for Lil B
3. Watch as Lil B's freestyles for 45 minutes, raps about love, humanity, and acceptance. People will start having sex everywhere as money becomes irrelevant, the State dissolves, and Lil B ushers in the Age of Man. 
Lil B is a social media maven who has amassed more 608,000 Twitter followers and 80 million YouTube views in less than five years. Unlike many rappers concerned with a tough-guy role, Lil B has been praised by fans and critics "for his gender-defying self-proclamations that he's [a] 'pretty b****' and a 'princess' while producing songs inspired by untraditional hip-hop topics like Miley Cyrus and Ellen DeGeneres," CNN reported. 
In June 2011 Lil B released the album I'm Gay (I'm Happy) to positive reviews. Lil B also received death threats because of the title, aimed at raising LGBT awareness.
"It was something that was going through my mind for a while," Lil B told CNN in May 2011. "I feel like I'm a man of the people: meeting people, respecting people and accepting people."
Operation #BasedGrammys is just the latest in a string of high-profile voting schemes 4chan has been involved with over the past three months.
In November, Time magazine's Person of the Year poll was gamed to have North Korean leader Kim Jong-un take the top spot. Kim netted 5.9 million votes thanks to a Java script created by Internet Relay Chat (IRC) user _js5. That same script also helped _js5 and a group of IRC users manipulate the public poll to spell "KJUGASCHAMBERS" using the first letter of each candidate's name. Kim ultimately lost the cover to President Barack Obama, but was crowned the people's choice winner.
On Dec. 11, 4chan's sports community, /sp/, launched Operation White Man Can Jump—a reference to the 1992 film about street-ball hustlers Woody Harrelson and Wesley Snipes. The goal was to encourage the community to vote for lighter-skinned players as starters in the 2013 NBA All-Star Game. The suggested players include Lakers point guard Steve Nash, Nets forward Kris Humphries, and Timberwolves forward Kevin Love.
These two pranks were eclipsed by one of the most sinister on the site to date. The hoax #cutforbieber was launched on Jan. 7 to encourage users to tweet photos of bloodied arms in response to a leaked picture of Justin Bieber smoking marijuana. The mission: "see if we can get some little girls to cut themselves."
Once the scheme got rolling, the users who started the original /b/ thread removed it from the site in an attempt to hide their tracks and trick media organizations into believing the Twitter hashtag appeared organically. #cutforbieber went worldwide shortly after the 4chan thread was deleted. The result was gruesome. Photos of bloodied arms, a fake Facebook memorial page for a fan, and fake tweets from Bieber himself flooded Twitter, Buzzfeed reported.
#cutforbieber became the most popular hashtag on Twitter some time around 2:30pm ET on Jan. 7.
As was the case with the NBA All-Star prank, the success of the Lil B operation is unclear. Voting on Facebook closes Thursday at 3pm ET. 
"real proud of you guys, /b/," one anonymous user commented. "never knew you guys were so #based, stay positive."
UPDATE: Twitter tipsters are reporting that Lil B has been removed from the Grammys poll. At last count, he was in second place in his region.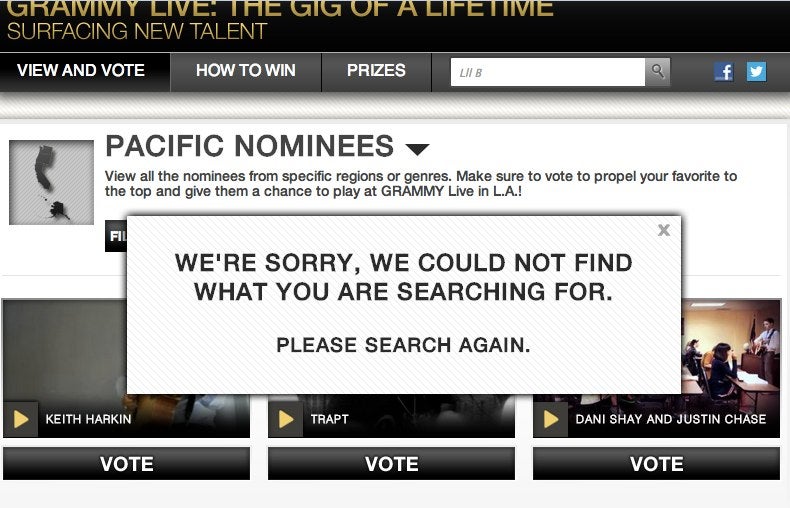 Photo via Lil B; remix by Fernando Alfonso III