You Only Live Once. You might as well spend that life having fun with your standardized tests. 
That's the logic that Arlington, Texas, student Kyron Birdine applied to his latest statewide knowledge and analytics assessment. Stuck in a classroom with little more than a No. 2 pencil and sheet after sheet of multiple choice bubbles to fill in, the high school junior decided to write "YOLO :)" on his essay sheet and tweet a photo of the paper to his friends and followers.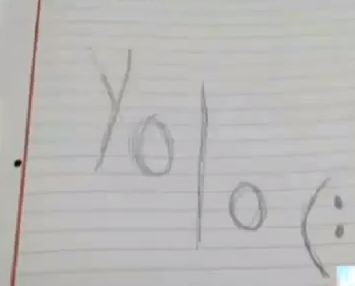 YOLO, of course, is the millennial-endorsed, Drake-spawned excuse for doing dumb s**t: "You Only Live Once."
Now the only thing he's living through is a four-day in-school suspension for a "breach of security." Speaking with Dallas' WFAA News 8, Birdine said that he carried no regrets.
"It wasn't for a grade," he said. "Colleges don't see it. It didn't benefit my personal life at all."
Birdine has since deleted the tweet and privatized his account. 
He also said that he probably wouldn't bother to tweet out a photo of a YOLO essay again. To which we say, come on, Kyron.
You only live once.
H/T BetaBeat | Photo via OddNewsHeadlines/YouTube